Serena Williams Shows Off Her Pregnant Physique in Nude Vanity Fair Cover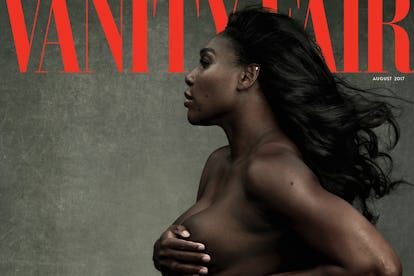 Annie Leibovitz exclusively for Vanity Fair
Watch out, Demi Moore — Serena Williams' nude, baby bump-baring photo shoot for the August 2017 issue of Vanity Fair just might give the actress' own iconic August 1991 VF cover a run for its money.
Williams graces the cover of the newest issue of the magazine wearing nothing but a delicate silver body chain around her hips. In the striking photo — shot by Annie Leibovitz, who also photographed Moore's similar cover — the 35-year-old tennis star shows off her pregnant silhouette as her long hair cascades behind her.
In other, equally regal images from the shoot, Williams poses nude while facing the opposite direction of the cover photo, snuggles with her fiancé, Reddit founder Alexis Ohanian, and leans against a wall, a clingy orange dress highlighting her growing bump. In every image, the record-breaking athlete looks graceful, powerful, and at peace.
In the accompanying profile of Williams, she tells the story of her relationship with Ohanian and details how she's preparing for motherhood. (The athlete announced her pregnancy via an accidental Snapchat post in April.) Williams revealed that she found out she was pregnant — confirmed by no less than six pregnancy tests — just a few days before the 2017 Australian Open in January. Her initial reaction went something like, "How am I going to play the Australian Open? I had planned on winning Wimbledon this year," she told VF.
But despite being unable to play at Wimbledon next month, Williams nonetheless came out on top at the Australian Open.
"It just doesn't seem real. I don't know why. Am I having a baby?" she said. "If you would have told me last year in October or November that I would have a baby, not be pregnant but have a baby, I would have thought you were the biggest liar in the world. This is kind of how I am right now. This is happening sooner than later, and it's going by so fast." She added, "I don't know what to do with a baby." But if the tennis star's strength and dedication on the court are any indication, there's no doubt that Williams will be a gold-medal mom.
Related: (Tech Nerds, Like Serena Williams' Fiancé Alexis Ohanian, Have Never Been More Desirable)[https://www.wmagazine.com/story/tech-nerds-like-serena-williams-fiance-alexis-ohanian-have-never-been-more-desirable]
See What's Trending in W Video:
Serena Williams Loves to Experiment with Hair and Makeup
At the age of 17, Serena gained global recognition in the professional tennis world as a powerful player with her sister Venus. Here, she posed fresh faced after winning the Everet Cup wearing her hair styled in her signature braids and beads.

AFP/Getty Images
At the 2000 US Open, Serena Williams wore her hair in a lighter color, and in a braided style. Without the beads, it was an overall more mature look.

AFP/Getty Images
At the 2001 Arthur Ashe Kids' Day, Williams wore her honey blond hair in tight, textured braids.

WireImage
The tennis player began to experiment with her hair and makeup a bit more off the court. At the Rising Stars Gala, she wore bronze eyeshadow, coral blush, and her hair in a new cropped bob.

FilmMagic
Celebrating her major win at the Australian Open, the tennis star rocked a simple makeup look with a pop of teal eyeliner on her bottom lashes. She switched up her hairstyle once again, now favoring curly, strawberry blonde extensions with bangs.

Getty Images
Williams wore her honey-colored hair in soft highlights, and complimented the shade with bronzed makeup.

FilmMagic
Williams looked mature at the Zac Posen in 2007, thanks to a darker hair color and shorter cut.

Getty Images for IMG
Williams turned heads in a simple makeup look with straight, light brown hair at the 17th Carousel of Hope Ball.

WireImage
Williams looked chic at New York Fashion Week, thanks to sleek, slicked back hair, smoky eyeshadow, rosy cheeks and impeccable contouring.

WireImage
Williams opted for a dark, bold cat eye while playing at the 2013 US Open. She looked like a complete rockstar with her thick-wavy locks pulled back into a low ponytail, and secured by aNike headband.

Getty Images
At the 2015 Sports Illustrated Sports Person of the Year Ceremony, Williams wore her hair in a wavy chin-length bob with a side swept bang.

WireImage
Williams' super straight hair at the 2016 Vanity Fair Oscar Party was flawless, and accentuated her enviable bone structure.

FilmMagic