Serena Williams Praises Nike for Colin Kaepernick Ad
Despite calls for a boycott.
---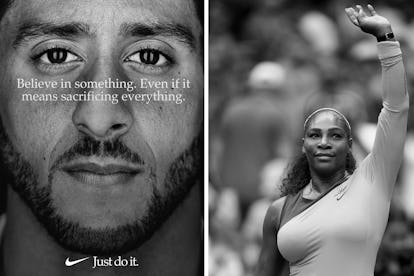 Composite. Nike/Kaepernick7/Getty Images
Nike has faced some backlash since debuting its powerful new ad campaign featuring Colin Kaepernick over the weekend, but one person coming to the apparel giant's defense is none other than Serena Williams. The tennis star tweeted a picture from her own Nike campaign alongside a caption that read, "It's only a crazy dream until you do it," adding that she's "especially proud to be a part of the Nike family today."
Since making Kaepernick the face of its 30th-anniversary "Just Do It" campaign, there have been calls in Conservative corners to boycott Nike for promoting the man who effectively launched anthem protests in the NFL.
But Williams hasn't shied away from publicly supporting Kaepernick or his teammate, Eric Reid, who also played a huge role in launching the anthem protests and drawing attention to racism. "I think every athlete, every human, and definitely every African American should be completely grateful and honored how Colin and Eric are doing so much more for the greater good, so to say," Williams told The Associated Press on Friday, following her victory over sister Venus Williams in the 2018 U.S. Open. "They really use their platform in ways that is really unfathomable. I feel like they obviously have great respect from a lot of their peers, especially other athletes, people that really are looking for social change." Both Kaepernick and Reid were in attendance at the match.
Williams isn't the only athlete supporting Kaepernick and Nike. LeBron James, who's also part of the Nike family, also shared the ad on Instagram.
A Brief History of Tennis Fashion Controversies
The hemlines of tennis whites have crept up since the 1940s, but at the time, Gertrude Moran's hint of lace underwear scandalized the tennis world. Ahead of the 1949 Wimbledon tournament—Moran's first—she had requested permission to wear a colorful look, breaking with the tennis club's tradition of all-white ensembles. When she was denied her request, she decided instead for a more subversive statement: a lace trim along her underwear, which briefly flashed during play. The All England Tennis club reportedly accused her of bringing "vulgarity and sin into tennis"—and the controversy even had a day in Parliament. To top it off, Moran lost her match.

Mirrorpix/Getty Images
Ah, the original catsuit. Anne White's catsuit, which she wore to the championships at Wimbledon in 1985, was designed by Ted Tinling, the same designer responsible for Gertrude "Gussie" Moran's lace-trimmed underwear. After losing her match to White, Pam Shriver complained to Wimbledon officials about her opponent's look, and it was banned (even though it adhered to the club's all-white policy).

Getty Images
After Serena Williams (and others, including men) dared to include a pop of color under her Wimbledon whites, the administration cracked down, forbidding colorful undergarments in 2014. Here, one of the offenders: Williams with hot pink underwear, coordinating with the bright pink piping on her dress.

Stephen Pond – EMPICS/Getty Images
Two years later, Serena Williams won Wimbledon again, this time matching deep fuchsia undergarments and a headband with the colored piping on her dress. Two years after that, such thoughtful details would be forbidden—because, after all, the (probably old) men who run the tennis establishment don't want to consider women's undergarments.

Stephen Pond – PA Images/Getty Images
Dennis Grombkowski/Getty Images
Similarly, Nike's uniform for the 2016 Wimbledon tournament was not a favorite among players—too short, too loose—except for a select few, like Eugenie Bouchard, who described it as "nice and short so you can move around and be free with your movements." Notably, Serena Williams, a Nike athlete, did not wear the dress—because the brand designs her custom looks.

Adam Pretty/Getty Images
Even a hint of color can send the Wimbledon gods into a frenzy—especially when that hint of color even remotely hints at the needs of women's bodies. In 2017, Venus Williams wore a pink bra under a Wimbledon-approved all-white look. But after a mid-match rain delay, she came back onto the court without a spot of pink in sight. She declined to address the change during a post-match press conference: "I don't like talking about bras in press conferences," she said. "It's weird."

John Walton – PA Images/Getty Images