A Cut Above
The hairstylist Serge Normant, king of the simply fabulous cut (hello, Julia Roberts), has opened a salon that is, well, palatial.
---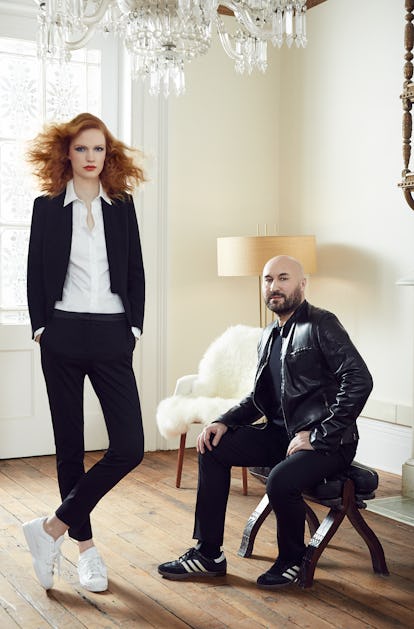 Photographer: Billal Taright
Serge Normant's first attempt at a celebrity coif was nothing short of a disaster. It was 1986, and the 21-year-old had landed a job styling the hair of the dancers on Lahaye d'Honneur, a popular French television variety show. Among his responsibilities was touching up the tresses of the guest stars, and one day he was thrilled to find the French actress Michèle Morgan sitting in his chair. "You don't understand," Normant says, the stress of the encounter still reflected in his voice, which today is a few octaves deeper than usual due to a nasty winter cold. "She was huge in France. She was my mother's and my grandmother's favorite." But Normant's excitement quickly turned to terror. He approached Morgan with his comb and then simply froze. "I lost all my capacities to function. She finally just grabbed the comb out of my hand and did it herself. I stood there, thinking, What is wrong with me?"
Though deeply cringe-worthy, the incident proved to be a seminal moment in the young stylist's career. "I promised myself I'd never be starstruck again," he says. And he's certainly lived up to that pledge. Today, the 49-year-old New York–based Frenchman is not just a celebrity hairdresser, he's the celebrity hairdresser, known in particular for his work with a certain kind of grown-up, self-assured movie star. Normant's loyal clients—Julia Roberts, Sarah Jessica Parker, and Julianne Moore, among them—are not the types to go in for trendy crops or kooky color. Sure, they like a little drama—Normant wove Parker's hair into a hat for Australia's Melbourne Cup Carnival in 2011 and was the man behind the now iconic chignon that Roberts was wearing when she won an Oscar in 2001. But most of all, they want lush, impeccable, superflattering hair, and that's what Normant gives them, year in, year out. Naturally, he has a sizable civilian following too. And he now has an incomparably luxe setting in which to work his magic. Serge Normant at John Frieda, his biggest salon yet, just opened in New York. Spreading out over three floors of a stately 1910 town house in Chelsea, the 8,000-square-foot space boasts 13-foot ceilings, Tiffany chandeliers, and multiple fireplaces. It is, says Normant, "really like a dream for me."
On a gloomy morning in December, Normant is giving a tour of the new digs. Dressed in his signature uniform of a gray James Perse T-shirt, Rag & Bone jeans, and Adidas sneakers, he explains how, with the designer Leslie Stephenson, he's adding modern touches while respecting the manse's historic bones. They've poured concrete over the cast iron staircase, lined the lower-level walls with reclaimed wood, and commissioned a 15-by-30-foot mural from the painter Donald Robertson for the top-floor shampoo area, which looks out onto a 450-square-foot terrace. "I love the idea of mixing new with old," says Normant, who likens renovating to delivering a transformative haircut.
The dramatic space is a far cry from Normant's first beauty parlor. At 15, he was hired as an assistant at Gilles Courtois, a local salon in Villeneuve-la-Garenne, the small suburb north of Paris where he grew up. "I did everything—sweeping, shampooing, learning how to do perms very quickly and give highlights in those awful plastic bags," he says. For Normant, a shy kid, the job was life-changing. "When you're young, you try to have as many friends as you can. And when you don't, you wonder what's wrong with you. The salon was the first place I felt liked and accepted. It felt like home."
After three years, he took a train into Paris and applied for a job at Jacques Dessange, the salon du jour. "I had the skills, but I didn't look the part," he says, laughing as he describes the Andy Gibb–inspired feathered and center-parted style he sported at the time. His abilities won him a post, but his appearance kept him exiled to one of Dessange's salons on the outskirts of the city. Eventually, he proved himself, lost the shag, and was enlisted to train other Dessange stylists. If he had a hair hero, it was the salon's star stylist, Bruno Pittini. "I loved the way Bruno cut hair," he remembers. "I also loved his taste and his look. He always dressed in Chinese clothing, with a simple ponytail. And he was very soft-spoken. He didn't really care what people thought about him."
That kind of self-possession seemed impossibly elusive to Normant, who remains, to this day, uncomfortable with attention. "My friends would tell me, 'You're too shy to be a hairdresser; you have to go out and make connections,'" he recalls. "That was not me, but I had to try." With three test shots to his portfolio, he got his first editorial job, with French Elle. By this time, he had also begun dressing like his mentor. "The photographer looked at me and sniffed, 'Long hair, ponytail, Chinese outfit? Just another one…'"
In 1988, Normant moved to New York to join Pittini, who had opened a Bruno Dessange salon there four years earlier. Through Pittini, Normant met the makeup artist Laura Mercier, a fellow expat. "We were like brother and sister, holding hands in this jungle," Mercier says of Normant, who remains one of her closest friends. She introduced him to other editorial hairstylists, including Oribe and Garren, and when Garren was unavailable for an Italian Glamour shoot, he suggested Normant to the photographer, Steven Meisel. "The model was Frankie Rayder," says Normant, still smiling from ear to ear at the memory of his first big break. "The hair was huge."
Word spread quickly about the drama-averse Frenchman who worked quietly and with incredible speed. The photographer Walter Chin hired him for a 10-day haute couture shoot in Paris. Linda Evangelista requested him to do her hair exclusively for a Bill Blass runway show. And then he met Julia Roberts. In 1993, Vanity Fair fashion editor Marina Schiano flew him to Louisiana, where Roberts was shooting The Pelican Brief. "She'd been filming all night, so when she arrived at the shoot in the morning, she was exhausted," Normant recalls. "I started doing her hair, and she fell asleep in my chair. When she woke up, she looked in the mirror and said, 'I'm so happy.'"
What began as the occasional collaboration has evolved into a solid partnership. Whenever Roberts makes a public appearance, Normant is nearby. "He is so rock steady, with that excited energy that's always a great comfort," Roberts says. "Sometimes, the main reason I'll agree to go to an event is so that I can see Serge!"
Roberts was just the first in a succession of boldfaced names who have remained steadfast over the years. Parker, Moore, Blake Lively, Maggie Gyllenhaal, Ellen Barkin, Jennifer Connelly, Reese Witherspoon, and Elizabeth Hurley demand him on photo shoots and frequent his salon chair. "When I work with him, which is as often as possible, I just fall ever more in love with him," Parker gushes. "How he thinks about hair, how much he cares about it, how he will give up everything to make it happen—he's just extraordinarily gifted." Moore puts it most succinctly: "Everyone wants to be one of Serge's girls."
For almost two decades, Normant was happily snipping away on sets and in dressing rooms. But in 2003, the hair-care mogul John Frieda approached him with the idea of opening a signature salon. "He has a great eye," Frieda says. "Whoever his client is, and whatever her taste level is, he'll get it right for her and do it beautifully."
Initially, Normant was less than excited about the proposition. "I resisted, but then I thought, I'm a hairdresser. Where's the best place to do hair? At a salon." The pair opened their first space on New York's Upper East Side the following year. A second location, in the Meatpacking District, followed in 2007. Last year, the lease on the Meatpacking outpost was up, and when Normant saw the for rent sign on a handsome house on West 23rd Street, he called Frieda immediately. Eight months later, Normant is still upping the fab factor. "I'm thinking of putting in a juice bar—and the florist Oscar Mora will make and sell arrangements," he adds excitedly. The salon will have a full-time concierge—to help clients with things like dinner reservations—and there will be valet parking, perhaps the ultimate luxury in New York. Normant wangled the British facialist Nichola Joss to make monthly visits, a team of Essie specialists to do nails, and a Mercier makeup artist.
It's a full-service operation, to be sure, but one thing Normant's ladies don't have to worry about is that the man in charge of it will end up with a big head. Normant remains very much the bashful kid, who, he says, "wouldn't get up from my chair until everyone had left the room, for fear of someone noticing me." He spends his time off at his house in Bellport, on Long Island, with his dog Emma and, often, his former partner Pawel Szlufcik, with whom he shares canine custody. The perfect Saturday night, he says, is staying home and watching HGTV or Game of Thrones. "I have a social phobia," he admits. "Getting older, I thought it would be easier, but it's only gotten worse. I love getting the invitation, but once the moment comes, I get that anxiety." For the most part, he's come to terms with his lone-wolf personality, preferring to focus on his work. But that's one area in which, he insists, he's still not at peace. "I'm never 100 percent happy with what I do. Don't get me wrong—there are plenty of looks I'm proud of. But I always think I could have done better. That's what keeps me going."
Serge Normant with a model in his new salon. Model wears Boss blazer, shirt, and pants; Adidas Originals sneakers. Normant wears his own clothing and shoes.

Photographer: Billal Taright
A model in Normant's new salon in front of a mural by Donald Robertson. Model wears Thakoon vest and skirt.

Photographer: Billal Taright
Natalia Vodianova on the cover of W, November 2004. Photograph by Michael Thompson.
Julia Roberts on the cover of W, June 2011. Photograph by Mario Sorrenti.
Sarah Jessica Parker at the Oscars, 2010. Photograph by Jason Merritt/Getty Images.
A fashion shoot for W, August 2007. Photograph by Michael Thompson.
Models: Anniek Kortleve at New York Model Management, Carly Moore at the Society Management; air by Serge Normant for John Frieda; makeup by Genevieve for Lancome; photography assistant: Luke Dickey.