In the Ring With Olympian Shakur Stevenson: America's Boxing Champ Loves IHOP, Kiwis, and 50 Cent
"My first knockout I ate a kiwi right before and then knocked the dude out. I have eaten a kiwi every day since."
---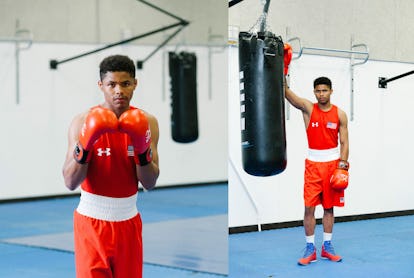 Shakur Stevenson's grandpa took him to his boxing gym when he was five-years-old and the very next day, Stevenson asked if he could go back. "My granddad was a boxing coach and that day he brought me back – I was probably the youngest person in there – I watched them and just fell in love with it," said Stevenson, who originally hails from Newark, New Jersey. He's spent just about every day of his life since then in the ring, fighting his way straight to the top.
Now 19, Stevenson is headed to Rio this week for his Olympic boxing debut. If things go his way, he could be the first American man to win a gold in the sport since Andre Ward in 2004. "I qualified for the Olympics when I was in a competition in Rio and I guess I won everything," he said. "Now I just need to get that gold medal."
Here, he talks about his pre-fight rituals, Tupac, and IHOP.
I hear you're named after Tupac Shakur. Is that true? Yes, ma'am. My mom listened to a lot of Tupac and liked him so much, she gave me his last name. I am a big Tupac fan.
When did you first step in the ring? I started boxing when I was five. My granddad was a boxing coach and that day he brought me back—I was probably the youngest person in there—I watched them and just fell in love with it.
What was your first major victory that made you feel like you must be pretty good at it? My first international trip was when I went to Russia. I got to go because one of the guys who was supposed to go for us didn't have his passport so they sent me instead. It was my first time overseas and I won it—I was 14 at the time.
When did you know that the Olympics were something that were within reach for you? Once they changed the age rules, I think it was June of last year.
Tell me about when you officially qualified and how that felt… I was in Argentina at a competition and they were taking the number one and two guys from that. I was already the youngest guy competing there—I am used to that by now. I don't focus on that. I guess I won everything…now I just need to get that gold medal.
You make it sound so easy. It's not though….
On that note, tell me about your training process. Most of the time, we do conditioning in the morning from about 9 a.m. to 11 a.m. Lots of push-ups, pull-ups, running, etc. That is our early session. Then our next session is at 4 p.m. and we do boxing training for about and hour-and-a-half. Maybe some more sit-ups, too.
What's been the hardest part about the Olympic training? I miss my family. They are all in New Jersey… I am the oldest of nine.
What's your pre-fight routine like? Usually I go get an omelette or French toast for breakfast. Usually, if I am in America, I like IHOP. Then I like to eat a kiwi as I try to get into the zone. That's something new because my first knockout I ate a kiwi right before and then knocked the dude out. I have eaten a kiwi everyday since. It's weird.. but I don't know.
What music do you listen to before you fight? I like 50 Cent's "Get Rich or Die Trying" to get pumped up.
How do you like to celebrate after a win? Have a good time with my teammates, maybe look for some females.
Who will you call first if you win in Rio? I plan on having my mom there but if she isn't there I will call her.