Why Isn't Anyone Talking About Shaun White's Sexual Harassment Lawsuit?
White may have settled the lawsuit in 2017, but it's key nobody forgets it happened.
---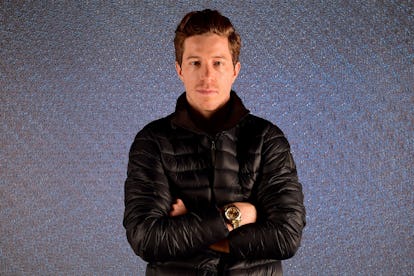 Harry How/Getty Images
On Tuesday, the snowboarder Shaun White competed in the halfpipe finals at the Pyeongchang Winter Olympics. The 31-year-old—arguably the biggest celebrity in Olympic village beloved by fans, the media, and advertisers—took the gold medal. Deserved, as far as the competition goes, but according to a 2016 lawsuit, White has a history that's being overlooked.
According to USA Today, in May 2017, White settled a lawsuit leveled against him a year earlier by Lena Zawaideh, the former drummer of his band Bad Things. In the suit, Zawaideh alleged that White repeatedly sexually harassed her and forced her to watch "sexually disturbing videos, including videos sexualizing human fecal matter." Moreover, TMZ reported that Zawaideh said she was also forced to watch a video showing a couple killing a bear and fornicating on top of it.
Zawaideh, according to USA Today, first put forth a suit against White and his company for breach of contract for failing to pay her $3,750 monthly retainer from September 2013 through August 2014. She later amended the complaint to include sexual harassment allegations and pointed to screenshots of vulgar messages allegedly sent by White as evidence.
"Shaun took some kind of joy in seeing how much he could break me down and mess with me," Zawaideh told Page Six in 2016. "I don't know why, but every time he saw that I was uncomfortable with something, he would just keep going just to be like, 'Can I break her?' That's not acceptable for an employee, which I was. Contractually."
According to TMZ, the court documents allege that White also attempted to kiss Zawaideh at a 2010 party, but she rejected him. She also said White told her to cut her hair and requested she wear more revealing outfits.
"I am pursuing this case because women should not have to tolerate harassment at work," Zawaideh said in her statement about why she filed the lawsuit. "Shaun White should not be allowed to do whatever he wants just because he is famous. Although I am embarrassed to have been treated this way, I cannot sit by and watch him do this to other women."
White quickly replied to the allegations sharing in a statement with TMZ, "Many years ago, I exchanged texts with a friend who is now using them to craft a bogus lawsuit. There is absolutely no coincidence to the timing of her claims, and we will defend them vigorously in court."
Though the lawsuit is public, odds are you won't be hearing about it on NBC's Olympic coverage. According to Slate, NBC declined to comment when asked by the publication if it was aware of the allegations or planned to address them or the settlement on air, or would ask White about the claims in an interview.
But, considering the #MeToo movement—and that NBC certainly played a role in it—perhaps the allegations against White are worth noting in the midst of all the Olympic hero worshipping surrounding him.
Update February 14: After immense coverage—and criticism— online, NBC addressed Shaun White's sexual harassment lawsuit on the air Wednesday. "I've grown as a person over the years," White said during an interview on the "Today" show, hours after winning his third gold medal in the men's snowboarding halfpipe. White also apologized for calling the allegations as "gossip" during a post-competition press conference. "I'm truly sorry that I chose the word 'gossip.' It was a poor choice of words to describe such a sensitive subject in the world today," he said."I was so overwhelmed with just wanting to talk about how amazing today was and share my experience." White also told "Today" he feels like he's "a much more changed person than I was when I was younger. I'm proud of who I am today."