Shia LaBeouf Arrested at His #HeWillNotDivideUs Donald Trump Protest
And it was all caught on camera.
---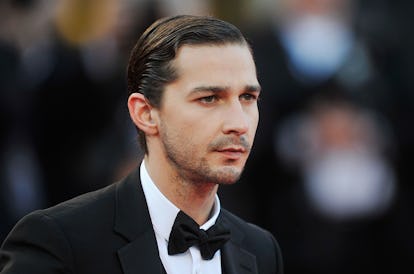 Gareth Cattermole/Getty Images
It's going to be a long four years. Less than a week into his presidency, Donald Trump has already signed a global anti-abortion executive order, taken the first steps taken to the building of a border wall, and attempted to silence all mentions of climate change. We're also less than week into Shia LaBeouf's four year-long performance art piece protesting Trump's presidency, and he's already been arrested for allegedly assaulting a man making anti-Semitic comments.
Shia LaBeouf launched his latest project, #HeWillNotDivideUs, on the morning of Inauguration Day. The protest, which is being held at New York's Museum of the Moving Image, invites participants to stand in front of a webcam that is mounted on one of the museum's exterior walls and repeat "he will not divide us"—as a response to Trump's hateful rhetoric and policies. The 24/7 protest had been carrying on peacefully since its inception until Wednesday evening, when an altercation reportedly went down between LaBeouf and another individual. TMZ reports that the actor was arrested for assaulting a fellow protestor.
According to TMZ, the individual stood in front of the camera and shouted something that caused LaBeouf to react. He reportedly attempted to grab the individual's scarf, and scratched him in the process. As NYPD have been on site since Monday, they immediately moved in to arrest Shia following the scuffle.
The Twitter account @HWNDUS provides more details—though unconfirmed—as to what happened. According to tweets, a Neo-Nazi went up to the camera and shouted, "Hitler did nothing wrong." LaBeouf, who is Jewish, responded by pushing the man. (You can see the interaction on video below.) The Twitter account then launched the hashtag #FreeShia and encouraged followers to call the precinct where he was taken in.
As of early this morning, though, Shia had been released, according to the Twitter feed. According to the #HeWillNotDivideUs live-stream, he has yet to return to the protest, though.
Watch the best actors of the year get really, really into "I Will Survive"