Shinola Debuts a Classic, Feminine Watch Line
Called Gomelsky, the collection launches this week online and in stores.
---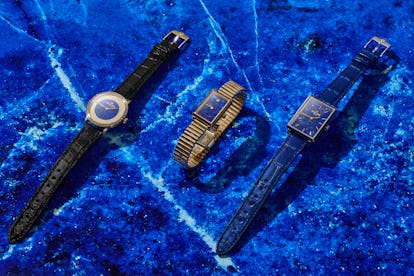 In a fashion climate where people are starting to give a damn about where things are made, Shinola is paving the way. A little over two years ago at the Baselworld Watch show, the contemporary heritage American brand debuted a new watch; employees joked that the first person to walk into their booth would be the name of the design and so, Gomelsky was born. This week, Shinola debuts a women's offshoot, also named after that fateful customer. The classic feminine watches are finally for sale, both online and in Shinola stores (starting next week, they'll also be available at Fivestory, Nordstrom's, Neiman Marcus and Bloomingdales).
Cassie Coane, Gomelsky's creative director has been working with the company since Shinola's beginning under creative director Daniel Caudill. Alongside Coane, the illustrator Joanna Alvillez conceived the fictional Gomelsky woman. "Being from L.A., the legendary Hollywood places played a real part of the inspiration for this collection," Coane says. Tony Duquette's home, Dawnridge, alongside the chunky, cocktail and costume jewelry of the 60s and 70s were also all thematic elements for the brand.
The collection, ranging from $750 to $2,950, aims to highlight beautiful materials including malachite, Tigers Eye, and diamonds. "We didn't want to have any design rules in this early collection and were very untraditional in that way," says Coane . The brand, like it's mothership is all handmade in Detroit. "It's important where you are coming from and the story of our manufacturing is such a part of the brand, I would never want to put something out there that did not acknowledge that," Coane continues.
Coane herself wears the malachite Shirley Fromer style (likely to be a bestseller), named after her grandmother, as her everyday watch. "I wear mostly jeans and t-shirts and it looks great with it," she says. And indeed, Gomelsky was created for a woman who has ageless taste. In a word, classic. "It's a gift given down through generations; it has a timeless aesthetic," says Coane.