A Hilarious New Instagram Account Imagines Absurd High-Fashion Situations, Like If Kellyanne Conway Went to Paris Fashion Week
Bernie Sanders in Balenciaga? The Instagram account @siduations says: Why not?
---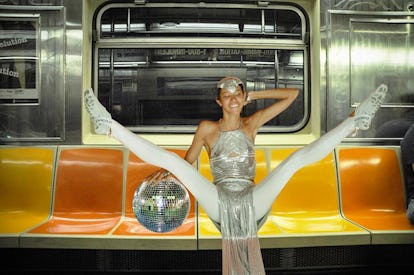 Bernie Sanders in Balenciaga? Kellyanne Conway at Paris Fashion Week? A Maison Margiela model on the subway? The hilarious new Instagram account @siduations asks, why not?
The account's creator, Sidney Prawatyotin, has long and varied background in the fashion industry, from working at magazines and founding his own label United Bamboo, to eventually landing in PR. He taught himself how to use Photoshop in order to send his fashion editor friends funny, personalized versions of what he now posts on his account. "My friends have a biased opinion," he said. "I was like, do I actually have skills? So I put them on Instagram to see." Today, the account has almost 15,000 followers including Hanne Gabbe Odiele, Chloe Sevigny, and the street style photographer Phil Oh.
"One of my most popular posts was Bella Hadid carrying deviled eggs," said Prawatyotin with a laugh. "So I'm assuming people like deviled eggs a lot."
In addition to its obvious sense of humor, what has made the account so successful is the idea that these situations are so crazy, they just might work—or at least followers would like to believe that. "I want to place people in situations that are different from what they currently are, but could also be real," explained Prawatyotin. "When you put models in your own situations, it should make sense. But that's not the images you see; you only see them in fabulous places in fantasy editorials. This account is meant to bring people together; to connect high fashion looks with the 'hood."
While it's Prawatyotin's sharp eye and comedic imagination that brings two worlds together—it's almost as if these moments were meant to be, or that the subjects were asking for it. Street style stars, for example, don't dress as though they want to exist in the real world. And on the flip side, designers like Demna Gvasalia of Balenciaga and Vetements have made a career mining quotidian references and stereotypes. In this way, the account not only pokes fun at fashion industry players, but also highlights the many references fashion design itself makes.
"I like to connect people with each other, but I also like to connect ideas as well," said Prawatyotin. "Like, 'Oh, I've seen that before.' And that's not to make any designer feel bad. It's more that I get the reference and they did something innovative to bring it back. Demna Gvasalia does that really well. I like to see how he's reconstructing classic pieces into something new. It's kind of like what I try to do with these images."
These days, it can be difficult to parse out where fashion ends and the absurdity of the world begins, and the two currently feed each other, for better or worse. But rather than shaking its head, @siduations celebrates the craziness of it all and comes from a place of equal obsession and admiration.
"Things are so serious right now in the world that we don't have time to laugh at anything," said Prawatyotin. "Maybe we just have to laugh at ourselves."
Butterflies of Paris: How Street Style Stars Do Paris Fashion Week