Meet the Designer Behind Sidway Swim, Makers of Summer's Most Instagrammed Bikini
Sidway Swim's Sarah Godshaw explains how to vacation in style.
---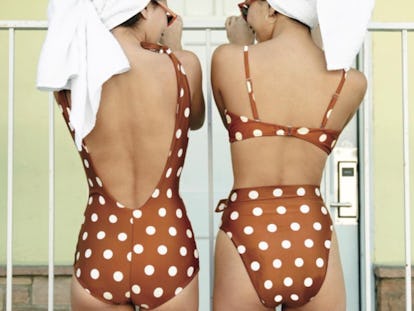 There's a certain brown-and-white polka-dot bikini that has been utterly inescapable on Instagram this summer. You know the one: large spots covering a triangle bikini top, a high-waist bottom, a tie positioned at the waist. The covetable style is merely one of many printed maillots from Sidway Swim collection, the new resort label created by Sarah Godshaw. Godshaw is a swimwear guru, and chances are you've worn one of her suits before. She was the designer behind swim at Nasty Gal, and helped to make the retailer "one of the top swim destinations in the world," at that point in time.
Godshaw founded Sidway Swim last year, and with the support of a gang of cool girls like Alyssa Coscarelli, and Reese and Molly Blutstein on Instagram, the brand is on its way to becoming a cult fashion favorite. But social media does have its downsides. "Instagram makes people so self-conscious about their bodies, and I don't want to exploit that," the designer explained. As a new mom to 12-week-old son Charlie, Godshaw expressly wanted to create a collection that first and foremost made women feel good about themselves.
While she clearly created Sidway with the Fashion Girl in mind (Godshaw's favorite cover-up is, after all, is a pair of slacks), the collection was created to be worn comfortably and to be lived in by real women. To that end, silhouettes are a primary focus and the fabric Godshaw employs have features that "suck you in, so the edges don't have to." The result is a flattering and feminine fit that does not require one to have the physique of a model or spend all of one's time at the gym. "I want nothing to do with the fitness world!" Godshaw said with a laugh.
Here, the deisgner shares her beach must-haves, how she styles her swimwear for the bar, and her favorite vacation memories.
Pool versus Beach:
Whichever one has bar service.
Favorite vacation destination:
Tulum. I am a sucker for a fancy cocktail, albeit overpriced. The mix of beaches, pools, people watching, and restaurants strikes the perfect balance.
Beach must-haves:
Number one is a glass of mezcal with a Tajin-salted rim. Everyone goes to the beach to relax, so may as well get started with a little something to sip on. Also, sunscreen, namely Supergoop SPF 50 spray oil. Some sort of turban or hat, something to hide my hair after a swim. Shade, lots of it. I am fair-skinned, so when the sun hits my body, I can hear my mother saying, "Sarah, do not go in the sun! You will regret it!"
Favorite vacation memory:
My dad is in a wheelchair, so one Christmas he had a pretty horrible idea—that we all go on a cruise ship together, and it would be handicapped accessible. Not only were the cabin doors two inches narrower than his wheelchair, but not surprisingly, it was like being in a real-life version of the movie Wall-E. To avoid being seasick and bored, I self-medicated with a steady flow of beer with limes and salt. I convinced my mother that this was the trick to feeling less nauseous on the ship, and within a few rounds I convinced her to nude-sunbathe on the top deck. It lasted about 6.5 seconds but the memory of us giggling on the sundeck is one of my favorites.
Skinny dip versus one-piece:
I am in the business of selling swimsuits, but…when possible, no suit is the best suit.
Favorite swim inspiration:
The '90s! I love finding images of the more womanly supermodels of that era, the high legs and the soft hips. To me, being sexy and feminine means being soft and feeling sexy with the natural body we have. I love how the photos from that time are more realistic, how those minor imperfections were part of a woman's appeal.
Favorite cover-up:
A pair of vintage linen slacks. The mix of the unsexy pant with a skimpy swimsuit is a nice juxtaposition—makes me feel sophisticated even when I end up at a nice restaurant still wearing a bikini.
Swimsuit you would never wear:
Anything with straps that cut in. As a soft-bodied woman, I am just not a fitness person. I won't torture myself with swimwear that will make me feel bulgy.
Best sun protection:
Supergoop spray oil SPF 50; and if needed, an old-lady-style umbrella.
Lunch on the beach should include:
Fig jam, soft cheese, and a baguette.
Summer read:
The Power by Naomi Alderman. As in, I ordered it. I haven't gotten very far, but we all need to have goals.
Essential summer playlist:
I love new music, but I am horrible at knowing who sings what, so when I am the one playing music, it's always an album that's at least 10 years old, with female vocalists. The Miseducation of Lauryn Hill, Pieces of You by Jewel, Begin to Hope by Regina Spektor, and The Cranberries.
Day to night:
Lately, I have been styling the brown polka-dot one-piece with a black miniskirt and LOQ Altea sandals, and I never go out without my black moto. I love not having to carry a bag so having a jacket with zipper pockets is…clutch.
Another look I love, one that just screams "fashion bitch on vacation," is an ivory linen suit with a bandeau swim top layered beneath.
Best beach bag:
I know it's not that chic, but I always end up with a giant blue Ikea bag. They are easy to fit in my suitcase, they don't get sandy, and I can fit everything in them.
Necessary pool toy:
A pool is enough for me!