Sienna Miller's Beauty Guru Has the Secret to Glowing Skin
According to Wendy Rowe, whose new book Eat Beautiful is out December 27, it's actually quite simple.
---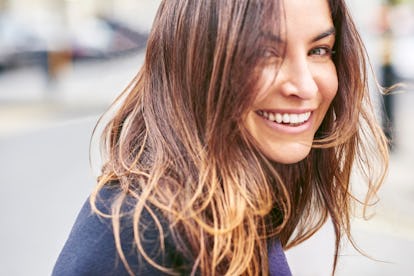 Beauty whiz Wendy Rowe, who for the past 15 years has served as Burberry's artistic consultant (she designs the British brand's makeup line as well as its backstage looks), has gained a reputation as the go-to girl for glowing skin. "She is a guru!" says Anja Rubik, who along with Sienna Miller and Suki Waterhouse has become both a devoted client and friend.
Rowe's secret? It has as much to do with what you put in your body as what you put on your face. So as you ingest your fifth Santa-shaped sugar cookie of the day, do yourself a favor and order a copy of Eat Beautiful, Rowe's new lifestyle book out December 27. Created with the help of a nutritionist—"It's not Wendy's made-up rules," she insists—the book is filled with healthful advice and recipes to have you looking and feeling your best in 2017.
I find most people get into the wellness industry because they're seeking a specific remedy. Is that what happened with you? I had always done sports as a child and I ate well. My mom would go to a butcher, a fishmonger, a green grocer, so the food she cooked was always fresh and organic—there were no other options. But as a teenager, it was cool to eat crap—processed food, stuff from the freezer—and consequently, I had bad skin. So I got into seeking out what was wrong. I stopped eating fast food; I saw that as a massive culprit. I started taking vitamins, and I really got into skincare. As soon as I started to do that, everything started to clear up and change.
Is that when you decided to get into the beauty industry? Not really. I was always interested in fashion and music and film—and having a look, which everyone did in the '80s. But it wasn't until a hairdresser friend of mine suggested I do makeup and move to Paris with him that I got into it. I was like, "Oh yes, we can go on trips and hang out with Linda Evangelista!" I was very naïve. It took me years to go on a trip and meet Linda.
And now you're the creative consultant for Burberry, as well as a beauty expert for the French skincare brand Decléor. Why didn't you write a book about makeup? Because I couldn't figure out a way to do it in a modern way. I think for that video is better. But everyone always asks me about skin, and my skin in particular because I don't wear a lot of makeup. With this book, I wanted to address all the questions everyone asks, and break it down in a simple way. Basically, a big part of achieving beautiful skin has to do with food.
Your book is filled with tips, from fasting twice a week to not eating raw food after 4 p.m. But at its core is the ayurvedic principle of eating according to the season. So what should we be consuming in winter? Seasonal foods provide your body with what it needs at the time. In winter, that entails brightly-colored root vegetables like carrots, beets, rhubarb. They have all the nutrients you need to repair your skin. Beets are also good for cleaning the liver, and we're all being indulgent at this time of year. Oily fish like salmon and sardines are also good, as they're rich in selenium, an antioxidant, and Omega-3 fatty acids, which improve pretty much every system in the body.
And what about skincare in the winter? Use a night oil. I like the Decléor one. You use three drops, two nights a week. When I ski, I use one from Joelle Ciocco. It's a vitamin C oil and quite greasy, so I use it during the day. I also like Sarah Chapman's hydrating booster serum, which I put on before my moisturizer. And definitely use a cream cleanser; you need to keep as many oils in your skin as possible.
Your recipes all look so delicious. How did you come up with them? I cook a lot. Cooking is like makeup: you never know what's going to happen, but when you hit it, it's like, "Ooh that's amazing." A lot of the recipes I came up with myself. I've traveled so much and picked things up along the way. I lived in Paris, and if it wasn't in season, you couldn't get it. That's when I really wanted to start eating organically. I lived in North Africa… At 19, I was a hotel entertainer, singing and dancing in Tunisia. When you bought a chicken there, it was still warm—you needed to cut and prepare it. The fish you had to descale yourself. So if you wanted to eat something beyond couscous, you had to learn how to prepare it. For this book, I tried things out on my friends; luckily a lot of them worked. One cake that I tried to make without sugar turned out to be disgusting.
Do you take supplements? Yes, I take magnesium, because I work out a lot, and it helps muscle repair. And I take calcium with it because it helps your body digest it better. I take omegas-3-6-9, which is great for joints and skin. I take probiotics for the gut and vitamin c, usually in the form of an Emergen-C packet. And when I remember, K3 and zinc.
What do you do for exercise? If I could, I'd work out five times a week—you need to move the body to get the toxins out. I go to Body by Simone because I like dancing. And I play tennis when I'm in London. Everything needs to be near where I live or I won't go. I used to run but I'm older now and it's brutal on the body. I turn 48 on the day of the book release. But I don't feel old, and I hope I don't look old. I've managed to hold it together for quite a long time!
Watch Sienna Miller's W Screen Test: