Is Sies Marjan the Most Anticipated Debut of NYFW?
Sander Lak, a student of Louise Wilson and an alumnus of Dries Van Noten, is preparing to storm Manhattan.
---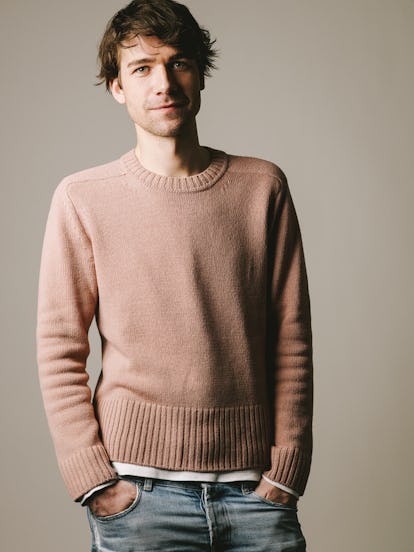 True to his Dutch roots, the designer Sander Lak enjoys an extremely dry sense of humor.
"To be honest, I ended in fashion because I didn't get into film school in Amsterdam," he said during a recent interview. Thankfully for New York Fashion Week, that is all water under the bridge now. After completing a degree at Central Saint Martins under the late, adored Louise Wilson, Lak worked in the ateliers of Marc Jacobs, 3.1 Phillip Lim, and Balmain (under Christophe Decarnin), and eventually landed as the head of design at Dries Van Noten.
Early last year, he was tapped to create a new luxury brand here in New York and on Sunday Sies Marjan will finally make its debut, easily one of the most anticipated of the week. The name, by the way, is important, Lak said. It's a portmanteau of his parents' names.
"It allows me to reflect something personal without it being so directly linked to me as a person" he continued. "Using my parents name gives me a certain anonymity that I really like. I have no interest in fame or anything that would distract me really from the job that I love doing with the people that I surround myself with. It's about that, it's about the work we all do together."
When asked to describe his vision for the label, Lak exhibited that traditional Dutch modesty again: he wants the clothes to speak for themselves. He did reveal that he has an eye for colors, which"tell a story of their own and are such good ingredients to manipulate clichés or twist ideas."
Also revealing is the model he cast for the brand's first promotional film, the unconventional beauty Guinevere van Seenus.
"She has this beautiful career where she never became too big and was always there in the front and you see she chooses projects she likes," Lak said. In other words, she's tasteful and intuitive, not coincidentally, exactly the sort of customer he has in mind for Sies Marjan once the goods land on the selling floor in August.
Watch the video below for an exclusive peek at the debut of Sies Marjan, starring Guinevere van Seenus below.