When It Girls Simi and Haze Khadra Graduate
These twins spent four years juggling work and school, but still graduated in the top two-percent of their class (wearing Chanel under their gowns, no less).
---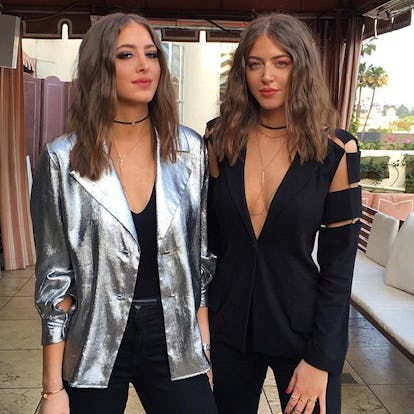 While most seniors at the University of Southern California were finishing up their final papers and theses, identical twins Simi and Haze Khadra were DJ'ing at Coachella with friends Kylie Jenner, Bella Hadid, Hailey Baldwin, and Sofia Richie. The 23-year-old girls are of Palestinian descent and were born in Saudi Arabia, raised in London, and lived in Dubai for high school. At the age of 14, they were spotted at fashion week for their matching street style looks. Attached at the hip, they moved to Los Angeles four years ago to study together, both majoring in film production & fine art. Despite their busy schedules, which involve traveling around the world for DJ gigs, modeling, fashion weeks, and general It girl good times, the twins graduated in the top two-percent of their class. Wearing Chanel combat boots under their gowns, of course.
School: University of Southern California
Majors: Film Production & Fine Art
How have you changed since freshman year? Do you remember what you wore on your first day of school? Haze: Our style has evolved so much since freshman year. We used to only wear skirts or shorts — never pants or jeans for the first two years of college. I think it's because growing up in Europe and in fashion just made our sense of style more dressed-up. The next two years of college I feel like we just became much more comfortable with ourselves. Our style is now still a little more dressed-up but with a much more casual/tomboyish/punk approach.
Did you have a formal at the end of your senior year? What did you wear? Simi: No, we just had a graduation ceremony. I wore a yellow silk top, jean shorts and my favorite Chanel combat boots under my graduation gown. I don't think I could have done the whole white dress and strappy heel thing for graduation; it's just not me. If I don't feel comfortable, I don't act like myself.
Favorite class: Simi: "Television or Film Symposium." We watched TV shows or films before they were out and had Q&A's with the creators/directors of the show or film. I learned so much from those two classes because it was so real. It wasn't a hypothetical learning scenario. Haze: "Ideas in Intermedia." Our professor Charlie White is an amazing artist and his class always prompted really interesting discussions. I love classes that are conversations between the teacher and the students and a lot of my fine art critical studies classes were like that.
Challenges you faced: Haze: Traveling for work was always a challenge because we could never miss 3 classes each semester. But we made it work.
How did you juggle your personal and professional life with your studies? Simi: We did it really well. We've always been really good students. We traveled a lot in high school and still both graduated in the top 2 percent of our class. Haze: We've been doing it since we were 15, so we're quite used to it. We just take our work wherever we go and do it on the plane, in hotels, or even on shoots, etc. Obviously, some teachers were more understanding and lenient than others, but you just have to make it work. We rarely ever let school stop us from doing real-life work because although school is important, I've learned so much from being involved in work outside of school.
Did you ever feel like it was hard to socialize with your classmates because of your social media fame? Simi: Not at all. School for us was just school because we didn't live on campus. All our friends lived around us on the West Side. Haze: Not really, we didn't spend time on campus after class, so whenever we would socialize with the students it would be about class-related stuff.
Did you live in a dorm? Sorority? Simi: USC Greek life is huge, but we were never involved in the sorority scene at all. Haze: No, we never lived on campus.
How do the parties compare? Simi: We never really made close friends at school because they mostly all live downtown. We live on the West Side, like 40 minutes away. We would just go to class and leave. I guess we didn't have a traditional college experience, but I don't feel like we do things in the traditional sense in general. Haze: I've actually never been to any college parties! I probably should have just for the experience. Maybe we'll sneak into a frat party in the fall for jokes!
What were the songs that defined your college experience? Simi: Oh wow that's a hard question. I went through a lot of concentrated phases. There was an Indie/Alternative phase, a Reggae/Dancehall phase, a '90s hip hop/R&B phase, a major UK grime/UK funky phase, an electro phase… You name it.
What are your post-grad plans? How does it feel to be "in the real world?" Are you nervous? Excited? Both? Simi: I feel like we've always been in the real world. I find it sort of worrying that kids in college go into this vortex of "the college experience," which most kids come out of more confused and in debt than they were when they came into it. I've always had a lot of concerns with the issues in the U.S. education system. Not having the traditional college experience, in the sense that we were working while in school, was the only way to do it. Haze: I'm so excited because we get to spend more time on our passions and projects and can spend 100% of our energy on it.
What's next? Haze: The next step is producing. We've already been doing it throughout DJing but now that we've graduated we can focus on it even more. It's something we've always had in the back of our heads being in LA and around so many musicians.
The most important thing you learned in college: Haze: I learned in college is that it's so very important to have friends who inspire you and encourage you to do and act, rather than just talk. Simi: When ideas rather than people or events permeate most of your conversations, that's when you know you're hanging with the right people and that's one of the major reasons I feel confident that I can do whatever I want to do.
Photos: When It Girls Simi and Haze Khadra Graduate
Simi and Haze Khadra with Kylie Jenner.
One of the Khadra sisters with Bella Hadid.
One of the Khadra sisters with Kylie Jenner.
One of the Khadra sisters with Hailey Baldwin.
One of the Khadra sisters with Anwar Hadid.
One of the Khadra sisters with Sofia Richie.
Simi and Haze Khadra with Rashida Jones.
One of the Khadra sisters with Heron Preston.
Watch W's most popular videos here: