Simon de Pury's Basel, Switzerland
As Art Basel heads into the weekend, the art consultant and auctioneer extraordinaire shares his guide to his Swiss hometown.
---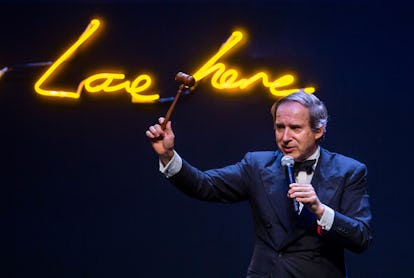 Photo by Xaume Olleros/Getty Images for amfAR.
Art Basel, the O.G. art fair in Switzerland, will come to a close this weekend. But even if you didn't make it to the fair, there's still plenty of art to see in Basel year-round. Here, Simon de Pury, the Swiss art consultant and online auctioneer who seems to be wielding the gavel at all sorts of functions—like his favorite charities amfAR and RxArt, not to mention the UNAIDS gala this week during the fair—shares his hometown highlights. Spoiler alert: It includes a lot of museums.
Hotel Trois Rois There is basically only one hotel to stay in during Art Basel and that is the Hotel des Trois Rois. It is steeped in history. Theodor Herzl's most famous photograph shows him leaning on the balcony with Basel's Mittlere Brücke behind him. Pablo Picasso also stayed there and described a night he spent sitting on its balcony.
The cellar at the Hotel Trois Rois is a hidden gem. You have to walk down several flights of stairs and go through the kitchen to arrive at a very intimate cellar where you can seat no more than a maximum of 20 guests. Great ambiance guaranteed, and if things get too hot, you can open the door and have direct access to the shore of the Rhine. Take note: Needs to be booked in advance.
Meanwhile, the bar at the hotel is one of the hot spots in town where everyone congregates after their respective dinners. It is packed—you can hardly move but the atmosphere is electric.
Restaurant Kunsthalle One of the most fun and animated spots is the Kunsthalle restaurant adjacent to the famous Tinguely fountain, and the place where American abstract expressionism was shown for the first time in Europe.
Atlantis Atlantis is a bar in which a living crocodile used to be part of the decor. Some legendary musicians performed there, such as Brian Auger and Julie Driscoll in the 60's. It has lost none of its original flair.
Kunstmuseum Basel Not only one of the oldest but one of the best museums in the world. It's 19th and 20th century collection is based on private collections such as those formed by Rudolf Staechelin, Raoul La Roche, and Karl &andJürg Im Obersteg. It is world class. It includes the works Picasso donated to the city when its citizens voted in favor of the acquisition of two of his masterpieces in the mid-60's.
Fondation Beyeler Ernst Beyeler was the world's leading art dealer of his time. He bequeathed his outstanding collection of 19th and 20th century masters to a foundation and housed it in a building that Renzo Piano built for it. It is the best example of architecture made to the best interest of the art shown in it.
Schaulager This museum Münchenstein was built by the local star architects Herzog & de Meuron for its patron Maja Oeri; it combines storage space and exhibition space, and each year shows works by top artists represented in its collection.
Musée Tinguely Mario Botta built a museum devoted to one of Switzerland's great artists, the sculptor Jean Tinguely. There are regularly good temporary exhibitions being staged there.
Museum für Völkerkunde Situated near Basel's cathedral is one of Europe's best collections of ethnographical art. There are many more amazing museums and galleries in Basel, a city where art and culture are at the top of everyone's pecking order.