Sir Philip Green: The Green Zone
As his Topshop chain mushrooms, billionaire Sir Philip Green is living it up as the king of cheap chic.
---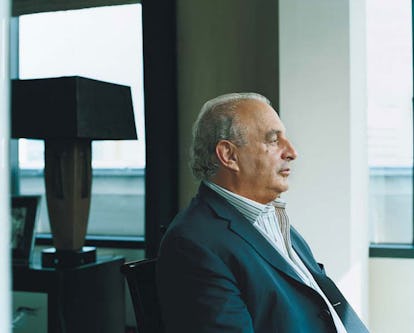 Sir Philip Green has spent the past two weeks hiking in the desert around Canyon Ranch. Now, kissed by the Arizona sun and fueled by green tea, he's pacing the still-raw building site that will soon be his newest Topshop flagship, across from Harrods in London's Knightsbridge. "There's not enough stock on the wall," he tells an employee who has shown him a sketch of a women's merchandise display. "I don't like the aesthetic of those windows—you lose the eye line," he announces during a walk-through of the second floor. Dressed in a black hard hat and a vest bearing the words Sir Philip (Green was knighted in 2006), he returns to the ground floor, where he begins fixating on escalator widths. "That's rubbish!" he tells a construction worker who insists that three escalators would require about 30 feet. "That's half the shop! We're in the retail business, not the escalator business!"
A high school dropout with a photographic memory, Green, 58, has been very rich for a long time. He made his first millions in the Seventies flipping London retail stores and fashion inventory. Today he is one of the UK's largest private employers, with 45,000 staffers and 3,200 stores in 34 countries, selling everything from duvet covers to Kate Moss–designed frocks. According to the 2010 Sunday Times of London's Rich List, Green and his wife of almost 20 years, Tina, who had her own success with a Sloane Street boutique in the Eighties, have a combined net worth of more than $6.3 billion. Yet here he is, arguing about escalators.
That same morning, at the headquarters of Bhs, his mass-market, general-merchandise chain, Green can be found telling a buyer how to drive sales of a slow-moving dress. "Get it in the window; it's nicer without the corsage," he opines, in a voice that sounds like Michael Caine's Alfie. "See this phone?" he says later, holding up a battered Nokia 6310, a nine-year-old model that has been discontinued. "This phone has no answering machine because it's on 24-7." Green loves the uncomplicated design so much that he has bought up the back stock, ensuring that he won't have to switch to a newfangled smartphone any time soon. He immediately returns every missed call, whether he's in the back of his
Mercedes S500, on his Gulfstream or aboard Lionheart, his 206-foot yacht. He once fell asleep during a late-night call with his buddy Simon Cowell, then woke up after a few minutes and continued the conversation like nothing had happened. "He talks or he sleeps," says Cowell.
"And he never forgets a thing."
Green—whose combed-back curls and swagger give him the aura of a Roman emperor, albeit one in a Gianfranco Ferré suit and a diamond Rolex—tried retiring once, in 1998, but it didn't work. He sold his various businesses and moved with Tina and their children, Chloe, now 19, and Brandon, 18, to a $13 million apartment in Monte Carlo, where the family still live as tax exiles. (Green usually spends the workweek at a London hotel and jets home on weekends.) "We took a lot of walks on the beach, holding hands," he says, referring to his days off with Tina. "And I remember thinking to myself, This could end in murder." A year later he bought Sears PLC, then a holding company for various clothing brands, and made a profit of more than $280 million by selling off its various divisions. He used the cash to purchase the ailing British Home Stores chain, which he renamed Bhs and made profitable in less than two years. In 2002 he acquired Topshop's parent, Arcadia, for $1.2 billion.
The Knightsbridge store is the latest in a steady rollout of Topshop boutiques in major markets around the globe, including a second New York location planned for somewhere in uptown Manhattan. Green has always been something of a social moth with celebrity friends—Joan Collins cut the ribbon at his first store opening in the Seventies—but his expansion of Topshop has raised his international profile considerably. He lunches with Louis B. Susman, the new U.S. ambassador to Britain; has become close with Naomi Campbell and Kate Moss (both of whom refer to him as Uncle Phil); and has also charmed Burberry chief executive Angela Ahrendts, who calls him "one of the greatest merchants in our industry today." Among his closest high-profile chums are Cowell, with whom he recently teamed to form an entertainment company; Richard Caring, the owner of Soho House, Annabel's, the Ivy and Le Caprice; Planet Hollywood founder Robert Earl; and Lucian Grainge, who will take over as CEO of Universal Music next January.
At his polished Arcadia offices near Oxford Street, Green reflects on his career, which began when he was a teenager underachieving academically at a Jewish boarding school in Oxfordshire. In his free time, he helped his widowed mother, Alma, now 92, with her various businesses, including garages, car showrooms and gas stations. "I'm into things where I think I can add value, teach people, show them what I've learned," he says. "I don't want to be an absent landlord—that's not my style." He's clearly proud of what he has achieved: "I've bought and sold and owned nearly 5,000 shops in this country. I've got nothing to prove. Zero."
According to Tina, her husband's success over the past two decades has done little to change him. "He's still the same bombastic fellow," she says. "He doesn't shout as much as he used to, but he still wakes up every morning with a sense of purpose and is always 10 steps ahead of everyone else."
Green is also known to be free with his checkbook, offering a $500,000 reward for the return of Madeleine McCann, the child who went missing in Portugal in 2007; splashing out about $465,000 for new beds at London's Royal Marsden cancer hospital, after Tina's mother died there; and paying more than $150,000 for an Alexander McQueen dress at Naomi
Campbell's Fashion for Relief charity event earlier this year. And he's a major donor to cancer charities, but the family prefers to do most of their giving under the radar.
In the UK, Green makes headlines mostly for his business ventures—and for the legendary parties that he and Tina frequently host. Last October they threw a Twenties-theme 50th-birthday bash for Cowell at Wrotham Park, a stately home north of London. "The day before the party, [Philip and Tina] came to see me, and while I was having a massage, I could hear them arguing about the table plans in the other room," says Cowell. "They love each other; they respect each other; and they enjoy what they've achieved. They like everyone to have a good time." In 2002 the couple reportedly laid out $7.5 million to fly friends to Cyprus for a three-day 50th-birthday celebration for Green that culminated in a toga party at which Rod Stewart performed. And in 2005 they reportedly spent $7 million on Brandon's bar mitzvah, another three-day affair, in the South of France. Brandon marked his coming-of-age with a traditional ceremony in a custom-built temporary synagogue overlooking the Mediterranean, and Beyoncé and Andrea Bocelli performed during the celebration. "All my friends will tell you they've enjoyed the money with me," Green says cheerfully. "I'm happy to do parties and have fun, and money enables you to do things when you want to do them." Despite the current economic climate, the Greens plan to keep on partying: "2012 is coming up, which will be my daughter's 21st birthday—and PG60!," referring to his 60th.
First, however, Green is planning another fete. On May 19, 150 guests will mark the opening of the new Topshop store with a celebration at Zuma, a Japanese restaurant known for its glitzy clientele, sizzling open grills and hefty prices. Sitting at a table near the kitchen, Green quickly organizes the night, letting the tough restaurant manager know exactly who's boss. "We're going to have an artist perform, a female singer, like Adele, someone who's just had a
No. 1 album," he declares. "She'll be over there in the back. I want everyone to sit down to eat, so there's no need to take any tables away. There won't be a seating plan, but we will have a roped-off VIP area. I'll choose the menu." And after a few gulps of green tea, he's back in the
Mercedes, zooming toward Bhs to see how the strapless summer frocks are selling.