Six Things January Jones Accomplished In the Tub While You Were Just Sitting There, Dry
The actress sent in her absentee ballot while fully submerged in bubbles. What did you do today?
---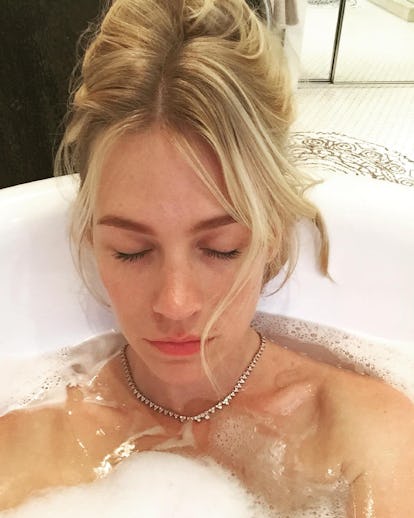 Since joining Instagram in 2014 (in the month of January, coincidentally) the 38-year-old actress January Jones has curated one of the most charming, hilarious, and authentic celebrity accounts out there. She's up there with Britney Spears and perhaps even a step above Marion Cotillard. Just the other day, for example, she posted a ridiculous paparazzi photo of her eating a pickle, encouraging her followers to do the same.
On another recent weekend, she took a selfie at a soccer match while wearing Rodarte. She also loves a good Mad Men throwback, has posted Elena Ferrante and Gucci loafers in the same photo, and knows a good meme when she sees one. In short, she's a cool mom. But perhaps her best photos of all take place in the bathtub, where, as she told W magazine, she likes to spend her "zen moments" putting on a hair and face mask. And taking selfies.
"I was inspired by Ricky Gervais to do a bathtub series," she said in her first caption. "I'm calling it 'a bathtub series not by Ricky Gervais but by me.'" Who knew Betty Draper was such a comedian, too?
This week, Jones blew everyone out of the water by posting a photo of herself in the tub wearing an "I voted" sticker. Apparently, she sent in her absentee ballot while fully submerged in bubbles.
"Multitasking the crap out of today… voted…in the tub," Jones wrote sarcastically in the caption. "I feel like my decisions were better made while super chill and slightly overheated."
What did you do today? In the spirit of Lewis Carroll's cry to "accomplish six impossible things before breakfast," below are six things Jones has accomplished while in the tub.
She sent in her absentee ballot for Hillary Clinton.
She cleaned her diamonds.
She gained followers with a shameless 'belfie.'
She finished a brioche.
She grew a bubble beard.
She found her filter.