4 Damage-Reversing Skin Treatments to Try This Winter
We consulted top dermatologists from both coasts—including Dr. Dennis Gross, Dr. Ava Shamban, Dr. Macrene Alexiades—for their advice.
---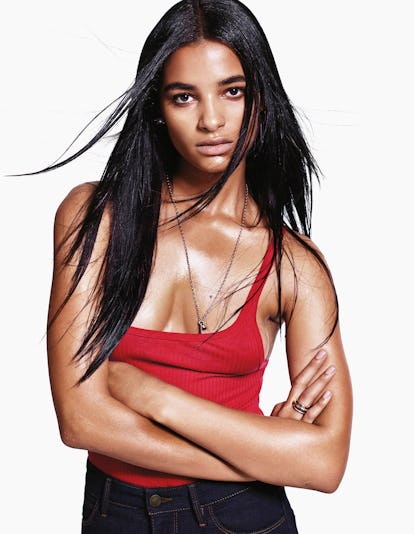 Mario Sorrenti
The saying "New Year, New Me," is mostly associated with making life changes on esoteric and spiritual levels. But there's also something to be said for making changes when it comes to your appearance. This statement doesn't come from a place of superficiality, either—the point is to feel as best you can from the outside in. My sister, never one to mince words, sharply reminds me from time to time (in the way only a sister can), "There's no point in being zen if you're going to look like hell. Looking in the mirror and not seeing your best possible self will hit your confidence internally, too."
Such a challenging and stressful year has, no doubt, shown up on the majority of people's faces (can you blame us?). In addition, it's been tough to address spots and discolorations that still appear from summer, because there were few moments of downtime for proper treatments. Fortunately, winter provides limited sun and abundant time to take care of complexions in the correct way. We consulted four of the most renowned dermatologists from both coasts to give us their take on ideal winter skin treatments to provide both an external and internal glow this season.
Dr. Macrene Alexiades, New York
Microneedling, Fractioned Carbon Dioxide Laser with PRP, and MACRENE Actives
The prominent New York dermatologist and consistent runway model favorite recommends a combined treatment of microneedling, fractioned laser, PRP (a concentrate of platelet-rich plasma protein derived from blood injected into the skin), and her own MACRENE Actives. "In terms of treatments during winter to help skin look its best, I've had a tremendous amount of success with this combination. It is distinct from other forms of PRP because it combines the state-of-the-art advancement of using microneedle electrodes to deliver radio frequency energy to specified skin depths or fractionated laser resurfacing which incite skin renewal; add to that the PRP which contains your own growth factors to boost outcomes; add further to that the adjuvant use of 50 active ingredients daily post-procedure. Grand total, it's like doing four treatments in one. After a single treatment, the skin is rejuvenated significantly to approximately a decade younger-appearing skin. However, you must understand that this makes a big difference for someone in their late thirties and up."
IPL Laser Treatment
Gross, the board-certified New York dermatologist, has been a longtime fan of IPL (which stands for intense pulsed light) to combat hyperpigmentation. "Winter is a great time to get rid of the damage produced by summer. While a lot of my patients are great at using their physical SPF every day, sometimes they get a little extra sun during the warmer months, which shows up on skin as sunspots and hyperpigmentation. IPL technology improves skin tone by targeting hyperpigmented or otherwise damaged skin cells with the use of specific intense light wavelengths. The machine we use at my practice is extremely advanced and customizable. Most patients see full results in one to two treatments."
Custom-Blended M Peel
LA dermatologist Lancer is renowned for tending to A-list complexions on both coasts—and he is a strong advocate for a proper customized peel to remove uneven skin tone and hyperpigmentation. "One of the top treatments I do in our office is the M Peel, which is a custom-blended paste peel that is applied to reduce irregular pigmentation of the skin. It is a color-correcting chemical peel that targets pigmentation. The peel is a controlled anti-inflammatory and antioxidant exfoliating multifactorial peel with active ingredients such as malic acid and phytic acid. Downtime is five to seven days and results can be seen once the healing period is over, so about seven days later. If the Lancer Skincare protocol is followed correctly, the results of this peel will last for at least one year."
Plasma Pen
"These colder months are the perfect time to 'write off' signs of sun damage and aging with the Plasma Pen," explains Shamban, the Los Angeles-based dermatologist who happens to be on steady speed dial for Hollywood's most celebrated faces. "It's an effective skin smoothing, high-definition face-defining treatment. There is a lot of power in this tiny pen that hovers over the skin, soliciting a highly reactive collagen response. The handheld device powered by nitrogen gas from plasma creates a magnetic field through an ionization process—incidentally, the same technology is used to make Teslas and TVs. It emits an electric charge or arc targeting both the top layers of skin for resurfacing while deeper layers receive heat and massaging, to disrupt the deeper dermal structure and send out fibroblasts to produce collagen and elastin. I love this because it is super effective to brighten, tighten, smooth and plump the skin structure in just one treatment. And it benefits even the hardest-to-smooth areas, including above the lip line and around the eye (lids and crow's feet, too). However, beauty does have its price—and the results don't come until after a healing period of seven (or even up to 10) days. Healing involves a pattern of hundreds of tiny pin-sized red marks in the treatment area that eventually turn dark and then fall off and fade away."