A Celebrity Facialist's Guide to Radiant, Stress-Free Skin This Holiday Season
Joanna Vargas recommends taking a bath with chamomile and rosemary, using Vitamin C, and so much more.
---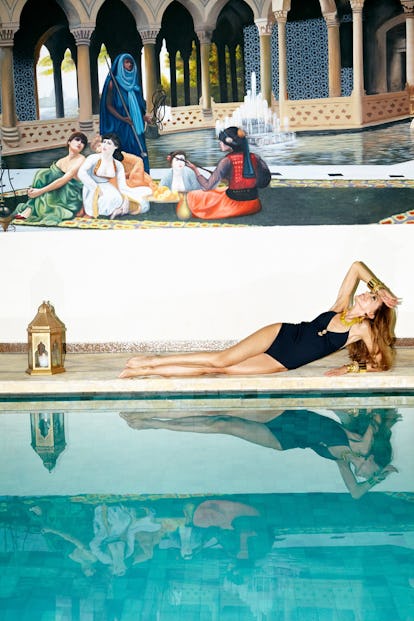 "Marisa Berenson At Home in Marrakech" photographed by Hugues Laurent; styled by Patrick Mackie; W magazine April 2014.
Joanna Vargas is one of the most in-demand facialists in Hollywood, thanks to her gentle skincare treatments that actresses like Julianne Moore and Naomi Watts rely on right before red carpet events. But even if you can't make it to see Vargas in one of her two offices, you can rely on her advice. Here, the celebrity facialist shares some of her favorite self-care techniques just in time for the holiday season.
The holiday season puts a lot of stress on your skin. What can people do?
People drink a lot more around the holidays. With that in mind, if you overindulge at night, you always run the risk of waking up either super dehydrated, or with a bit of a break out in the morning. If you're drinking, I always recommend that you take Vitamin C before going to bed, because it will calm down any internal inflammation that you're experiencing. Dr. Frank Lipman has a Vitamin C ($39, bewell.com) that is very potent. I sell it at the salon. Vitamin C is one of those vitamins that can cure almost anything. When you get run down and it starts to get cold out, you're also going to be more susceptible to getting sick. If you're taking a lot of Vitamin C, the chances of that happening are minimized. If you had one too many martinis or glasses of wine at dinner, you're experiencing internal inflammation in your digestive system. When your body is inflamed, it's not able to digest properly. Its solution is to push toxins out through your skin, that's why you get breakouts. If we're address inflammation internally, you're less likely to break out externally.
Do you have any tips for regulating stress?
Take care of yourself and have a ritual at night. I like to ritualize self-care and encourage my clients do the same. For example, all of my clients know that when I'm running around like crazy, I'm always going to do a sheet mask before I go to sleep. If you're stressed, the Euphoria sheet mask ($75 for five masks, joannavargas.com) is great. There's chamomile in it. When the mask hits your face you feel like you have permission to calm down from whatever you're thinking about.
When I need a calming and soothing bath, I'll do the chamomile and rosemary because those are both anti-inflammatory ingredients. The bath will calm your skin down in a heartbeat. If I feel like I've been working too hard and my legs are tired and my feet hurt, or if I've been sitting to long at the computer, which is really bad for your circulation, I'll add some green tea. Green tea is also really great for people who get spider veins [on their legs]. It's an antioxidant so it's going to reinforce the strength of your capillary walls.
What's your recipe?
1 cup chamomile tea leaves, 1 cup rosemary, boiling water, green tea sachets (optional).
How did you discover this combination?
The chamomile and rosemary is a family recipe that's traditional in Latin culture. It's one of those things that's considered a cure-all. Every Latin woman I know has a grandma or an aunt or a mom who has some kind of ritualistic recipe either for hair or for skin that's supposed to fix anything. For me, it was this bath. I've used it my whole life. Whenever my kids got a cold and they were too young to blow their nose, it cleans out your sinuses. It fixes almost anything goes wrong with you.
Where do you get the chamomile and rosemary from?
In New York, the herb shops sell the dried, loose flowers in bulk. You can also find huge boxes of dried chamomile and rosemary in the international aisle at the grocery store, because they are both so common in Latin America.
How long do you stay the bath to reap the max benefits?
At minimum, 15 minutes. But I like to get in and hang out in there. I dry brush before I get in the bath. I'll bring in a pile of magazines, I'll bring in a book, I always play music. I have a whole setup. I put a sheet mask on my face. I'll stay in for 45 minutes, easily.
Do you use any body products after you get out?
I like to put on some sort of body oil for sleeping. Especially in winter, oils are great because they help prevent dry, rough patches. I'll do apricot oil, or jojoba oil. I've even been known to use my rejuvenating serum, which is in an oil-based serum all over my body when I feel like I really need it.
Can you do any of this in the shower?
I would dry brush before getting in the shower. Also, wash your face before you get in the shower. Then get in the shower with a sheet mask on, and don't get your face wet. You can scrub yourself with a washcloth with the solution of rosemary and chamomile that you've prepared. Or you can make a body scrub with honey, brown sugar and olive oil and scrub down your whole body while you have your sheet mask on.
10 Bath Time Essentials for Ultimate Relaxation
Watch: Bella Hadid, a Bubble Bath, and Jenga: What More Could You Want?