Why November Is Prime Time to Get a Chemical Peel (and Other Beauty Treatments)
It's the season for the jetset crowd to indulge in an invasive treatment (or two). Here, the experts weigh in on what their clients are having done during turtleneck season.
---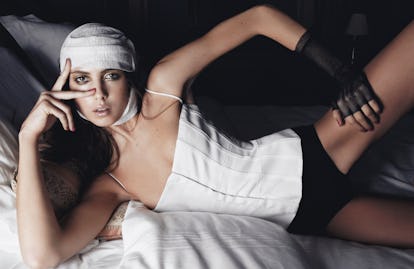 Inez Van Lamsweerde and Vinoodh Matadin
While teenagers tend to get plastic surgery over the summer (so they don't miss school), the peak season for adults to explore intensive skin treatments is November, when there's a bit of a lull in the social swirl after the fall gala circuit dies down and before the holiday soirees start ramping up. (Limited sun exposure and seasonally-appropriate turtlenecks don't hurt, either.) If you're in the market for a more radiant skin, and hoping to hide the scars and redness from a trip to the dermatologist or aesthetician, here are five treatments that the experts recommend trying this November.
Fraxel
Dr. Amy Wechsler, a top New York City dermatologist and Chanel beauty advisor with a long roster of celebrity clients, says her patients are coming to her practice on East 85th Street right now for intense laser treatments. "In the fall and winter, it's a great time to do more intense laser treatments on the chest and neck, since patients can wear crew necks, turtle necks, and /or scarves," says Dr. Wechsler. " I do Fraxel treatment for wrinkles and brown spots." Fraxel also targets imperfections like surgical scars, uneven textures and acne by eliminating the damaged skin and speeding up the growth of younger skin. The most common side effects are swelling and redness, which she says is generally minimal and will calm down within a few days.
Photodynamic therapy
To treat pre-cancerous areas and prevent skin cancer, Dr. Wechsler will do photodynamic therapy. The light, in combination with the photosensitizing agents, works to kill cancer cells in a specific area of the body. It's non-invasive, fast and effective. The downside? "Depending on the patient's level of sensitivity and skin damage, it can cause redness or minor scabs that can be visible for a few days to a week after the treatment," says Wechsler.
Strong Peels
There is typically a decrease in sun exposure at this time of year, making it a perfect time to get strong peels, according to celebrity facialist and body treatment extraordinaire, Ildi Pekar. Pekar, who is based in New York City, works with a steady stream of Victoria's Secret models on skin tightening, detoxifying and facial treatments at practice on East 49th Street. Peels, a chemical treatment that soaks into your skin, are effective at targeting pigmentation, acne and wrinkles and result in brighter, tighter skin. "We need you to avoid sun exposure for one week, as you will be peeling and don't want to make the skin sensitive," advises Pekar. Also, make sure to apply plenty of sunscreen, SPF 30 and higher, daily. (You should be wearing it daily anyways, but it's particularly important after a peel.)
Microdermabrasion
"I also do more microdermabrasion in the winter time," says Pekar. "I usually recommend avoid the sun for at least 48 hours when you receive this," she adds of the treatment, which gently sands your skin to remove the dead, uneven skin on top and thicken your collagen (perfect for treating light scarring, discoloration, sun damage and stretch marks).
Stem Cell-Microneedling Facial
It takes about a week for your skin to recover (typically, patients have puffy skin for for a few days) from a stem cell microneedling facial, but Pekar says you will have beautiful skin when the wait is over. The facial targets aging skin and helps to stimulate collagen/elastin production, boost radiance and suppleness of the skin and help protect your skin against future aging.
Related: Kylie Jenner Isn't to Blame for the Rise in Lip Injections, Says a Park Avenue Plastic Surgeon
Watch: The Beauty Secrets of Supermodels