The Most Overrated Skincare Trends, According to Top New York Dermatologist Dr. Dennis Gross
The A-list dermatologist opens up about everything from injectables to vitamin C.
---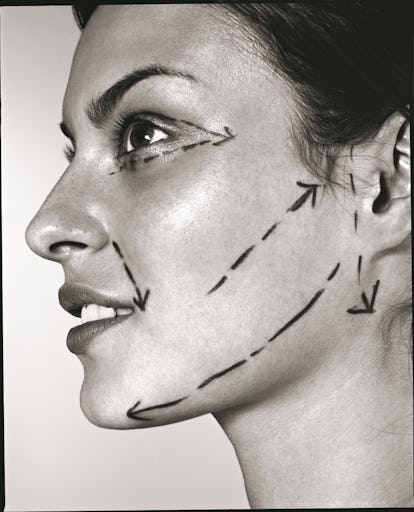 Burbridge Richard
Dr. Dennis Gross has earned a cult following amongst Upper East Siders in the past 25 years thanks to his pragmatic, moderate approach to skincare and eponymous product line. Needless to say, he's not one to jump on the bandwagon with the latest trends. " I believe in bringing you back to the way you looked 10 years ago, not changing the way you look," he explains. Here, Dr. Gross talks about the most overrated dermatology trends today, why vitamin C works miracles, and what you should bring in a bag to your next dermatologist appointment.
You're a huge fan of vitamin C. Why do you like it so much? My motto is, ounce for ounce, it's probably the most powerful antiaging ingredient there is because it is the one ingredient, that from an antiaging point of view, directly stimulates collagen. There's a natural receptor for it, which is a unique receptor. Vitamin C is also an antioxidant, which protects the collagen we have from breaking down from free radicals and it directly blocks an enzyme that leads to melasma and hyperpigmentation. It really does make the skin look fantastic so you know there's room for improvement and innovation, which is where I come in.
How does melasma start? It starts with an insult of some sort, okay, physical or chemical. It could be excess sun. It could be irritation to something, which is actually technically called post-inflammatory hyperpigmentation, but sometimes it occurs without the inflammation so it's something that some people…it's just something they applied to their skin didn't agree with them and then there's a hormonal aspect to it, where birth control pills and pregnancy and puberty and high estrogen levels seem to be a trigger as well.
Patients have been coming to you for peels for decades. What does a first-timer need to know before getting a peel? My advice is always to ask first if there is any need for downtime, or not. If there's downtime, understand immediately that that increases the risk that something will go wrong, which is why I love and really recommend non-invasive peels without a recovery time with rare exceptions. Then, ask if the treatment can have any complications, from melasma and post-inflammatory hyperpigmentation to irritation. The risks you're told that exist are real, but also increase with the potency of the peel.
It's important to always review what products you're using on your face, if you're using Retin-A, Tazorac, Differin, Epiduo, benzoyl peroxide, hydroquinone…all these other ingredients you must go through exhaustively with the esthetician about what it is you're using to make sure that it doesn't increase your risk of damage and you should know that.
So we really should almost be walking in to see our esthetician with our skincare in a bag. That's what we do here. People walk in, we tell them over the phone bring everything you're using.
Why Vitamin C May Be Your Most Powerful Skincare Aid
What skincare trends are you tired of right now? Well, I think that the bar is set very high in aesthetics for injectables. I think people are overdoing that and it's still pretty rampant. It's a trend I think that's subsiding because everyone I treat, they come in because they really like the natural undone look. I think there's coastal differences there. In New York people say, "I don't want anyone to know." In California they say, "Just give me everything and then I'll go get my friends." So it's just a different aesthetic. There are people who come in who want to look as big as possible and if I think that it's like…there's no point, and it's not a thing I can do that would harm them. And if they insist, I can do it. It's just that's not my aesthetic. I think that people come here because they really like the fact that I believe in bringing you back to the way you looked 10 years ago, not changing the way you look. I think the technology's there and the art form is there.
I'm doing a lot more lips now. I have sort of carved out an area of expertise and that's one area where a lot of people look better with a little bit of augmentation in the lip. You have got to know the science in terms of whether to give them more volume or to elongate, how to keep the balance between the upper and lower.
There's a difference in size, you know, equalizing them if one's larger than the other. That's a big step, and so we'll talk a lot about that. You know, some people have that little thing like you do here. Others don't. So all these subtleties are part of the strategy in terms of augmenting the lip, but I'm seeing people wanting big, big lips. So you have got to consider the shape of their face. Or, there's also enhancing the border, just giving it more definition versus a bigger size. Or a combination.
Is it mostly older patients who are asking for lip treatments? Yeah, but younger women are doing it too. Men are doing it.
What else are you bored of? You know, I think Fraxel is overrated. In my experience people generally love what they see, but after a month the results are gone and they've been through all that recovery for very little. And so I think that you can get people there through a non-invasive, gentler approach and I think the results are better. Fraxel actually stimulates a type of collagen that you see in scar tissue.
So you don't want that? I don't think so, compared to the native collagen. There are really five types of collagen in the skin. No one talks about this. In fact, this is the first time I'm really having a conversation about this detail. You want the kind of collagen that is truly the type of collagen in the dermis that diminishes with age, that diminishes with sun damage, that you have more of when you're younger, and that's what peels bring back, that's what lasers bring back, but not the invasive stuff which makes the skin start to have more of a shiny look. The skin starts to maybe lose a little bit of its pigment, so the skin looks a little whiter in color so the face and neck don't match. So I don't like that. I think the collagen that you get with moderation, with a non-invasive approach, is the more physiologically correct collagen to get that gives you a really nicer look. So moderation doesn't mean that you're forfeiting better results. I think it's actually more natural and longer-lasting.
10 Famous Actresses Who Drastically Cut Their Hair Short For Movie Roles