Slick Woods Gives Birth to Her First Child With Model Adonis Bosso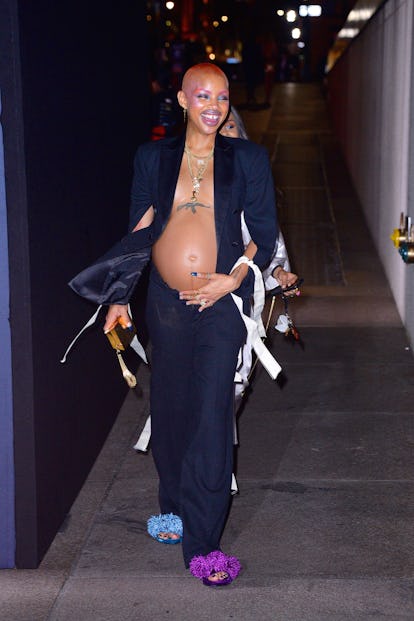 Getty
If Slick Woods wasn't a household name before New York Fashion Week, she definitely was after. The 22-year-old was the star of Rihanna's Savage x Fenty Show, where she proudly showed off her pregnancy in bondage-inspired lingerie with pasties. Not long after, though, Woods went into labor—apparently, for 14 hours—and has now welcomed her first child, a baby boy named Saphir. The birth was first confirmed by the model Adonis Bosso, the father of the child, who posted an Instagram of himself on Friday morning with the caption, "Fatherhood." A few hours later, Woods posted her own Instagram, with a diptych of herself from the Fenty show and the empowering caption: "A lewk, 14 hours of labor, and A king is born. This is the face of a WOMAN in labor, we hold shit down most of us don't even know how much we're going through, I'm here to say I CAN DO WHATEVER THE F— I WANT WHENEVER THE F— I WANT AND SO CAN YOU." She added her gratitude: "Thank you @qualityresusqueen and the Fenty family for taking such good care of us."
It's pretty miraculous that Woods was able to star in the NYFW highlight at all, considering her due date was two days after the show, a fact she revealed in mid-August. "A month away from breathing life into my son, ever missed someone you haven't met yet?" she wrote on Instagram.
Woods has been sharing photographic updates of her pregnancy, ever since announcing that she was expecting with Bosso back in early July. "In good company," she coyly wrote on Instagram in the caption of a photo where she revealed her growing stomach in a striped swimsuit. "What a time to be alive," she later wrote, when posting photos from her baby shower. "What a time to give life. Being engulfed in so much love and beautiful energy I am grateful to all of my friends and family."
The model and muse to Rihanna also opened up about her pregnancy in a cover story with Elle, revealing that she already had the name Saphir—a nod to the birthstone for his birth month, September—picked out well before his birth. She also mentioned that the musical artist Erykah Badu would be acting as her doula, though it's unknown if that ended up happening. (Badu was in Dallas, Texas, where she lives, as of a day ago, per Instagram.) "She's a mommy role model," she said. "A mother I look up to, who kills her shit and is a boss-ass bitch."
"If you've never had hope for the future, you have to," Woods said of how becoming pregnant has changed her. "You can create life; whatever you want that life to be. The more kids you have paying it forward, the more new ideas there will be. You have to get your army ready." Congrats to Woods and Bosso on their adorable new family. We'll update this post with more details as they emerge.
Related: Rihanna's Muse Slick Woods Reveals New Details on Singer's "Bodacious" Lingerie Line