Rihanna's Muse Slick Woods Reveals New Details on Singer's 'Bodacious' Lingerie Line
The singer's much anticipated lingerie line, Fenty x Savage, drops on Friday.
---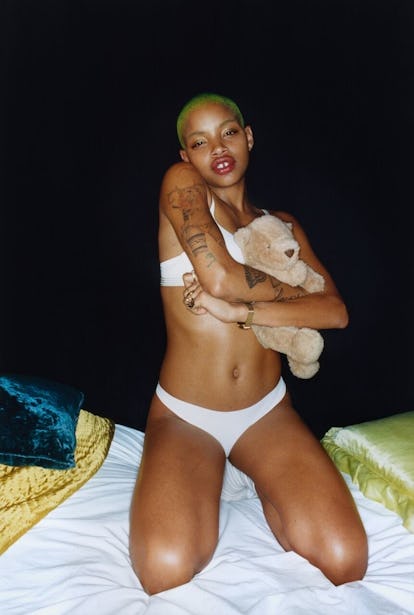 "It's always dope to see what comes next," said Simone Thompson, better known as model-of-the-moment Slick Woods, teasing a few more details—down to the wire, at this point—about the much anticipated launch of Savage X Fenty, Rihanna's new lingerie collection, which drops tomorrow. The shaved-head, gap-toothed beauty has emerged as a front-runner for defining what beauty looks like today, and she has quickly made a name for herself, having appeared in the pages of W and become the reigning face and muse to Rihanna's burgeoning Fenty empire.
Rihanna first tapped Woods last September for the launch of Fenty Beauty, which was created with the idea of including all women, offering shades and colors for all skin tones. The musician took the same approach with her lingerie collection, aiming to be as inclusive as possible in her offerings. "Everything Rihanna and her team do is done meticulously, every domino being placed in the perfect position," explained Slick. With more than 46 sizes and 90 styles, the collection promises to have something for everyone.
In the first exclusive Savage X Fenty campaign shot seen here, Woods is clad in a white On the Reg bra set, sporting dyed fluro green hair, wearing her signature jewelry, and clutching a fluffy teddy under both arms. "Fenty is calling to a side of me I don't express much on camera," she said, calling the bustiers that she wore for the campaign "bodacious" and commenting that her other looks consisted of everything from super-sexy bodysuits to pretty lace pieces. While we'll all have to wait until tomorrow to see the entire collection, other cheeky capsule collection names like Black Widow, U Cute, and Damn perhaps give a few clues as to what the full range holds.
Woods is known for her one-of-a-kind personal style, and, like Riri herself, often styles her underwear as outerwear. "Wear some lingerie under your favorite boyfriend fit and cut out your sexiest assets to see what you come up with," she offered by way of fashion advice. "I feel when you get to mix streetwear and underwear, it's easier to hide the things society deems unseeable to the public eye. [It] gives me the opportunity to style it up and add extras… 'cause I'm extra."
The Savage X Fenty collection is available starting tomorrow, in sizes from XS through 3XL, and prices start at $14.50.
Related: For a New Crop of Designers, Fashion—Like Life—Is All About Fluidity