Of Course Slick Woods, Rihanna's 21-Year-Old Model Muse, Announced That She's Pregnant in the Slickest Way Possible
Bella Hadid, Emily Ratajkowski, Erykah Badu, and Kaia Gerber are just some of those who've already expressed their congrats.
---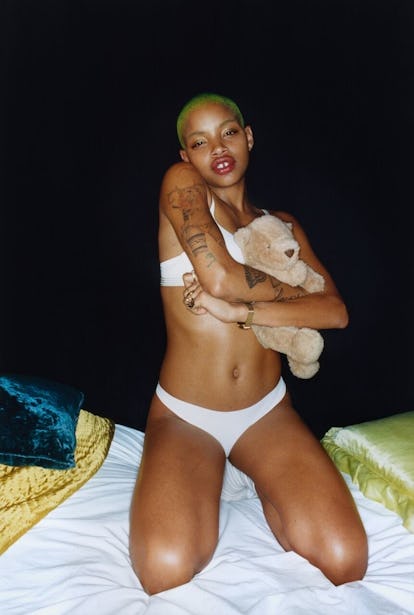 This past March, the now apparently pregnant model Slick Woods walked alongside Elle Fanning in Miu Miu's fall 2018 show. Three months later, the latest glimpse we've gotten of the 21-year-old runway regular's signature shaved head, tattoos, and gap-toothed grin has come in the form of what appears to be the slickest pregnancy announcement possible. (What else would you expect from Rihanna's handpicked muse?)
Her cleverness in the Instagram she posted on Monday night did not explicitly confirm that she's pregnant just yet, but she certainly suggested so with the two photos of herself that she shared with her 500,000-plus followers, which feature her lounging poolside in a striped swimsuit and resting her hand right above her semi-protruding stomach—a sunlit gallery which she captioned, simply, "in good company."
So far, Bella Hadid, Emily Ratajkowski, Adwoa Aboah, Yara Shahidi, Erykah Badu, Imaan Hammam, and Kaia Gerber have been just some of those who've expressed their support, the latter commenting that "this makes [her] so happy!" There of course has already been plenty of negativity to be found in the several thousand other comments, too, one of which—"Whattt? I thought she was lesbo"—Woods took care to address.
"To think we live in a world where people still confuse sexuality with reproduction," she replied, adding "grow up" with an eye-rolling emoji in a comment that got 5,000-plus likes of its own. (The @savagexfenty" account also congratulated their "BOO," to which a fan responded with a laughing emoji: "you did this.")
If they were referring to all of the A-list attention she's already gained for herself and her expected newborn, that's not too much of an exaggeration. Formerly known as Simone Thompson, Woods was born and raised by her grandmother in Minneapolis, which she left behind in her teens for Los Angeles, where she soon became homeless. She ended up modeling thanks to a chance encounter with the model (perhaps more recently known as Lily-Rose Depp's ex) Ash Stymest at a bus stop about three years ago, which saw him immediately take her under his wing—and eventually that of his agency's as well.
From there, Woods, who will turn 22 in August, made her modeling debut in Yeezy's season 2 lookbook, gained the approval of designers like Jeremy Scott and Marc Jacobs, and started booking couture shoots with top models like Jenner. Then, another person decided to take her under her wing: Rihanna, who has put her at the forefront of her brands as a face of both Fenty Puma and Fenty Beauty ever since.
As the comments suggest, she's made no shortage of other enviable industry friends along the way, too—one of whom is the Ivory Coast–born model Adonis Bosso, whom you may recognize for his septum piercing and pronounced cheekbones, and for speaking out about the industry's lack of diversity. He's been Instagramming posts related to Woods on his account, @septumpapi, since 2016, including one advocating for her mother to be released from prison. While Woods hasn't been on his feed much of late, she returned on Monday night when Bosso regrammed her pregnancy photo to his Stories—funnily enough, at almost exactly the same time that Woods did. Naturally, that hasn't escaped the attention of her many fans, who've since become convinced that he's about to be a father.
Neither Woods nor Bosso has made any comments explicitly announcing so as of yet, and while Bosso could simply be expressing his support, the evidence is pretty convincing that there's more to it than that. In the meantime, let's hope that Woods's overwhelmingly enthusiastic fans make a speedy recovery soon from the temporary blindness that's resulted from imagining the pair's cheekbones combined.
Update on 7/27/18: In an interview with Elle UK, Woods confirmed that the baby is a boy, and that Bosso is the father. She also revealed that she didn't find out a baby was on the way until five months into her pregnancy. "I was really, really, really sick in London, but thought it was because of travel, so a doctor gave me pills for flu. Went to Paris: more pills for flu. And then I went to LA, and they tried a sonogram, and I saw my baby's face and heard his heartbeat," she told the magazine.
Related: Slick Woods Talks Rihanna's 'Bodacious' Lingerie Line
Presenting 21 Moms Who Happen to Be Supermodels