Slick Woods Is Already Generating Buzz from Her Acting Debut In Goldie
Is there anything this It Girl can't do?
---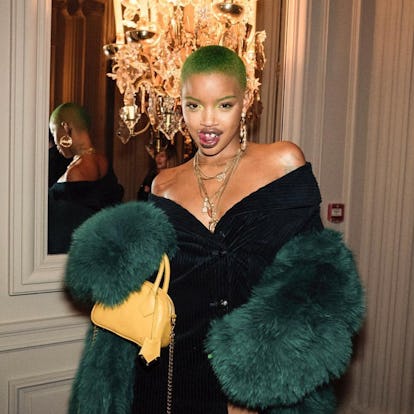 It would appear that Slick Woods really can do it all.
Not only did she shake things up on the last day of New York Fashion Week in September 2018, when she gave birth to her first child immediately after walking in the Savage x Fenty runway show, she's now about to make her debut as an actress in Sam de Jong's new film, Goldie.
Wood plays the titular Goldie, a scrappy New Yorker who hustles hard to achieve her dreams of becoming a famous dancer while watching out for her two younger half-siblings in order to keep them from falling into the foster-care system. The film premiered at the 2019 Berlin International Film Festival and also boasts a cameo from A$AP Ferg. While de Jong waits for his film to get a United States release date, there's a clip circulating that demonstrates Woods's acting chops. In her canary yellow fur coat and golden shaved head to match, Goldie answers a phone call that seemingly changes the course of her life, while her two younger siblings watch and tell her how good she appears with her new look.
It seems that following the tradition of becoming a model turned actor should be a piece of cake for Woods. The film is being praised for its realism and bittersweet plot, while its 22-year-old fashion-icon lead is already generating plenty of buzz around her debut performance (Indiewire reviewed Goldie and posited that "most of the film's vitality and ride-or-die sparkle comes from Goldie herself").
Woods is already an It Girl and bonafide Rihanna muse, but with this new role, she will likely solidify her status as a star outside of the realm of fashion. Expect to see the busy mom and model on the festival circuit once Goldie is released in the U.S. later this year.
Related: Slick Woods Gives Birth to Her First Child With Model Adonis Bosso