Welcome to the Jungle
There are times when attending New York society events can feel a bit like embarking on an urban safari. The venues are often so crowded that navigation requires a virtual compass (the bar is your...
---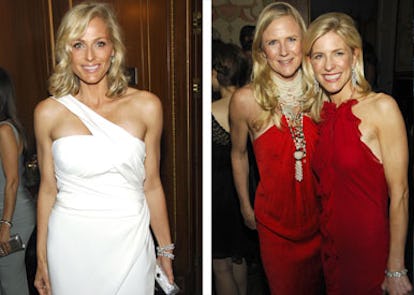 There are times when attending New York society events can feel a bit like embarking on an urban safari. The venues are often so crowded that navigation requires a virtual compass (the bar is your North Star); the profusion of chandeliers act like a veritable canopy, and let's face it, the people-watching can be akin to animal spotting (do you know how many species exist on the narrow island of Manhattan? I've lost count.).
The Society of Memorial Sloan-Kettering Cancer Center's annual Spring Ball Wednesday night was a prime example, and not just because its main sponsor was Passage to Africa, a company that arranges bespoke safari trips. Held in the Pierre Hotel's ballroom, the evening had all the above components in their fullest glory (read: interpretive black tie).
There was grazing (on smoked salmon, foie gras toasts and mini round BLTs) by men in their natural tuxedoed habit accompanied by women in trailing ballgowns. Two ladies, clearly of the binocular variety planted themselves at a prime table near the square shaped bar to watch guests like Gigi Mortimer, Crystal Lourd, Jamee and Peter Gregory, Muffie Potter Aston, Alexandra Lebenthal and Somers Farkas make their entrance.
"I want to see the dresses," said the red cleavage and bra baring gal to her leaf-patterned gown-clad companion.
There was quite the variety to see: the post-royal wedding white theme (Jamie Tisch), the pattern lovers (a woman in full-length Pucci), bold colors (Renee Rockefeller), requisite incognito Academy Award-nominee modesty (Sigourney Weaver, passing almost unseen through the crowds in a navy dress) and the desperate for attention (shall remain nameless).
Michael Lorentz, one of the co-founders of Passage to Africa, certainly looked a bit wide-eyed as he entered the bottle-necked cocktails room.
"I've never been to the Pierre before," said the Capetown-based Lorentz, who flew in just for the occasion.
Welcome to the jungle.
The scene soon moved into the ballroom for dinner where tables had been covered in brightly colored printed cotton cloths and set with woven raffia place mats, huge candelabras in the center.
I was at table seven, which seemed after much searching not to exist. Fortunately, a kind tablemate showed me the way, up some stairs to a set up behind another banqueted table, behind a column with curtains through which I could, if I tried very hard, glimpse the stage.
"Those who leave early and no one cares, go to table seven," joked one fellow.
Fortunately, a television screen had been set up directly next to us, on which I could watch the proceedings between bites of parmesan crusted asparagus and filet mignon.
And for all my wildlife-themed musings, at the end of the day, these were both poignant and important moments.
Mid-entrée, Dr. Craig B. Thompson, President of MSKCC introduced the focus of the evening, the hospital's cord blood transplant program, which provides an innovative alternative to bone marrow treatments using cells taken from the umbilical cords of newborn babies. A moving video was shown highlighting a patient, Jennifer Boston, who had successfully undergone this treatment and I was shocked to realize that she was an incredibly elegant and poised woman I had admired from afar during cocktails.
Next up, Jamie Niven did his usual shenanigans to raise funds for the cause.
"We're not fitting in a trip to Venice or to someone's ghastly house in Mustique," he said, explaining that the money was going specifically to the Cord Blood Transplant Program.
$400,000 and some heckling later ("Would you like to help? You look terribly wealthy, madam."), Tory Burch one of the chairs, took to the stage to introduce Sheryl Crow.
"She didn't want to get another call from me. I think I've been calling her for five years," she joked of her attempts to lure the songstress.
Crow—a cancer survivor herself—did the calls justice with an acoustic performance that included "All I Wanna Do," "If It Makes You Happy," and "First Cut is the Deepest."
"I got to have dinner with Lyor Cohen and announce that I am without a record label. And I'm now auditioning for him," she quipped.
Crow also got some notice for her enviable appearance, particularly when she declared she was almost fifty years-old.
"Did she say she's fifty?" said Shoshanna Gruss. "I thought she said she GAVE 50 [thousand dollars]."
Photos: Patrick McMullan