So, You're a Male Model Discovered on Instagram — Now What?
The 24-year-old heartthrob Matthew Noszka says social media changed his life. But can he become the next Mark Wahlberg?
---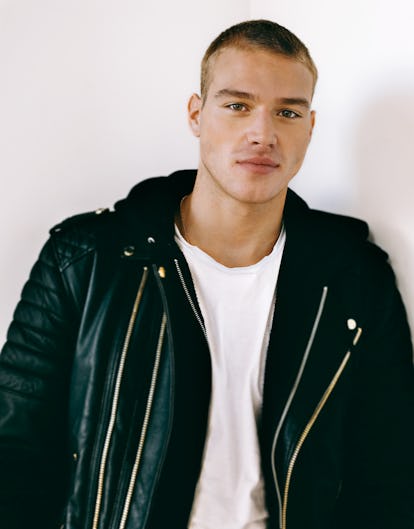 Photo by Biel Parklee. Model: Matthew Noszka at Women 360 Management.
As the saying goes, everything went "down in the DM" for the 24-year-old male model Matthew Noszka, who was not only discovered on Instagram by Wilhelmina Models in 2014, but also connected with his former girlfriend on the app, plus a Hollywood producer on Twitter.
"Yeah, I guess you could say social media changed my life," Noszka said on a recent afternoon. He was rubbing his newly-shaved head — a makeover he recently agreed to for a major upcoming campaign — and gazed out the windows of the World Trade Center with his blue-steel eyes, seemingly still in shock that the past two years had happened.
Noszka grew up in Pittsburgh, Pennsylvania, where his mother was a cop and he was a starting player on his high school basketball team. He had had full rides to Division I schools, and hoped to follow in the footsteps of his grandfather, who played for the Boston Celtics. But one day, everything changed. During his junior year, Noszka posted on Instagram a shirtless photo of himself building a patio deck with his father, which immediately prompted a DM from an agent at Wilhelmina Models.
"In the beginning, the hardest part was taking my clothes off in front of the camera," Noszka said. In fact, he almost said 'No' when Wilhelmina first asked for shirtless digitals. His mother, of all people, was the one who convinced him that it was no big deal. Plus, an hour after he was signed, Nike offered him $1,500 to fly to New York for one day. "I was making $7 an hour!" he said. "My family is broke!"
Needless to say, he got on the plane.
Since being signed, Noszka has appeared on Ellen, walked the runway for Moschino and Jeremy Scott, and starred in campaigns for Joe's Jeans and Balmain Hair. He's also switched agencies, becoming the first male model to be signed by Woman Management Group.
Instagram also became Noszka's full-time job, and he's up to almost half a million followers now, 75 percent of them women, according to the platform. "It's a huge commitment," he said. "It's actually work. To post three times a day, you have to plan was you're going to say, figure out what you're going to wear — so many things." Be he makes sure to set aside time to respond to fans, too.
Noszka now bounces back and forth between New York and Los Angeles, rubbing shoulders with fashion folk and celebrities alike. He said of his newfound fame: "I get to call home and be like, 'Yo, guess who I saw?'"
The answer: Miley Cyrus. They were at the same party one night and he offered to show her where the bathroom was. Instead, they ended up doing a shot at the bar together. "She's a really nice girl," he said in typical small-town-boy fashion.
Despite his new lifestyle, however, Noszka would wear sweats every single day if he could. To even fit into sample sizes, he had to stop working out and in the process has lost almost 40 pounds. "I would like to get into fashion more," he said. "But these prices are insane! Who has the money to pay for a $17,000 jacket?" – again, the answer is Miley Cyrus – "That thing better brush your teeth and feed you."
Looking ahead, Noszka wants to go into acting, and has his own television show in the works. "I want to be the next Leonardo DiCaprio," he said. "I want to be the next Brad Pitt. I have the same vibe as Mark Wahlberg. I grew up in a low-income family. I fought in high school and got into a little bit of mischief." He also compares himself to "Vinny" on Entourage, before he became famous, though.
A friend once told Noszka: "Your life is a television show." But for now, Noszka just exists in a perfect filter.