Sofia Vergara Just Launched a New, Empowering Brand of Underwear that's Comfortable, Cute, and Sexy Enough for the Emmys
The Modern Family actress talks about her new line, and why it's so important for female entrepreneurs to empower other women.
---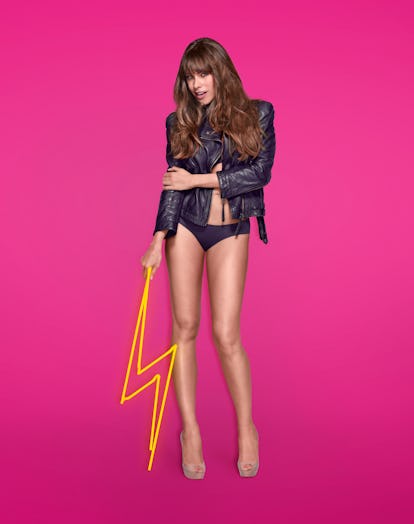 This week, Forbes announced that, for the sixth year in a row, Sofia Vergara is the world's highest paid actress on television, thanks to her role on the hit ABC series Modern Family, longtime gig as the face of Cover Girl, and additional ventures, the most recent being EBY, a subscription-based brand of underwear and women basics. But Vergara's new company isn't just about money: the actress and entrepreneur aims to empower women through the company. In fact, ten percent of the net sales from EBY's subscribers will be given to the Seven Bar Foundation, which helps uplifts underprivileged women by giving them the opportunity to become business owners and entrepreneurs through micro-financing.
"I have had the luxury of being able to grow my ideas into successful business ventures over the past 10 years. I want to be able to pass that on to other women in need," Vergara said in a statement. "I want to be able to provide women with the tools to start their own business as an exit out of poverty. EBY does that with its micro-financing model. There's nothing sexier than being your own boss."
The Seven Bar foundation loans will range from $80 to help a woman start a fish stand in India, to $2,600 in the United States for an Etsy startup. Here, Vergara opens up about her inspiration behind EBY, her favorite styles to wear and how micro-financing is the new and sustainable way to do give back.
What gave you the idea to start EBY?
My partner Renata Black gave me the idea, as she came to me with the underwear business. At the time I wasn't really looking for an underwear business, but I did tell her to send me the underwear. I tried it and I fell in love with them. I did think it was a different kind of underwear because when I tried it I noticed that it does everything she said it would do. It doesn't roll up or stretch after you wash it, It doesn't do weird things like give you a muffin top, and they're super comfortable. So, I said, "Ok, let's sit down and talk about it" and then she told me about this organization called the Seven Bar Foundation, that she thought that if we sold the underwear we would be able to give a percentage to empower women all over the world by micro-financing their businesses. So, I thought it was amazing because we were going to have a business and we're going to help women with their businesses – it was perfect, I couldn't say no. We're hoping that it's very easy to join and it's a lot of fun too. You get this box every month or two month, whatever you decide, of several underwear or how many you want and it's like a little gift for yourself. And you're essentially giving a gift because we're give ten percent of the net profit to the Seven Bar Foundation. It's nice to be able to give back.
How is EBY different from other underwear brands?
There is research that shows that women go to buy underwear at least four times a year and usually they just grab a bunch without knowing how they fit and that's it. And with EBY you can get the basics, which is what we usually use, but if you want to be more fun than you can have some of the prints if you want. We're launching a print every month and the proceeds for the month will go to a specific country. For example, this month the proceeds will go to the women of Colombia and we designed this month's prints with the Colombian flower, which is the orchid. And we decided that with all that has happened here this month, we were going to give some of the proceeds to women in the United States to start their businesses. And hopefully we can go all over the world and do this.
Sofia Vergara Took Lots of Selfies at Her Wedding
How did you come up with the different styles?
There are five styles total to the collection, including a thong, brief, g-string, bikini and boyshort, and we have all the sizes from Xs to 4x. We wanted to include everyone. They're all equally super comfortable and practical.
What's the aesthetic of the brand?
We believe that they're for everything. I think that they're comfortable enough, sexy enough and cute enough to wear for any occasion. Like I was wearing the nude one for the Emmys a week ago. I've been wearing them since a year ago when I first met Renata – they're all I've been wearing. I've been wearing ones that don't even say the size or anything – just the samples she's been sending me. They're amazing and I've given them to my friends, cousins and sisters and everybody is asking me for more. I told them no, and that they must subscribe because that's how we're getting the money to help women finance their businesses.
What's your favorite style to wear?
[Points to a nude thong] This one! I've always worn this one, but there are sometimes when I wear the cheeky ones for more coverage. They're comfortable and they don't move at all because of the technology we use – so they don't bunch or slip. I tried all kinds of underwear and these are really special and my new favorite.
Do you plan to expand the product line into bras?
No, I don't think we're going to go into bras, but I think we're going to maybe do some other products that are for women because we want to empower women and therefore have women empower women.
How do you think EBY in collaboration with Seven Bar Foundation will change lives of women entrepreneurs?
I think the more we sell the more we're going to be able to help. We hope that we can really make this microfinance thing work and help women everywhere. It's a sustainable way for a business to help other businesses. It's the perfect combination.
Related: Manolo Vergara, Sofia Vergara's Hot Model Son, Stole the 2017 Emmys Red Carpet
20 Ways To Incorporate Lingerie Into Your Wardrobe Like a Victoria's Secret Angel
Watch: How the Red Carpet Became a Runway