Home Run
For her first full exhibition, Solange Azagury-Partridge marries furniture design with fine jewelry.
---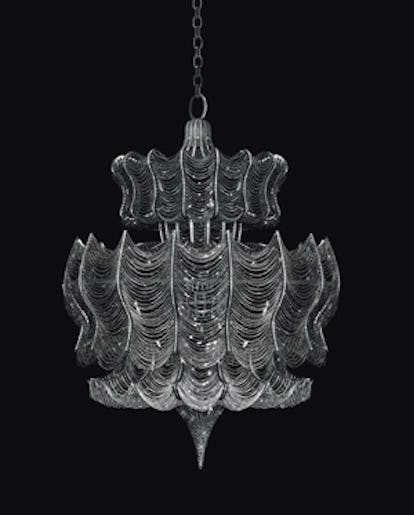 Solange Azagury-Partridge has had several of her jewelry designs snapped up by Paris's Musée du Louvre. The Victoria and Albert Museum in London has her Hotlips and Supernature rings in its collection. In 2003 she was the only fashion and accessories creator nominated for the Designer of the Year award by London's Design Museum. So it makes perfect sense that through November Azagury-Partridge will have an exhibit of her own at the Sebastian + Barquet gallery in New York's Chelsea.
Solange Azagury-Partridge rectangular wool Rainbow rug, $15,000.
The show is more than just a bunch of baubles in a nicely lit art setting. And it's not a retrospective, though that was one idea tossed around when co-owner Ramis Barquet, whose wife is a longtime jewelry client of Azagury-Partridge's, first suggested a show early last year. "Ramis made this proposal to me, and I couldn't refuse," the designer recalls. "He basically said I could do whatever I wanted."
What Azagury-Partridge wanted was furniture. That's right, the woman best known for her edgy rocker ethos expressed in fine jewelry, not to mention her three-year stint as creative director at Boucheron, is making the leap into home decor. The seven-week-long exhibition, christened "Unwearable Jewels," consists of every­thing from tables and wall hangings to carpeting and a faceted disco ball. All of which, of course, are inspired by Azagury-Partridge's original finery. In fact, many of the items on view are gargantuan reinterpretations of her jewelry and also made from precious and semiprecious gemstones. For example, she has turned her diamond watch dial into a giant clock with rock crystals in lieu of actual ice. And the bronze, brass and crystal Ballcrusher lamp is a functional version of her ring of the same name, which features a pearl placed in a talon-shaped prong setting. As for the wall hangings, those familiar with the Londoner's oeuvre will recognize them as the ornaments on many of her more famous rings, merely removed and enlarged. To wit, there are few differences between her Rainbow ring and plaque, save for the fact that the latter is wallworthy.
Brass, bronze, gold and rock-crystal Ballcrusher lamp, $40,000.
Despite the nature of the works in "Unwearable Jewels," one can nix any thoughts about Azagury-Partridge chasing that oft-pursued "lifestyle" tag. "These things are made by jewelers," she says. "The cost and labor are enormous. And they're not being mass-produced. It's the lifestyle of, what, 10 people in the world?" Though Azagury-Partridge doesn't dismiss going down that path eventually ("possibly…one day," she says), this exhibit is largely about casting her work in an art context. "Those wall pieces are like paintings in a way," she says. "But they've been painted with colors of stones rather than with pigment.
"It's very much about the craftsmanship," Azagury-Partridge adds. "It's lovely to see every-thing on a different scale because I've always maintained that jewelry, when it's beautifully made, is sculptural. So to blow these pieces up to the size of what people could consider sculpture is quite an interesting exercise. It's just a different perception of the same shape." For easy comparison, the show will also feature the original jewelry inspirations.
Of course, Azagury-Partridge has always managed to evoke a certain arty intrigue in her designs. She pulled the rug out from under fine jewelry when she launched her company in 1990 and created rings with secret compartments (dubbed the Poison series) and movable parts like the rotating spirals of diamonds in her Kinetic collection. She has punched things up with designs based on irreverent sources like Smarties candy. (The resulting bauble really does look like a gobstopper pile of sweets, with enamel instead of a candy shell.) It's a high-low sensibility that owes much to her unconventional start in jewelrymaking: Azagury-Partridge couldn't find work as an English-French translator, her initial career choice, and took a job at costume jeweler Butler & Wilson and then another with 20th-century antiques dealer Gordon Watson, where she dealt with pieces from Cartier and Van Cleef & Arpels.
"Those two work experiences were my inspiration," she says. "I fused the craftsmanship and skill of fine jewelry with the exuberance of costume jewelry." Another example of her maverick attitude: the introduction of a fragrance in 2006, which she cheekily named Stoned. And still one more, from "Unwearable Jewels": the reversible table with a gemstone constellation on one side and a mother-of-pearl finish on the other. There's a fringed edge all around so, Azagury-Partridge notes, "you can play and kick it as you're sitting."
Without a doubt, there's something delightful about such furniture pieces. It's mesmerizing to see the designer's famous Cosmic Eye ring staring back at you on a grand scale and in the same materials, to boot. (Azagury-Partridge acknowledges that the gem quality of the bigger works may not be as high as it is in the jewelry. "Finding big pieces of ruby is quite unusual," she explains.) Then there's the exhibit's pièce de résistance, a chandelier made from nearly nine pounds of white gold and set with a whopping 200 carats of white diamonds. "It's a very sensuous shape," she says of its undulating frame and profusion of hanging chains. "I think it needs a permanent fan blowing on it to make the chains shimmer and shake."
That bejeweled chandelier has long been in the making, at least conceptually. Azagury-Partridge is quite the chandelier aficionado—she has six in her West London home and three in storage—and first conceived the idea of riffing on a classic earring design seven years ago. "Why not? Why can a chandelier earring not become a chandelier?" she muses. In a turnabout, the designer will use the exhibition as an opportunity to introduce earrings, a pendant and a ring inspired by this chandelier.
The fall show isn't the only action chez Azagury-Partridge. She's unveiling a colored-diamond and titanium collection inspired by rainbows and the titans of Greek mythology. Then there's her first retail venture in the U.S.; Azagury-Partridge just signed a lease for a space on Madison Avenue at 68th Street and plans to open in early 2009. She says the decor will be as eclectic as her Swarovski crystal constellation–adorned London flagship. "The more color and texture and shape I can have in my environment," she notes, "the happier I am."
Will shoppers perhaps see her diamond chandelier there? Not if all goes according to Azagury-Partridge's shockingly pragmatic master plan. "I'd like to sell it," she says with a laugh.
Photos of artwork: Jeff Harris; Chandelier image: courtesy of Solange Azagury-Partridge;