Solange "Broke Out" of a Hospital to Headline Two Festivals on Two Continents This Weekend
Solange was hospitalized earlier this week, but the "hospital refugee" broke out of care to headline festivals in London and Chicago this weekend.
---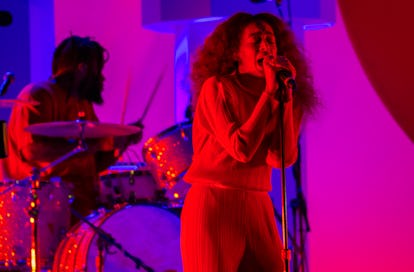 Barry Brecheisen
On Friday night Solange Knowles performed a headline set at London's Lovebox Festival, and then less than 48 hours later she was about 4,000 miles away doing that same at Chicago's Pitchfork Music Festival. It would have been quite the weekend for anyone. As it turns out though, the weekend all started on Friday morning with Solange in the hospital where she might have stayed had she not decided to break "out of that b—h."
It's unclear, exactly, what malady Knowles from suffering, but she told the crowd at the Lovebox Fest that it had been serious enough to lay her up on the hospital for a couple of days.
"I was in hospital this morning," she told the crowd according to reports. "I was in hospital for three days. After my show I had a serious episode and was told I shouldn't perform."
Indeed, Knowles had played three days before at the Montreux Jazz Festival in Switzerland.
"So I broke out of that bitch this morning because I knew this place was going to be filled with so much love," she said. "Thank you for believing in me when I didn't believe in myself." She also labeled herself a "hospital refugee."
It doesn't appear any one seemed to notice any evidence of Knowles' health affecting her performance. She seems certainly up to par in video taken during the festival.
The professional reviews for her performance were all raves as well.
"Solange lived up to a hype that hasn't faded since she released her Grammy-winning album A Seat At The Table last September," said The Evening Standard. "The retro choreography shined during the crowd-assisted 'Cranes In The Sky' and 'F.U.B.U.'."
The Guardian said she left "the swelling crowd dazed and amazed," while NME lauded her "quite brilliant dancing skills."
Though, afterwards she thanked the crowd and promised to return when she was in better condition.
"I want to come back when I'm feeling better because I'm giving you the best that I've got, but I still have much more in me. But I knew I was not missing seeing you and all of these popping ass black and brown people. So thank you for always being there for me. I have so much gratitude."
She followed that up with another note on Twitter.
Instead of returning to medical care, Knowles at some point then hopped aboard a plane, transversed the Atlantic Ocean, and wound up putting on another amazing show in Chicago on Sunday night to close out Pitchfork. It was just the latest of standout live performances by Solange this year (including a particularly powerful, performance-art inspired gig at the Guggenheim Museum in New York this May).
People can and do say a lot about the Knowles sisters, but they both put on great performances for their fans no matter what the situation (no one, of course, forgets Beyoncé's gravity-defying performance at the Grammys earlier this year while pregnant). Here's hoping though that Solange does take time to recoup her full health.
Related: Exclusive: Solange Knowles in Conversation with Tavi Gevinson About "A Seat at the Table"
See What's Trending in W Video: