Solo: A Star Wars Story's First Full Trailer Is Here
Featuring Daenerys Targaryen and Childish Gambino.
---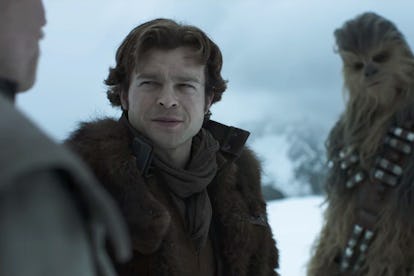 Star Wars/Youtube
During Sunday night's Super Bowl, an extremely brief teaser for Solo: A Star Wars Story dropped. Since there wasn't any time for plot details, most of the fanfare was devoted to a fur-clad Donald Glover smirking as Lando Calrissian, space gambler. With not much Solo to be seen, fans were left wondering whether it might be better called Lando: A Star Wars Story.
On Monday morning, however, the first full trailer dropped, and audiences finally get to see young Han Solo in all his glory. Clocking in at a mean 1 minute and 43 seconds in, the trailer shows a Star Wars prequel that looks pretty much like Baby Driver in space. It begins with a rhythmic flicking of controls as a stripped-down guitar goes blargh! in the background. "I've been running scams on the street since I was 10," boasts Alden Ehrenreich as Han Solo, as we see him take a very de-Targaryened Emilia Clarke on a joyride through some tunnels. "I was kicked out of the flight academy for having a mind of my own," he continues, while the camera pans to him driving recklessly but awesomely, leaving destruction in his wake. "I'm going to be a pilot!" he says. "The best in the galaxy!"
Cut to Woody Harrelson as Tobias Beckett, who says, "Hey kid, I'm putting together a crew." The rest of the footage is full of fanservice-y easter eggs, like a heraldic Chewbacca, witty one-liners, Emilia Clarke's new bangs (but little incite into her character), and more smirking from Donald Glover. Come to think of it, there's not a single character who escapes this trailer without a smirk. For a movie that was rumored to be a trainwreck in the making, we're surprisingly hyped.
Solo: A Star Wars Story comes out on May 25. Watch the full trailer below.