Bradley Cooper is Having More Fun at the Super Bowl Than Anyone Else
A perfect image for when you're really, really proud of someone.
---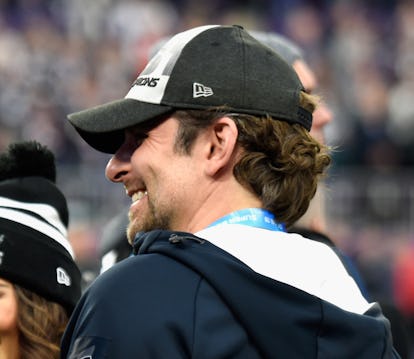 Photo by Kevin Mazur/WireImage
Does anyone love The Philadelphia Eagles more than Oscar-nominated actor Bradley Cooper? No. Bradley loves them the most. And because he loves them the most, he is currently watching them play in the Super Bowl in the box of the Eagles owner. And at the Super Bowl, they scored some points (or some yards or something, I'm one of those people who doesn't know about sports but will patiently listen to you explain them if you buy me dinner), and Bradley was like, so excited. How excited? Very, very excited.
Now, this being a picture and all, we can't hear exactly what Cooper is shouting, but judging from his expression it's something along the lines of "OH YEAH EAGLES THAT'S HOW WE DO IT YOU ARE THE BEST AND STRONGEST BOYS IN THE WHOLE WORLD AND I AM PROUD OF YOU FOR PLAYING YOUR HARDEST WOOP WOOP WHUT WHUT GIT ER DONE ALRIGHT ALRIGHT ALRIGHT."
[#Twitter: https://twitter.com/UPROXXSports/status/960303881526931456]
Astute cinephiles may remember that Cooper's character in Silver Linings Playbook, the hit romantic dramedy in which he and Jennifer Lawrence attempt to dance their mental health problems away, was also a big Eagles fan. To be honest I didn't totally understand the stakes of that movie but, like I said, I'll patiently listen to you explain it if you buy me dinner.
This image is just begging to become a Wholesome Meme. See a friend ace a test? Post this image to show them how proud you are. A senator passes an important piece of legislation? Tweet this image to encourage them to keep up the good work. Bradley Cooper wins an award? The Eagles all recreate this image to congratulate him. Because love is a two way street.
If his favorite team wins the big game, it'll be a great start to the year for Cooper, whose directorial debut, a remake of A Star Is Born starring himself and Lady Gaga, premieres in the Fall.
Related: Lady Gaga Shares the First Photo From A Star Is Born With Bradley Cooper
From Emma Stone and Ryan Gosling to Eddie Redmayne and Felicity Jones, a Guide to the Most Persistent Cinematic Couples
Eddie Redmayne won the Best Actor Academy Award for his performance as Stephen Hawking in The Theory of Everything and Felicity Jones was nominated for playing Hawking's wife, Jane. The two will join one another on set as a couple again for the upcoming Amazon Studios film, The Aeronauts, about 19th century scientists who travel by hot air balloon.

The Theory of Everything/YouTube
While Alicia Vikander may have just wed her The Light Between Oceans costar Michael Fassbender, she and Armie Hammer are on-screen soulmates. The actors will team up again in Freakshift as misfit cops, and previously starred in the 2015 international spy flick, The Man From U.N.C.L.E.

The Man From U.N.C.L.E./YouTube
Director David O. Russell loves to cast Jennifer Lawrence opposite Bradley Cooper, and has done so for three of his films—Silver Linings Playbook, American Hustle and Joy. Lawrence and Cooper also starred opposite one another in Susanne Bier's Serena.

Silver Linings Playbook/YouTube
Before they twirled across the city of angels in La La Land, Emma Stone and Ryan Gosling were cast as love interests in the romantic comedy Crazy, Stupid, Love.

La La Land/YouTube
The teenage rom-com The Spectacular Now had a stellar cast—Brie Larson, Mary Elizabeth Winstead, Bob Odenkirk, Jennifer Jason Leigh and Kyle Chandler each played important roles in the film—but it also marked the beginning of a working relationship between Shailene Woodley and Miles Teller, who later went on to star in the Divergent franchise together.

The Spectacular Now/YouTube
9 years after starring in Pretty Woman, Richard Gere and Julia Roberts reunited on screen in Runaway Bride. Both romantic comedies were directed by Garry Marshall.

Runaway Bride/YouTube
Kate Winslet and Leonardo DiCaprio followed up their Titanic romance by portraying of an unhappily married couple in the 2008 adaptation of Richard Yates' Revolutionary Road.

20th Century Fox/Courtesy Everett Collection
Richard Gere and Diane Lane have portrayed onscreen couples thrice—first in The Cotton Club, again in Unfaithful—a role for which Lane was nominated for an Oscar—and once more in Nicholas Sparks' Nights in Rodanthe.

Unfaithful/YouTube