Sonia Rykiel Tributes Pour In From Celebs and Designers on Social Media
Designer Sonia Rykiel passed away at age 86 today. Designers, models, celebrities and other fashion insiders took to social media to remember her.
---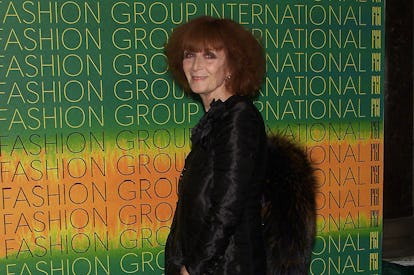 Getty Images
Following the passing of pioneering French fashion designer Sonia Rykiel today, friends, fellow designers, models and celebrity fans took to their Instagrams and Twitters to offer their condolences and celebrate Rykiel's life.
Supermodels from Cindy Crawford to Karlie Kloss offered tributes, as did designers like Diane Von Furstenberg, Alber Elbaz, Zac Posen and the Mulleavy sisters of Rodarte. Celebrity fans included Rossy De Palma and even Mindy Cohn.
That the stylish Rykiel inspired such widespread remembrance shouldn't come as a surprise. Her revolutionary knitwear, designed to accent a woman's natural shape, was legend in the industry. Rykiel meanwhile had her hands in other pursuits: On the side she was a writer, and in her prime, her circle of friends drew from luminaries of various intellectual and artistic fields — Salvador Dali and Andy Warhol, French feminist icon Hélène Cixous, the author Nathalie Sarraute, and director Robert Altman were among Rykiel's many confidants.
With such a wide-ranging social orbit, it's no wonder then that her life and work touched so many.
"Remembering this rule-breaking fashion pioneer, queen of knitwear and one of the first designers I ever had the honor to walk for," wrote supermodel Karlie Kloss on Instagram. "Grateful to have known the legendary [Sonia Rykiel.]"
Alber Elbaz, formerly of Lanvin, was a friend, admirer, and frequent party partner of Rykiel's. He shared a photo
"Legends never die," wrote Moschino designer Jeremy Scott. "You will always be remembered."
"Dear Sonia Rykiel — I remember so well your carrot red hair, your tiny frame wrapped in wool and the bold attitude about how women should dress smart and sexy in a new modern era," wrote Suzy Menkes, the International Editor of Vogue's websites. "My favourite Sonia Rykiel show was when you were reading your poems as the backdrop to the models showing the new collection in your tiny Left Bank store. May you rest in peace."
"The Great [Sonia Rykiel] left us today at 86 years-old," wrote Spanish actress and fashion icon Rossy De Palma on Instagram. "My condolences to her dear daughter, [Nathalie Rykie], and all her relatives."
Both De Palma and Rykiel appeared in the 1994 film Prêt-à-Porter, director Robert Altman's tongue-in-cheek ode to the fashion world. One of the film's main characters, played by Anouk Aimée, was directly inspired by Rykiel.
Jean Paul Gaultier showcased a dress he designed for Rykiel's 40th anniversery celerbation.
Diane Von Furstenburg, president of the Council of Fashion Designers of America, offered condolences on Twitter. Both designers had one Romanian parent.
French fashion's favorite music director Michel Gaubert took to Instagram to share some photos of Rykiel and her creations, including this one of the designer lounging in front of her Andy Warhol portraits. Gaubert has helped select the soundtrack for many Rykiel shows.
Italian supermodel Mariacarla Boscono shared a series of memorable moments from Rykiel's catwalk. "I'll always remember you," she wrote. "Like the time i couldn't stop laughing during your show."
"Farewell to the grande dame of knit," wrote Zac Posen.
Proenza Schouler offered their condolences.
As did Rodarte.
Even "Facts of Life" star Mindy Cohn tweeted her remembrances.
Others, including Cindy Crawford and Rachel Zoe, also remembered Sonia Rykiel on Twitter.
Though many of Rykiel's contemporaries are either no longer with us or aren't quite as active on social media, the Condé Nast library shares this photo of Rykiel with fellow fashion trailblazers Karl Lagerfeld and Kenzo.
Watch Sofia Coppola tour the design studios of the Sonia Rykiel brand: