Immerse Yourself in Soothing Content
In response to the firehose of bad news, memes and platforms that focus on uncomplicated sweetness are on the rise.
---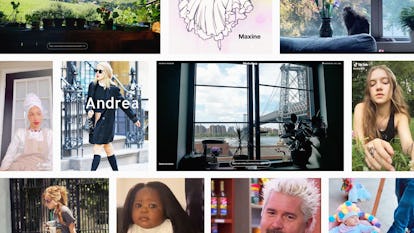 Even if you've never heard the word "doomscrolling" before, you automatically know what it means, right? When all the news is bad, it's almost impossible not to get sucked into the void, whether you're swiping through Instagram stories, checking Twitter or glancing at the New York Times app. Between the many horrifying ramifications of the coronavirus pandemic and widespread police brutality, the onslaught of information is nothing if not stressful. Even the phrase "in these unprecedented times" is stressful.
In response to the firehose of despair, there seems to be a growing craving for wholesome content that's almost childlike in its simplicity—stuff that feels like immersing yourself in a warm bath or crawling under a weighted blanket. Going on the internet in search of warm and fuzzy feelings isn't new (see: ASMR and its various iterations, any viral video featuring a cute kid), but we all need it now more than ever, and there are a number of accounts, memes, platforms, and videos that have gained traction in recent months that function as a low-tech, low-stakes chaser to the particularly harsh taste of reality.
Babies are particularly well-suited for this moment. On Twitter and Facebook, a video of a baby in a wig (filmed by her mother, who goes by @tha_bremix on Instagram and is hysterically laughing behind the camera) brought joy to millions. So did a TikTok of Linda Grey's two-year-old, who sweetly says, "thank you, mama" every time he is handed a little plate of food.
Also on the rise on TikTok: "Cottagecore," an aesthetic built around the romanticization of farm life as seen through a Gen Z lens (think: wicker baskets, prairie dresses, and pressed flowers). In an interview with Paper, 17-year-old "cottagecore influencer" Noella explained what draws her and other teens to this particular look. "I think it's because of how chaotic and complicated the world can be now. Looking at the community, you can see it's dominated by a lot of LGBTQ people and people whose lives aren't fully accepted," she said. "I think it can totally be a form of escapism but it's also because a lot of teenagers are realizing that life doesn't need to be so complex."
Then there's Window Swap, a website that invites you to stare out of someone else's window for a change. Click a button and you're transported (via Internet browser) to somewhere else in the world, where you can see a cat enjoying filtered sunlight in Rochester, a porch swing in Chennai, a pair of muddy running shoes on a terrace in La Baule-Escoublac—all while listening to the sounds of birds, rain, cooking, or passing mopeds. It's almost like launching a meditation app, but without the pressure of feeling like you actually need to meditate.
The Singapore-based pair behind Window Swap, Sonali Ranjit and Vaishnav Balasubramaniam, say they've been getting between 150,000 and 250,000 visitors per week. "We love watching how we get waves of visitors from different countries every day," Ranjit wrote in an email. "One day, it's a huge surge of people from Egypt visiting the site, the next it's Germany, and then Japan."
In terms of actual news, broadcast networks seem to be opening their eyes to the demand for good, clean fluff. Good News Movement, an Instagram account started by the journalist Michelle Figueroa in 2018, got a boost in January when the Sussex Royal account shared one of her posts. "Now I have the networks calling me to share my content," Figueora said in an interview on Maria Menounos's YouTube series last month. "There's a real appetite, now more than ever, for positive news stories … I think we're seeing in these dark times how these uplifting stories are a beacon of light for people."
There's also John Krasinski's Some Good News, a web series that he sold to ViacomCBS (which reportedly plans to make the segment "part of their permanent news cycle") after garnering tens of millions of views in two months.
To try and grasp the truly silly end of the spectrum, look at the "What ____ Are You?" phenomenon on Instagram. In the past week or so, my DMs have been flooded with various iterations of the meme, which pairs names with images under a thematic umbrella. According to @whatchloesevignyareyou, "Andrea" is Chloe Sevigny walking down the street in a pea coat and knee socks. I'm also a rat smoking a cigarette, in the eyes of @what_rat_you_are. Just typing the words "which" or "what" into the search bar yields dozens of results, from "WHAT PIG ARE U" to "Which Guy [Fieri] are You."
W senior digital editor Maxine Wally compared scrolling through these accounts to "looking for a keychain with your name on it in a souvenir store." I like think of them as dumbed-down versions of horoscopes, or low-tech, personalized iterations of those roulette-wheel-esque face filters that had a moment earlier this year.
Pulling up a video of a smiling baby or getting sent a jokey Instagram in the midst of widespread horror is like biting into a cookie after weeks of eating nothing but macro bowls. It's not nourishing, per se, but it feels good for a second. And while dark humor and nihilism certainly have their place in times of acute stress, nothing beats old-fashioned comfort.
Related: Will The Protests Change Instagram for Good? Maybe. Probably Not.