Sophie Turner and Maisie Williams Deal With the Stress of Game of Thrones by Getting High and Sitting in the Bath
The Stark sisters had a very specific friendship ritual on Game of Thrones.
---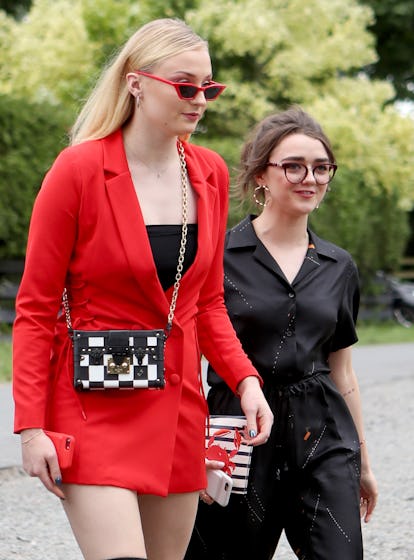 Jane Barlow – PA Images/Getty Images
Sophie Turner once described her relationship with Maisie Williams as "the purest form of true, true friendship." Indeed, their friendship is well documented: Earlier this summer, they arrived to the Game of Thrones costars Rose Leslie and Kit Harington's wedding in coordinating looks of red and black. Even though Turner and her fiancé, Joe Jonas, are waiting until after Game of Thrones has wrapped to really get planning their wedding, Turner has already asked Williams to be one of her bridesmaids. (She said yes, obviously.) And, according to a new interview during New York Comic Con, Turner says they have a very specific self-care ritual they've somewhat obsessively adhered to between takes on Game of Thrones.
"The past few seasons Maisie and I have sleepovers every night when we're shooting. Or every night whenever both of us are in town," Turner said according to Vulture, describing the pair as "loners on Game of Thrones."
"We just used to sit there and eat and watch stupid videos and smoke weed," she added. "I don't know if my publicist will kill me for saying this. We'd get high and then we'd sit in the bath together and we'd rub makeup brushes on our faces. It's fun."
Though this sounds like a bit of an absurdist exercise, we suppose it's no more so than the Game of Thrones spoiler-aversion strategy of filming fake scenes for the show. "We got into costume in Croatia because we know the paparazzi lurk around there, so we would spend like half a day doing nothing," Turner explained, adding that the set has a "drone killer" that sinks any drones that drift by.
Even though the show is about to end, Turner and Williams almost certainly have innumerate bathroom hangs ahead of them. After all, planning a wedding is probably just as covert and elaborate an operation as shooting a beloved HBO costume drama.