The Panda Known as Rob Pruitt Plays DJ
At a cocktail party hosted by Sotheby's and eBay in New York.
---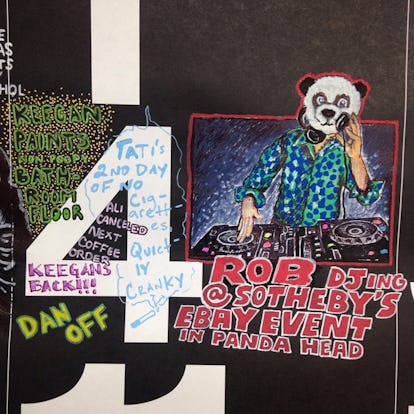 On Thursday night, Sotheby's hosted a young group of collectors and artists at Walker Towers for sunset cocktails and a VIP peek at the Contemporary Curated sale. The enormous penthouse (not to mention the New York City skyline) served as a luxurious backdrop for works by artists like Mark Flood and Marilyn Minter. Guests were encouraged to roam. "I feel like I'm tripping," joked Dustin Yellin on the terrace. "It's the view."
The evening was hosted by eBay Global Chief Curartor & Editorial Director, Michael Phillips Moskowitz, Sotheby's Courtney Kremers, and fashion designer Katie Ermilio. Dancing and playing D.J. in a fluffy panda get-up, artist Rob Pruitt was the only oddity that could compete with the location. When asked for a comment, Pruitt just gave the thumbs up. Translation: Summer has arrived.