The Return of the IRL Gallery Show
South Etna Gallery, Adam Lindemann and Amalia Dayan's first joint venture, joins a crop of new art spaces on the East End of Long Island.
---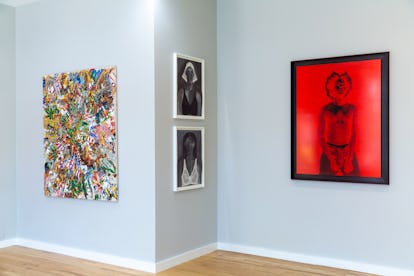 Image courtesy of South Etna Montauk.
On a postcard-perfect day in Montauk, New York this week, the gallerists Adam Lindemann and Amalia Dayan were seated at a pistachio green picnic table on a patch of grass. "This is going to be the gallerina's spot," said Dayan, laughing through a floral cotton mask. "This is the front desk."
Through the picture windows of the faux-Tudor building next to them, people walking to the ice cream shop next door peered at paintings by Betty Tompkins and Glenn Brown, hung facing outward in shallow niches. Above the windows, a large slice of wood had just been installed, bearing the name of the hamlet's newest exhibition space: South Etna.
The gallery is an experiment in many ways. It is the first joint venture from Lindemann and Dayan, a husband-and-wife pair who typically work separately on their own galleries (Venus Over Manhattan and Luxembourg & Dayan, respectively). It's also one of the earlier toe-dips into IRL exhibition programming after months of online viewing rooms during New York's pandemic peak. And rather than being one of the summer pop-ups typical for the area, their lease runs through December, with plans for long-term programming after their inaugural show.
South Etna joins a recent surge in gallery openings on Long Island's East End, where the art market followed collectors who fled to second homes there this spring—and have since stayed put. Sotheby's, Pace, Skarstedt, Michael Werner and others have all opened spaces in East Hampton, and Hauser & Wirth will open a 5,000-square-foot space in Southampton later this month. In Wainscott, the concept-y "Alone Gallery" took over a warehouse space, open by appointment only to solo visitors or groups of four who live together, with access granted via door code.
South Etna's inaugural exhibition, Painting Is Painting's Favorite Food, which opens today, was curated by Alison Gingeras, a longtime friend of Lindemann and Dayan's who brought up the idea for the project on a phone call with Dayan and Lindemann back in April, when much of the world was in lockdown.
It took a while for them to get on board, given the circumstances: "I was really not of a mind to think about art, and I didn't want other people to think about art. I felt embarrassed to be making people think about art when there are riots in the streets and so much fear and anxiety," Lindemann said. "I give Alison credit that she saw the light at the end of the tunnel." Dayan added: "She felt the urgency from the perspective of the artists." Eventually, they called her back and got to work on finding a space that felt right—not too commercial, close enough to their home that they could be there every day, something that felt like it reflected the soul of the area.
The result feels charmingly homegrown, an optimistic celebration of the value in bringing work together in a physical space. "It's been so long since so many of us have had that feeling of community," Gingeras said on the phone this week from New York City, where she had returned after installing the show. "Even if we're standing six feet apart and wearing masks—just to have that opportunity to talk and see one another in real life, in the presence of real art, is pretty exciting."
The title of the show, which features work by more than a dozen artists, is borrowed from a quip by Asger Jorn, a founding member of the COBRA movement, in reference to the way artists riff off of art history, metabolizing historical concepts and aesthetics to generate new ideas. "I love the way he articulated a very complicated idea very simply," Gingeras said. It's also a reference to the sustenance that art provides, particularly to artists and those who work with them. "To go to the Met, to go to the Frick, to go to the Cloisters and look at old art in order to draw nutrients from it—we couldn't do that for months," she added. "So, in many ways, the show is a response to the vitality of painting and art as nutrition for us."
The artists included are a mix of established figures with whom Dayan, Lindemann and Gingeras have worked for years; art world up-and-comers, and relative unknowns that the trio aims to introduce to collectors. Works by John Currin and Rachel Feinstein hang across the room from canvases by Andrew LaMar Hopkins, a self-taught artist from New Orleans who creates historical fantasies of free Creole people in the 19th century. "They're really beautiful paintings, but I also think it's so interesting how he uses his identity as a Black, queer man living in New Orleans to revisit the past, and it's a past that is certainly not spoken about in mainstream historical circles," Gingeras said.
In another room, one wall is entirely covered in grave-rubbing drawings by Scott Covert, some of which were made from gravestones in a nearby cemetery. There's a large-scale canvas by Borna Sammak covered in iron-on patches, and sculptures by Luis Flores and Sally Saul on colorful plinths. In the back window, Jane Kaplowitz's Piss and Sex faces the yard (the show was purposefully hung so that anyone wary of entering a public space could more comfortably view most of the works from outside).
The final grouping came together through a variety of nontraditional means: There were Zoom studio visits, some artists drove their work out from the city themselves, others, like Hopkins, used FedEx. Currin's and Feinstein's pieces were picked up by motorboat from their home in Orient Point. In another series of personal touches, a local carpenter and surf buddy of Lindemann's built the "gallerina" picnic table and sourced the wood for the sign, onto which Julian Schnabel (a friend and neighbor) painted the logo on the fly.
Rather than hosting a typical 6-8 pm cocktail party opening that might invite a social distancing nightmare, the "opening" will be an open house that spans the entire afternoon, with some of the artists hanging out outside. Only four masked visitors will be allowed inside the space at any given time.
Even with the various precautions that come with our new reality, the thrill of seeing artwork hanging on an actual wall beats even the most thoughtful online viewing room. For Gingeras, getting back to work was an emotional experience. "Going back to that substance of what our vocation is—it's not even work, it's a passion," she said. "Getting the passion back in the foreground has been the best thing. I don't want to stop."
Related: The Artist Marcel Dzama Is Collaborating With His Cat