Rihanna and Ed Sheeran Were the Most-Streamed Artists on Spotify in 2017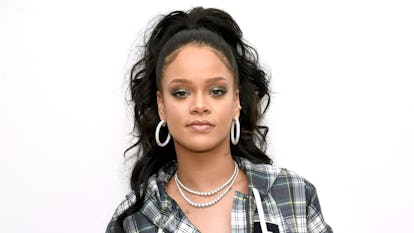 Dimitrios Kambouris/Getty Images
Spotify never lies. Based on the visceral Twitter reaction to his Game of Thrones cameo, it would appear that a lot of people really don't like Ed Sheeran. But on Tuesday, Spotify released its annual top-streamed lists, and it looks like people not only really like Ed Sheeran, but would rather listen to him over anyone else. Except, of course, Rihanna.
According to the streaming service, the red-headed English bard was the most popular male artist and artist in general, while his song "Shape of You" and his album Divide topped their most-streamed lists as well, respectively. Meanwhile, Rihanna was the most-streamed female artist for the third year in a row, an incredibly impressive feat considering she did not release an album this year. Just more evidence that Rihanna owned the year even without much new material.
After Sheeran, Drake, The Weeknd, Kendrick Lamar, and Daddy Yankee were the most-streamed male artists, while Taylor Swift, Selena Gomez, Ariana Grande, and Sia followed Rihanna's lead. The most-streamed artists overall looked almost identical to the most-streamed male artists list, but with Daddy Yankee swapped out for The Chainsmokers. So did the most-streamed albums, which featured More Life by Drake, DAMN. by Kendrick Lamar, Starboy by The Weeknd, and Stoney by Post Malone after Sheeran's Divide.
The year-end lists also revealed this fun fact about the tastes of the music-streaming population: To soundtrack this hellscape of a year, a lot of people turned to not just one, but two varieties of black metal. Melodic Power Metal and Chaotic Black Metal were the top two most emerging genres. Happy 2017, all.
Here are the full lists:
Most-Streamed Artists
Ed Sheeran
Drake
The Weeknd
Kendrick Lamar
The Chainsmokers
Most-Streamed Female Artists
Rihanna
Taylor Swift
Selena Gomez
Ariana Grande
Sia
Most-Streamed Male Artists
Ed Sheeran
Drake
The Weeknd
Kendrick Lamar
Daddy Yankee
Top Five Breakout Artists
Camila Cabello
Harry Styles
Liam Payne
Lil Pump
Trippie Redd
Most-Streamed Groups
Coldplay
Imagine Dragons
Maroon 5
Linkin Park
Migos
Most-Streamed Tracks
"Shape of You" – Ed Sheeran
"Despacito – Remix" – Luis Fonsi, Daddy Yankee feat. Justin Bieber
"Despacito" – Luis Fonsi feat. Daddy Yankee
"Something Just Like This" – The Chainsmokers and Coldplay
"I'm the One" – DJ Khaled feat. Justin Bieber, Quavo, Chance the Rapper, Lil Wayne
Most-Streamed Albums
Divide – Ed Sheeran
More Life – Drake
DAMN. – Kendrick Lamar
Starboy – The Weeknd
Stoney – Post Malone
Most Musical Day 2017:
June 13, 2017 (measured by most streams per user)
Emerging 2017 Genres:
Melodic Power Metal
Chaotic Black Metal
Chillhop
Trap Latino
Future Funk
Jumpstyle
Serialism
Cinematic Dubstep
Vintage Swoon
Gamecore
Related: Beyoncé Changes Her Email Address Every Week, According to New BFF Ed Sheeran
Rihanna at Crop Over Festival: See Her Most Feathered, Glittery, and Skin-Baring Ensembles Over the Years
Rihanna attends the Kadooment Parade at the Crop Over Festival in Barbados in August 2013.

Instagram
Rihanna attends the Kadooment Parade at the Crop Over Festival in Barbados in August 2013.

Instagram
Rihanna attends the Kadooment Parade at the Crop Over Festival in Barbados in August 2013.

Instagram
Rihanna attends the Kadooment Parade at the Crop Over Festival in Barbados in August 2013.

Instagram
Rihanna attends the Kadooment Parade at the Crop Over Festival in Barbados in August 2013.

Instagram
Rihanna attends the Kadooment Parade at the Crop Over Festival in Barbados in August 2013.

Instagram
Rihanna attends the Kadooment Parade at the Crop Over Festival in Barbados in August 2013.

Instagram
Rihanna attends the Kadooment Parade at the Crop Over Festival in Barbados in August 2013.

Instagram
Rihanna attends the Kadooment Parade at the Crop Over Festival in Barbados in August 2013.

Instagram
Rihanna attends the Kadooment Parade at the Crop Over Festival in Barbados in August 2013.

Instagram
Rihanna attends the Kadooment Parade at the Crop Over Festival in Barbados in August 2015.

Instagram
Rihanna attends the Kadooment Parade at the Crop Over Festival in Barbados in August 2015.

Instagram
Rihanna attends the Kadooment Parade at the Crop Over Festival in Barbados in August 2015.

Instagram
Rihanna attends the Kadooment Parade at the Crop Over Festival in Barbados in August 2015.

Instagram
Rihanna attends the Kadooment Parade at the Crop Over Festival in Barbados in August 2015.

Instagram
Rihanna attends the Kadooment Parade at the Crop Over Festival in Barbados in August 2015.

Instagram
Rihanna attends the Kadooment Parade at the Crop Over Festival in Barbados in August 2015.

Instagram
Rihanna attends the Kadooment Parade at the Crop Over Festival in Barbados in August 2015.

Instagram
Rihanna attends the Kadooment Parade at the Crop Over Festival in Barbados in August 2015.

Instagram
Rihanna attends the Kadooment Parade at the Crop Over Festival in Barbados in August 2015.

Instagram
Rihanna attends the Kadooment Parade at the Crop Over Festival in Barbados in August 2015.

Instagram
Rihanna attends the Kadooment Parade at the Crop Over Festival in Barbados in August 2015.

Instagram
Rihanna attends the Kadooment Parade at the Crop Over Festival in Barbados in August 2017.

Getty
Rihanna attends the Kadooment Parade at the Crop Over Festival in Barbados in August 2017.

Getty