Florals for Spring? Sure, They Aren't Groundbreaking. But They Are Everywhere.
This season's crop of awesome blossoms was anything but subdued. Horacio Silva surveys the landscape.
---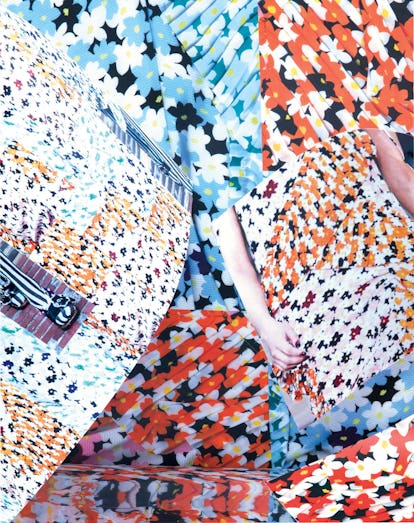 Photographs by Miranda Lichtenstein; Produced by REP; special thanks to Cristina Bartley, Chroma NY, Emile Askey
Floral prints are hardly new to fashion. As recurrent as perennial plants, these elastic signifiers are routinely used to suggest everything from blushing innocence to ripe eroticism. Rare is the designer who has not used them to make some blooming point or another. To wit: the spring runways, where there were enough blossoms to stock a catalog for Oilily, a label ubiquitous in the 1970s and '80s, which has virtually wallpapered three generations of women and children in head-to-toe floral prints. So plentiful, in fact, were the new high-impact florals that one might be forgiven for thinking that the unofficial muse of the season was Rudy Huxtable, the youngest character from The Cosby Show, who was often dressed in Oilily outfits that rivaled Bill Cosby's sweaters in their garishness.
In his spirited second collection for Marni, Francesco Risso mixed clashing florals with abandon, most noticeably on frayed-edge coats and skirts. Fendi, Sacai, Kenzo, Valentino, and Thom Browne also hit the garden trail, as did Sarah Burton at Alexander McQueen. Her oversize cabbage roses and somewhat emetic peony hues were inspired by a trip with her textiles team to the gardens at Great Dixter in East Sussex. At Marc Jacobs's otherwise silent show, the floral prints made plenty of noise. Meanwhile, Simone Rocha's playful but edgy collection included tapestries on tailoring, as well as daisies sequined on slim tulle dresses and hand-painted on trenchcoats—in color combinations that were so saccharine as to practically induce cavities. "Flowers can represent many aspects of femininity," explains Rocha, who at home is partial to parrot tulips but on the runway prefers a less romantic approach. "I like to contrast or modify them so that they feel more modern—combining them with materials like plastic or Perspex, or using unexpected hues so they almost become sickly sweet."
Like Rocha, the Scottish designer Christopher Kane is not interested in conventional botanic motifs. Since his first collection, more than 10 years ago, Kane has used florals on patent leather and lace, in neon and on gingham—often to sinister effect. For his standout spring show—at once a study in transparency and of the seedy underbelly of suburban respectability—he turned not to roses and orchids but to dandelions. "I've always liked those weedy flowers," he offers. "They're familiar and resilient, and I think they're so pretty, but I suppose I like screwing them up and making them quite kinky—especially on the sheer dresses and the Hugh Hefner coat." He was referring to a smoking jacket adorned with microflorals that opened his show and was as much a nod to Hef as to the naughty establishment types and politicians who used to frequent Cynthia Payne, a notorious South London brothel-keeper in the 1970s and '80s, and one of the show's key reference points.
Kane's use of horticulture in the service of carnality is perhaps hardly surprising: "When I was a child, my mother taught me to refer to the penis as a tulip and the vagina as a flower," he recalls. He is also not the first. "Since the 18th-century botanist and scientist Carl Linnaeus introduced the categorization of plants and how they reproduce, flowers have been seen as the reproductive organs of plants," says Valerie Steele, a fashion historian and the director and chief curator of the Museum at the Fashion Institute of Technology, in New York. Steele is working on a fall exhibition called "Pink," a survey of 300 years of the color pink in fashion that will look at the relationship between flowers and sexuality. "The link between women and flowers in art and fashion—the idea of a femme-fleur—is very important because it's associating sexuality, fertility, and femininity with flowers."
Of course, for the long line of designers known for floral prints—from the 18th-century textile designer Anna Maria Garthwaite and Charles Frederick Worth to Emanuel Ungaro and Dries Van Noten—they can also mean a host of other things. For one, the ephemerality of life. In World War II, Japanese kamikaze pilots were handed sprays of cherry blossoms before their flights to highlight that, like the flower at the height of its beauty, life is fleeting. Burton has suggested that the current embrace of floral prints, unconventional or otherwise, is a dopamine-inducing antidote to the hellishness of the world today—optimistic fashion as a big group cuddle for troubled times.
While Steele agrees that fashion "means things," she's not convinced that everything can be explained in sociocultural terms. "Although it would be nice to think that the current collections are referencing a growing awareness of the fragility of the natural world and, you know, the disappearance of bees and other pollinators," she observes, "my inclination would be to think that the main reason is that flowers sell."
21 Floral Fall Dresses to Buy Now