St. Vincent Is Adapting Oscar Wilde's The Picture of Dorian Gray, With a Female-Fronted Twist
Annie Clark, the musician known as St. Vincent, is back in the director's chair after making her horror film debut earlier this year.
---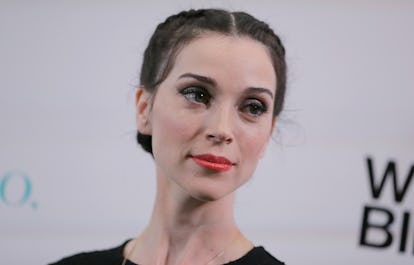 John Lamparski/Getty Images
Earlier this year, St. Vincent—the musical alias of Annie Clark—made her directorial debut with the short "Birthday Party," part of the horror anthology XX that premiered at the Sundance Film Festival in January. Then, in April, she appeared in a short film with John Legend and Zach Galifianakis for Planned Parenthood. And on Wednesday, Clark announced, for her latest screen effort, she is returning to the director's chair to helm a new adaptation of the Oscar Wilde novel The Picture of Dorian Gray scripted by David Birke, the writer behind Paul Verhoeven's Elle and the upcoming Slender Man. With Clark and Birke's shared background in horror, it will surely shape up to be a creepy, eerie adaptation of the 19th-century story.
But Clark's Dorian Grey has something of an edge over the 20-odd adaptations of the novel that have appeared on film and television over the past century-plus (including in the Eva Green series Penny Dreadful), for her film will star a woman in the title role. (There is some precedent: A 1983 made-for-TV movie called The Sins of Dorian Gray featured a woman protagonist, a model who sold her soul in exchange for eternal youth.) It's a role perfectly suited to a young actor like Riley Keough or Rooney Mara or Gugu Mbatha-Raw; we might also suggest a woman Basil in the form of Nicole Kidman, and the sylph-like thespian Sybil as either Zoë Kravitz or Matt Smith, depending on what direction Clark and Birke want to take their story.
The Picture of Dorian Gray, Wilde's only novel, was published in 1890 to much controversy—it was quite salacious for its time, its earliest incarnations referring to extramarital trysts and gay romances. It's also the original anti-aging parable, and in that way, it couldn't come at a better time—a moment when some have declared the phrase forbidden. After all, how better to explore the continuing social pox that is growing older and acquiring wrinkles than through some classic English literature?
Related: St. Vincent Says "New York" is More About David Bowie and Texts Than Cara Delevingne or Kristen Stewart
Cate Blanchett saw her first sex scene in third grade:
Celebs Try Their Hardest to Make Puffer Jackets Red Carpet Appropriate at Sundance
Elle Fanning at the Sundance Film Festival

Vivien Killilea
Zoey Deutch attends the "Rebel In The Rye" Premiere at the 2017 Sundance Film Festival

Alberto E. Rodriguez
Michelle Monaghan attends the 'Sidney Hall' Premiere during 2017 Sundance Film Festival

C Flanigan
Margaret Qualley attends the "Sidney Hall" Premiere at the 2017 Sundance Film Festival

Alberto E. Rodriguez
Serayah attends the "Burning Sands" Premiere at the Sundance Film Festival

Nicholas Hunt
Kerry Washington attends the "Crown Heights" Premiere at Library Center Theater.

Getty Images
Connie Britton attends the "Beatriz At Dinner" Premiere.

Getty Images for Sundance Film Festival
Salma Hayek attends the 'Beatriz At Dinner' Premiere at the Sundance Film Festival.

FilmMagic
Elle Fanning attends AT&T At The Lift during the 2017 Sundance Film Festival.

Getty Images for AT&T
Zoey Deutch at the 2017 Sundance Film Festival.

Getty Images for IMDb
Kristen Stewart attends the premiere of her film 'Come Swim' during the 2017 Sundance Film Festival.

FilmMagic
Rooney Mara attends the "The Discovery" premiere at Sundance Film Festival.

Getty Images for Sundance Film Festival
Alison Brie attends "The Little Hours" at the Sundance Film Festival.

Getty Images for Sundance Film Festival
Aubrey Plaza attends 'The Little Hours' at the 2017 Sundance Film Festival.

FilmMagic
Jemima Kirke attends 'The Little Hours' at the 2017 Sundance Film Festival.

FilmMagic
Michelle Monaghan attends the premiere of Hulu's "The Path" Season 2.

WireImage
Dianna Agron attends the "Novitate" premiere at the 2017 Sundance Film Festival.

Getty Images for Sundance Film Festival
Abbi Jacobson attends "Person To Person" Premiere during the 2017 Sundance Film Festival.

Getty Images for Sundance Film Festival
Gwendoline Christie attends The Hollywood Reporter and Sundance TV 2017 Sundance Film Festival Official Kickoff Party.

Getty Images
Actress Riley Keough attends the "The Discovery" premiere at the 2017 Sundance Film Festival.

Getty Images for Sundance Film Festival
Jaime King attends the "Bitch" Premiere at the 2017 Sundance Film Festival.

Getty Images for Sundance Film Festival
Anya Taylor-Joy attends the "Thoroughbred" premiere at the 2017 Sundance Film Festival.

Getty Images for Sundance Film Festival
Carey Mulligan attends the "Mudbound" Premiere at the 2017 Sundance Film Festival.

Getty Images for Sundance Film Festival
Rashida Jones attends the Docuseries Showcase at the 2017 Sundance Film Festival.

Getty Images for Sundance Film Festival
Elizabeth Olsen attends the "Wind River" Party at the Sundance Film Festival.

Getty Images for Acura
Shailene Woodley attends the "Wilson" Premiere at the 2017 Sundance Film Festival.

Getty Images for Sundance Film Festival
Laura Dern attends the Sundance Premiere of FOX Searchlights' "Wilson"

Getty Images for Fox Searchlight Pictures
Chloe Sevigny attends the "Golden Exits" Premiere at the 2017 Sundance Film Festival.

Getty Images for Sundance Film Festival
Jenny Slate attends the "The Polka King" Premiere at the 2017 Sundance Film Festival.

Getty Images for Sundance Film Festival
Parker Posey attends the "Columbus" Premiere at the 2017 Sundance Film Festival.

Getty Images for Sundance Film Festival