What Happened to Stacy Engman on That Plane?
"There was absolutely no biting," the independent curator said following an unflattering tabloid story.
---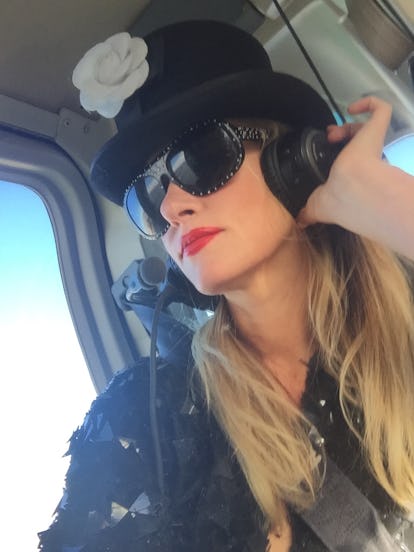 Stacy Engman woke Tuesday morning to a story in the New York Post alleging that she tried to bite a fellow passenger aboard a Turkish Airlines flight last summer. In the tabloid's typically colorful telling, Engman was the "tiara-wearing lunatic" who instigated an altercation with a fellow passenger that quickly escalated beyond their control. The passenger has since filed a criminal complaint that supplies the article's most eyebrow-raising details, like the fact that Engman "told anyone who would listen she had been on a yacht for five days."
Engman, needless to say, took exception to the complaint's allegations, and to the sobriquet.
"It was last summer and I had been to haute couture," the independent curator and art world ubiquitor said. "I was on the boat and I had my sunglass-tiara on, because I got utterly, horribly sick on the boat. I had horrible food poisoning and I had to come back early."
She continued: "So I when I was coming back, I just remember waking up and this girl is whacking me over the head with her seat cushion. The flight attendants were immediately engaged. There was absolutely no biting. This is the most absurd thing I can imagine. And the flight resumed and everything was completely fine."
Or so she thought. "When I was at baggage claim, this girl was giving me surreptitious evil looks and the next thing I know some guy comes up and gives me a piece of paper, like a ticket," she said. "I was like, 'What is this ticket?' I don't know. He didn't talk to me. He just came up to me and gave me the ticket. Evidently that's what this whole thing is about."
Following the Post story, Engman is in "the process of getting everything figured out. I have a wonderful attorney who's the brother of a fabulous artist I work with, and he's very well known," she said. She declined to name the attorney.
Asked to further explain the incident, Engman said, "I think it's a classic case of people in the art world and fashion world being constantly on planes and it's just luck of the draw. If you sit next to someone who's a little bonkers, then they can say whatever they want."
And what about that tiara? "She made a specific point to mention that in her complaint," Engman said. "She was targeting the pair of sunglasses and I just happened to be the human being in them."
Photos: What Happened to Stacy Engman on That Plane?
Photo courtesy of Stacy Engman.
Stacy Engman flew in a JetSmarter private helicopter to the airport wearing Chanel and Atil Kutaglu.
Stacy Engman. Photo by BFA.
Stacy Engman. Photo by Startraks.
Stacy wearing Versace couture in Monet's Gardens, Giverny, France.
Photo by Masha Markova Hanson.
The Look: Stacy Engman wears Vivienne Westwood Couture and an archival Philip Treacy hat to The Louvre in Paris during the Haute Couture Shows. The Art: Francois Joseph, Baron Bosio; Aristée, Dieu des Jardins. Circa 1817, Marble sculpture.
Photo by Lola D'Haese.
The Look: Stacy Engman wears Valentino dress at Art Basel, Switzerlan. The Art: Anish Kapoor's Blood Cinema, 2000, at Marlborough Gallery
Photo by Xandra Linsin.
The Look: Stacy Engman wears Cavalli gown and at Art Basel Art Unlimited. The Art: Olafur Eliasson's Leaving and Returning, 2015, at Tanya Bonakdar Gallery.
Photo by Paul Freinkel.
Stacy Engman, at the National Arts Club in New York, wears Vivienne Westwood Couture dress; Philip Treacy headpiece; Lawrence Vrba earrings and necklace; Jimmy Choo pumps; her own rings.