Stranger Things Is Celebrating Friday the 13th With a New Season 2 Trailer
Eleven is back, and so are the waffles.
---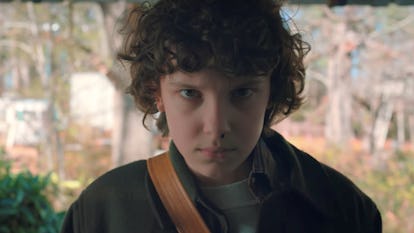 Netflix/YouTube
Stranger Things' season two premiere is still two weeks away, but this Friday the 13th, Netflix has gifted us with a brand new trailer for the hit series' upcoming second season. Perhaps not shockingly, things still don't look good for Eleven and company.
The new trailer shows Will having his first large-scale vision of the Upside Down on Halloween, and unfortunately, his very professional-looking Ghostbusters costume won't save him. It looks like this season, the kids are teaming up with the teens because sometimes you need a monster-fighting teammate with a license—and a nail covered bat.
Any fan worried about a possible sophomore season slump will be relieved to see Stranger Things greatest hits present in the season two footage. There's Winona Ryder yelling about her son (this time frustrated at doctors who don't know how to help poor Will). There's Eleven moving things with her mind and enjoying some Eggo waffles (but now she's sporting some sweet, dark curly hair). And of course, there's a continuing will-they-or-won't-they vibe between Nancy and Jonathan (as she points out, "Don't you think it's weird, how we only seem to hang out when the world's about to end?")
The upcoming season also promises to be much more twisted than the first. Finn Wolfhard, who plays Mike on the show, explained, "I think this season will be a lot darker. A lot more horror-oriented," in an interview with Emmy Magazine, and the new trailer definitely gives off some serious horror movie vibes. This might be the kind of premiere you want to throw a viewing party for; not just for the fandom camaraderie, but, you know, for protection from rouge Upside Down Demogorgons.
Stranger Things' second season is set to hit Netflix on October 27. Watch the final trailer in full, below:
Related: Louis Vuitton Showed Stranger Things Merch on the Runway for Spring 2018
Millie Bobby Brown Does Her Best Karaoke Version of Bruno Mars' "Just the Way You Are":
Millie Bobby Brown Is Already One Of Hollywood's Most Stylish Starlets at 13 Years Old
Millie Bobby Brown arrives at the BAFTA Los Angeles TV Tea presented by BBC and Jaguar at SLS Hotel on August 23, 2014 in Beverly Hills, California.

Getty
Millie Brown attends the Premiere of Netflix's Stranger Things at Mack Sennett Studios on July 11, 2016 in Los Angeles, California.

Getty
Millie Bobby Brown visits "The Tonight Show Starring Jimmy Fallon" at Rockefeller Center on August 31, 2016 in New York City.

Getty
Millie Bobby Brown enters "The Late Show With Stephen Colbert" taping at the Ed Sullivan Theater on September 13, 2016 in New York City.

Getty
Millie Bobby Brown at the ICM Partners Pre-Emmy Brunch on September 17, 2016 in Santa Monica, California.

Getty
Millie Bobby Brown attends the BBC America BAFTA Los Angeles TV Tea Party 2016 at The London Hotel on September 17, 2016 in West Hollywood, California.

Getty
Millie Bobby Brown attends the 68th Annual Primetime Emmy Awards Governors Ball at Microsoft Theater on September 18, 2016 in Los Angeles, California.

Getty
Millie Bobby Brown attends UNICEF's 70th Anniversary Event at United Nations Headquarters on December 12, 2016 in New York City.

Getty
Millie Bobby Brown attends The BAFTA Tea Party at Four Seasons Hotel Los Angeles at Beverly Hills on January 7, 2017 in Los Angeles, California.

Getty
Millie Bobby Brown arrives to the 74th Annual Golden Globe Awards held at the Beverly Hilton Hotel on January 8, 2017.

Getty
Millie Bobby Brown attends the 23rd Annual Screen Actors Guild Awards at The Shrine Expo Hall on January 29, 2017 in Los Angeles, California.

Getty
Millie Bobby Brown attends the Calvin Klein Collection Front Row during New York Fashion Week on February 10, 2017 in New York City.

Getty
Millie Bobby Brown poses in the press room at the 2017 MTV Movie and TV Awards at The Shrine Auditorium on May 7, 2017 in Los Angeles, California.

Getty
Millie Bobby Brown attends the SAG-AFTRA Foundation Conversations: "Stranger Things" at SAG-AFTRA Foundation Robin Williams Center on June 5, 2017 in New York City.

Getty
Millie Bobby Brown attends Netflix's "Stranger Things" For Your Consideration event at Netflix FYSee Space on June 6, 2017 in Beverly Hills, California.

Getty