All the Most Over-the-Top, Radiant Praise Lavished on the New Star Wars: The Last Jedi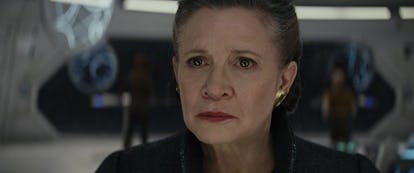 Courtesy Walt Disney Studios
When Star Wars: The Force Awakens premiered two years ago, it was with cautious optimism that critics approached the film. After all, a decade had passed since the release of Revenge of the Sith, the third installment in the (regretfully) now-panned prequel trilogy; the franchise had been passed to new hands (a new director in J.J. Abrams, a new Lucasfilm president in Kathleen Kennedy, a new star in the relative unknown actress Daisy Ridley) but the original trilogy's legacy was intact. Fortunately, the response was overwhelmingly positive—The Force Awakens still holds a 93 percent rating on Rotten Tomatoes—and that critical caution has given way to unadulterated delight when it comes to the latest installment, the Rian Johnson-directed Star Wars: The Last Jedi.
The embargo on The Last Jedi lifted Tuesday morning, and a deluge of overwhelmingly glowing criticism burst forth. The New York Times used an exclamation point in a headline ("'Star Wars: The Last Jedi' Is Really Good! Here's Our Review"), and the Guardian described it as "an explosive thrill-ride of galactic proportions." IndieWire critic David Ehrlich tweeted "I didn't even think I could like a Star Wars movie that much," while Vulture's Emily Yoshida echoed: "I did not know a Star Wars movie could do that. And that. And THAAAT." Somehow, even the tiny Porgs have escaped the same withering eye that was cast upon the prequel trilogy's Ewoks.
But it hasn't simply been the professionally obligated critics—largely men, it must be noted—who have weighed in in increasingly inventive terms: Kumail Nanjiani of The Big Sick made sure to express his support, while Bryan Fuller of Hannibal and American Gods tweeted that it was "hashtag triumphant." Radiohead frontman and noted Spotify scrooge Thom Yorke caucused with BB-8 on a red carpet, and if that's not an endorsement then I don't know what is.
Particular attention is also paid to appearances by Carrie Fisher, reprising her role as Princess—now General—Leia. With Fisher's death last year, the production team scrambled to finish her scenes; The Last Jedi is, in its closing moments, dedicated to the late actress. And in reviews, the film has widely been regarded as, in part, a touching ode to one of the franchise's most enduring icons. In short, the praise heaped on Star Wars: The Last Jedi has been not only unrestrained, but also particularly imaginatively so, garnering some of the cringiest, yet most ecstatic, puns since The Force Awakens. Some less-than-glowing reviews—Richard Brody's, for the New Yorker, is filled with backhanded compliments—still contain kernels of the same. Here, a closer look at some of the most over-the-top, straight-up radiant compliments bestowed on the latest Star Wars, because who needs moderation. (For the record, it's ranked on par with The Force Awakens, with a 93 percent Rotten Tomatoes rating. But the language of those ratings is a different matter entirely.)
"Carrie Fisher's prominent, touchingly elegiac role is a particularly poignant reminder of a real-world loss. … Johnson acknowledges, through the characters and the dialogue, that letting go of familiar things is hard, and he holds his audience's hands through the process. But he's also admirably merciless about it. Audiences will likely come away from The Last Jedi with a lot of complaints and questions. But they're at least likely to feel they're in the hands of someone who cares about the series as much as they do, someone who loves its history, but sees the wide-open future ahead of it as well."—Tasha Robinson, The Verge
"It's a movie, sure, but it's somehow more than that."—Germain Lussier, io9
"Mr. Johnson doesn't have to make the important introductions; for the most part, the principals were in place, as was an overarching mythology that during some arid periods has seemed more sustained by fan faith than anything else. Even so, he has to convince you that these searching, burgeoning heroes and villains fit together emotionally, not simply on a Lucasfilm whiteboard, and that they have the requisite lightness and heaviness, the ineffable spirit and grandeur to reinvigorate a pop-cultural juggernaut. That he's made a good movie in doing so isn't icing; it's the whole cake."—Manohla Dargis, the New York Times
"'The Last Jedi' gives you an explosive sugar rush of spectacle. It's a film that buzzes with belief in itself and its own mythic universe—a euphoric certainty that I think no other movie franchise has."—Peter Bradshaw, The Guardian
"Even though it's only been two short years since 'The Force Awakens,' Lucas' franchise is so iconic, so mythically ingrained in the deepest nostalgia pleasure centers of our brains that you have to be a churl not to feel goosebumps raise on your arms when the words "A long time ago in a galaxy far, far away" first appear on screen and John Williams' triumphant clarion-call to adventure strikes up."—Chris Nashawaty, Entertainment Weekly
"'The Last Jedi' is a story about the Resistance, but the film itself is a cinematic masterwork of the First Order."—Richard Brody, New Yorker
"Johnson's greatest achievement is while he honors the plot's need to address the story world's most-obvious beats, he's rewired the telling with misdirection and a commitment to intrigue. Ever since Johnson merged the sensibilities of classic hardboiled detective stories with high school drama in "Brick," he's shown a serious interest in making old tropes seem new again. Now, that talent has migrated to the grandest scale. … Johnson's ability to deliver a fresh and engaging riff on this beast of an enterprise suggests that not every free-spirited storyteller can be corrupted by Hollywood's dark side, and some may even give it a new hope."—Eric Kohn, IndieWire
"There's a scene involving Leia in danger that unfolds so beautifully, so ethereally that it could be a requiem for a queen. Fisher's line readings, snappy and sad sometimes at once, will be missed."—Steve Persall, Tampa Bay Times