How Stella Maxwell Prepared for the 2018 Victoria's Secret Fashion Show
The secret: Lots of headstands.
---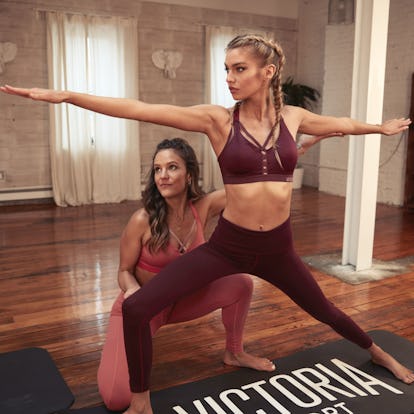 On Thursday, the Victoria's Secret Angels will hit the runway for the taping of the annual Victoria's Secret Fashion Show, which will air on Sunday, December 2. The very glittery runway show is preceded by months of hard work and training for the models who will be hitting the catwalk. For Stella Maxwell, in particular, that means lots and lots of yoga, her current workout of choice. Leading up to the big day, Maxwell invited editors to join her at a studio in Greenpoint, Brooklyn, to meet with her and yoga instructor Beth Cooke, as part of the brand's Train Like an Angel program. Dressed in a strappy maroon sports bra and matching pants, the model talked about her unexpected training tactics, and how she's prepping for tomorrow's show.
How long have you been doing yoga?
It's been about three or four years. I had a friend who was really into it, and a teacher came over to their house and she was like, "Join in." Obviously, I was a little like Bambi at the beginning, but then I started to really get into it. It takes a while just to find your flow, but I really enjoy it. It's kind of elegant, because you are constantly moving.
How often do you do practice?
Two or three times a week. Beth comes over to my house usually, but she works at a yoga studio, and I can totally go there too.
How do you practice at home?
If Beth's not with me, she's actually sent me a lot of videos that I can pull up and watch.
How do you measure your growth through yoga?
I couldn't do headstands before. That takes a couple of weeks, or a month, but everyone is different.
Are there any moves you are working on now?
I really want to get better at handstands, which is very different. It's crazy how different that is. You need a little more arm strength, which is something I'm building up to. I'm getting closer and closer.
How has your body changed since you started doing yoga?
When I first started working with Victoria's Secret, I wanted to get stronger. That was something I wanted to build on, and really be as strong and powerful as I could be. Working with Victoria's Secret, I started really thinking about my body and my muscles. Naturally, your body adapts to all these new exercises that you do. And it's made me really focused.
At what point did you notice a mental change?
You really feel it straight away. I think that anyone who tries to do it will see that. At the end, we do the headstands and that gives you a little head rush. Your outlook is pretty happy and positive after yoga. It's a good way to open up and center.
Have you turned any of your friends on to yoga now?
Yeah, a few people do it with me. It's fun. It's something anyone can do.
What is your workout schedule looking like leading up to the show?
I'm shooting a lot, but hopefully I'll see my trainer at night, and Beth, I just hit her up and she comes over. I try to really focus. I think everyone wants to feel really empowered. You want to feel like you put in that effort and earned it and really worked for it. I try to mentally think about that and not try to take it for granted. I get all this amazing sports gear, and I get to go work out looking great and then feel great on the runway.
What else do you do for yourself leading up to the show?
Just try to sleep. I'm not going to travel for a bit. I'm going to stay in New York and hang out with my dog, which makes me happy.
Do you listen to any music to get you pumped up for the show?
You know, it's so funny, but I try to listen to all the current music because I never know who they are choosing for the show, so I try to be in the know for what's on the radio right now.
Do you ever try to suggest anyone?
No, I trust them. They always choose the best people ever. It's always a great performance.
Victoria's Secret Fashion Show 2018: What Stella Maxwell, Behati Prinsloo, Elsa Hosk, and the Angels Wore to Their Fittings
Cindy Bruna, outside of her fitting for the 2018 Victoria's Secret Fashion Show in New York City, October 2018.

Getty Images
Cheyenne Maya Carty, outside of her fitting for the 2018 Victoria's Secret Fashion Show in New York City, October 2018.

Getty Images
Gizele Oliveira, outside of her fitting for the 2018 Victoria's Secret Fashion Show in New York City, October 2018.

Getty Images
Jasmine Tookes, outside of her fitting for the 2018 Victoria's Secret Fashion Show in New York City, October 2018.

Getty Images
Martha Hunt, outside of her fitting for the 2018 Victoria's Secret Fashion Show in New York City, October 2018.

Getty Images
Taylor Hill, outside of her fitting for the 2018 Victoria's Secret Fashion Show in New York City, October 2018.

Getty Images
Behati Prinsloo, outside of her fitting for the 2018 Victoria's Secret Fashion Show in New York City, October 2018.

Getty Images
Kelly Gale, outside of her fitting for the 2018 Victoria's Secret Fashion Show in New York City, October 2018.

Getty Images
Elsa Hosk, outside of her fitting for the 2018 Victoria's Secret Fashion Show in New York City, October 2018.

Getty Images
Stella Maxwell, outside of her fitting for the 2018 Victoria's Secret Fashion Show in New York City, October 2018.

Getty Images
Jasmine Tookes, outside of her fitting for the 2018 Victoria's Secret Fashion Show in New York City, October 2018.

Getty Images
Devon Windsor, outside of her fitting for the 2018 Victoria's Secret Fashion Show in New York City, October 2018.

Getty Images
Leomie Anderson, outside of her fitting for the 2018 Victoria's Secret Fashion Show in New York City, October 2018.

Getty Images
Candice Swanepoel, outside of her fitting for the 2018 Victoria's Secret Fashion Show in New York City, October 2018.

Getty Images
Sara Sampaio, outside of her fitting for the 2018 Victoria's Secret Fashion Show in New York City, October 2018.

Getty Images
Grace Elizabeth, outside of her fitting for the 2018 Victoria's Secret Fashion Show in New York City, October 2018.

Getty Images
Lameka Fox, outside of her fitting for the 2018 Victoria's Secret Fashion Show in New York City, October 2018.

Getty Images
Grace Bol, outside of her fitting for the 2018 Victoria's Secret Fashion Show in New York City, October 2018.

Getty Images
Barbara Fialho, outside of her fitting for the 2018 Victoria's Secret Fashion Show in New York City, October 2018.

Getty Images
Lais Ribeiro, outside of her fitting for the 2018 Victoria's Secret Fashion Show in New York City, October 2018.

Getty Images
Megan Williams, outside of her fitting for the 2018 Victoria's Secret Fashion Show in New York City, October 2018.

Getty Images
Jourdana Phillips, outside of her fitting for the 2018 Victoria's Secret Fashion Show in New York City, October 2018.

Getty Images
Sadie Newman, outside of her fitting for the 2018 Victoria's Secret Fashion Show in New York City, October 2018.

Getty Images
Kelsey Merritt, outside of her fitting for the 2018 Victoria's Secret Fashion Show in New York City, October 2018.

Getty Images
Isilda Moreira, outside of her fitting for the 2018 Victoria's Secret Fashion Show in New York City, October 2018.

Getty Images