Stella Maxwell's Style Icons Are The Golden Girls and Angelina Jolie in Gia
Unlikely combination, but it works for the model famous for her off-duty style.
---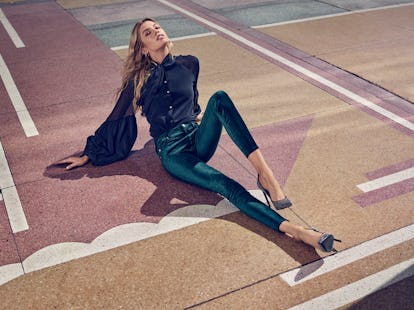 Perhaps no current model has mastered effortless off-duty style quite like Stella Maxwell. Armed with a wardrobe filled with seemingly endless supplies of perfectly distressed denim, it makes sense, then, that when the model was tapped by 7 for All Mankind for the denim brand's fall campaign, Maxwell and her costars in the the ads, Ashton Sanders, Paloma Elesser, and Pernille Teisbaek, are seen lounging around a city looking, naturally, very cool. Here, Maxwell breaks down her personal style, including the pop culture references that inform her sartorial choices.
What was shooting this campaign like?
I love working in Los Angeles, so shooting was great. The team was super nice and relaxed and our location was awesome.
What is your favorite style of denim?
I like my denim to fit a bit relaxed and a feel a bit worn in. 7 for All Mankind just released their Luxe Vintage pieces that is super comfy to wear right now.
Describe your style in three words:
How I feel.
What is your go-to outfit for a day off:
Basic white T-shirt and simple, relaxed jeans like the 7 for All Mankind Luxe Vintage Edie in Flora.
Who is your ultimate style icon and why?
Angelina Jolie in Gia or Mila Jovovich in The Fifth Element. Do i really have to explain why!
Best fashion advice you ever received:
Be confident in who you are. Stay humble and never take anything for granted.
Most prized possession in your closet:
Nothing comes to mind. I really am not a material girl. I love my family, my friends, and my dog, Tripp.
First major fashion purchase:
Chanel boots.
What was the last thing you purchased?
A juice and an omelet at breakfast this morning. But, I am guessing you mean fashion purchase. I bought this cool vintage sweater at the Rose Bowl Flea Market in Pasadena last Sunday.
Currently on your shopping wish list:
Sunglasses. Because I lose every pair, somehow.
Friend whose style you most admire:
I really watch reruns of The Golden Girls to get all my style tips.
Best fashion tip picked up on set:
Smile.
What was your style like as a teenager?
My style hasn't changed that much, to be honest. I always like to feel comfortable and to dress how I feel.
Where are you favorite places to shop?
I like shopping at the Rose Bowl Flea Market, Fairfax Flea Market, and little vintage stores.
Favorite red carpet outfit you've ever worn:
I loved my graffiti Moschino dress for the Met Ball.
Favorite fashion moment from pop culture:
Every episode of Friends.
What is always in your bag:
Phone, lip gloss, Victoria's Secret underwear, phone charger, and a bunch of other stuff that I have no idea where it came from.
Song to listen to when getting ready:
Chromatics' "Cherry" or Drake's "In My Feelings"—depends on my mood.