Stella Parton Is Her Sister Dolly Parton's Unfiltered Twitter Counterpart
It turns out the social media mastery gene runs in the Parton family.
---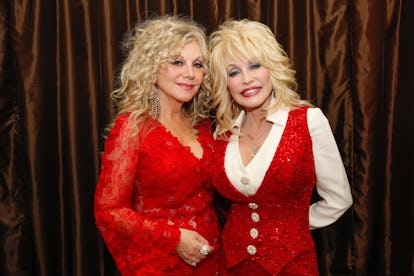 Photo courtesy of Getty Images
It was just a couple of years ago that we discovered Dolly Parton is adept enough at Twitter to churn out wholesome memes on a whim, but it turns out the social media mastery gene runs in the Parton family.
The musician's sister, Stella Parton, has been going off on Twitter, speaking openly about her opinions on politics and the President of the United States. "If a little Hillbilly singer like my big sister Dolly can invest in the vaccine then why the hell can't some of you old moldy politicians pitch in a few million yourselves?" she asked her 54,000 followers on Twitter.
She was of course referring to the fact that her sister Dolly had donated a million dollars and funded Moderna's Covid-19 vaccine, the first vaccine of its kind to be approved by the FDA this year, and talking about the lack of support for many American citizens during the coronavirus pandemic.
In the past, Dolly has steered clear of the left vs. right political fray, though she broke her apolitical streak this summer when she spoke out in support of the Black Lives Matter movement. "I understand people having to make themselves known and felt and seen…and of course Black lives matter. Do we think our little white asses are the only ones that matter?" she said, regarding the protests that erupted after the death of George Floyd. But Stella, who is also a musician (and formed of a gospel-singing girl group with Dolly and their sisters Willadeene and Cassie in the '50s and '60s), appears to be the more openly political of the two, according to a cursory glance at her Twitter feed.
In Stella's tweet about wealthy politicians not contributing enough to Covid-19 relief over the past nine months, she also pointed out the order in which people have been receiving the Covid-19 vaccine. So far, many politicians, including Mike Pence, Marko Rubio, and Nancy Pelosi, have received the vaccination publicly, in an effort to prove its safety. However, some, like Parton, have criticized these very same politicians for receiving the vaccine before healthcare professionals. For many, it's just a reminder that politicians get to jump the line and get top tier medical treatment before the rest of American citizens who struggle to pay for healthcare.
Some people might balk whenever a celebrity joins the Twitter party this late in the game. Dionne Warwick is perhaps the most recent musician of a certain age who has welcomed social media and meme-making with open arms. However, there are truthers who doubt the veracity of claims that the 80-year-old musician runs the account herself. In Dolly's case, one has to imagine her team might be making those memes for her. But when it comes to her sister, Stella, there's no doubting that she's really out here tweeting without supervision.
Related: Dolly Parton Keeps It Simple: "Our Little White Asses" Aren't the Only Ones Who Matter