Suffering Fool: Steve Coogan
With his affection for bumbling, imbecilic characters, Brit actor Steve Coogan is poised to crack up America.
---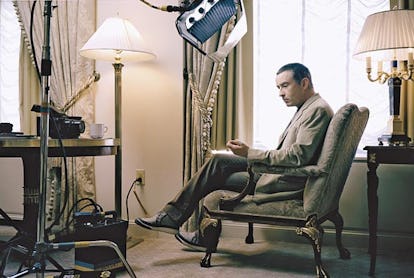 As soon as the credits began to roll on Hamlet 2 at its Sundance premiere this past January, director Andrew Fleming knew he had a hit. The studio executives who scour the festival each year looking for films to buy had become such a nuisance with their BlackBerrys that organizers began discouraging texting during screenings. "The moment the first credit went up," Fleming recalls, "I saw, like, 27 little screens light up. People started running around, and my agent gave me this dazed expression. I think he had dollar signs in his pupils."
But Steve Coogan, who stars in the charming comedy about a high school teacher who writes a sequel to Shakespeare's tragedy in a bid to save his drama program, was bemused by all the fuss. "Americans," he says nonchalantly, "always get so excited about things: 'There's a bidding war!'"
Coogan with Catherine Keener in Hamlet 2.
By the next morning, Focus Features emerged as the winning studio, ponying up an eye-popping $10 million for the film, which costars Catherine Keener, Amy Poehler and David Arquette and will arrive in theaters in late August. "Without putting the film down, I was a bit shocked by how well it went down," Coogan, a native of Manchester, England, says several months later at New York's Regency Hotel, before chastising himself: "This is me being British, always trying to play down success. One of the differences between the British and the Americans is that when someone says, 'Oh, you were really good in that,' a Brit does that stupid, self-effacing thing: 'Oh, I wasn't that good.' Whereas the American is like, 'Thank you very much for saying that. I don't disagree with you.'"
Coogan's professed modesty aside, it is difficult to overstate how big a comedy star the 42-year-old is in the UK. In the U.S. he is known—if at all—for his roles in Michael Winterbottom's films 24 Hour Party People and Tristram Shandy: A Cock & Bull Story. Across the pond, though, Coogan is as much a cultural touchstone as Jerry Seinfeld is in America, largely thanks to the character of Alan Partridge, a provincial, pompous, dull-witted sports anchor that Coogan first played on radio and then on a 1994 BBC newscast spoof called The Day Today. Prone to saying things like "Wings…. They're only the band the Beatles could have been," and, before jumping into bed with a woman, "Let battle commence," the character became so popular that he spawned spin-off series, including a faux talk show called Knowing Me, Knowing You With Alan Partridge (a reference to ABBA lyrics) on which he coined his ubiquitous catchphrase "Aha!" and, later, the sitcom I'm Alan Partridge, in which the character took up work as a late-night radio DJ.
"I've been on a very happy sort of plateau for about 10 years," says Coogan, who is slender and soft-spoken, and so self-conscious that when he discusses his love of fast cars, he quickly descends into his signature self-deprecation. "In America it's okay to drive nice cars if you're doing well. In England it says that you're a vulgar elitist, fascist and a philistine.
"Success in Britain," Coogan continues, "makes people feel envious, whereas failures are sort of loved by the British because they make people feel better about themselves." This, he notes, goes a long way toward explaining the nation's endless adoration of his Partridge character. "There's something funny about someone's undying belief in himself in the face of humiliation—it's ridiculous and admirable at the same time."
Playwright Patrick Marber, who met Coogan around 1990, when both were doing stand-up in London, and has frequently collaborated with him since, says, "Steve invented an enduring comic character because he defined a particular moment in British culture. We were writhing in the dog days of Thatcherism and Conservative government, and Alan Partridge absolutely nailed that. He was this guy from a little place who had big ideas above himself. [He] was one of the first characters on British television who wanted celebrity and fame for no reason whatsoever."
For his part, Coogan has settled into a sort of love-hate relationship with the character. In his home country, he says, "I'm kind of a part of the furniture now. Over here, only a few people are starting to know who I am. It's the closest I'll ever get to feeling young again."
Though there's nothing British about Hamlet 2 (Coogan, who started working in comedy as a mimic, does an excellent American accent), the film taps a vein of humor that's familiar to Coogan. He plays failed actor–turned–drama teacher Dana Marschz, whose school productions are irony-free staged versions of films like Erin Brockovich. When he sets out to write his Hamlet sequel in a bid to reverse the school board's decision to cancel drama, Marschz is undeterred by the fact that everyone dies at the end of the original play. It's difficult to imagine anyone besides Coogan selling such a buffoon while remaining likable. "I like odd characters and people who are stupid or annoying—people who are fools, but fools you care about," Coogan says. "It's bringing humanity to people who have some kind of dysfunction."
Coogan as Alan Partridge.
Hamlet 2, which was bankrolled by an independent film company cofounded by Eric Eisner, a son of Michael, has given Coogan another shot to establish an American presence. His first big-budget vehicle, the 2004 remake of Around the World in 80 Days, in which he co­starred with Jackie Chan, notoriously flopped. Though he memorably portrayed Tony Wilson, the TV host who introduced the world to Seventies and Eighties bands like the Sex Pistols, Joy Division and New Order, in 24 Hour Party People, the film wasn't exactly a Stateside blockbuster. "I get asked if I get recognized," he says. "Yes, but only when I go into [L.A.'s] Amoeba Music." He's also had roles in such ensemble pieces as Happy Endings and Jim Jarmusch's Coffee and Cigarettes. And, after striking up a friendship with Ben Stiller, he landed supporting roles in Night at the Museum and this summer's Tropic Thunder.
But much to his chagrin, many people know Coogan best for a comment Courtney Love made associating him with Owen Wilson's attempted suicide last summer. Coogan and Wilson (who was also in Night at the Museum) had been spotted together at parties, but Coogan denies that he was a bad influence in Wilson's life. He told The Times of London earlier this year: "I have never had a drink or taken drugs with him," and has pointed out that he hadn't seen Wilson for months before his hospitalization.
It wasn't the first time Love and Coogan had faced off in the tabloids. Two years earlier, the British tabloids were obsessed with an alleged sex-and-drug romp the pair supposedly conducted in an L.A. hotel room. She was quoted as saying he had gotten her pregnant, though they both later denied that. Asked why Love has repeatedly maligned him, Coogan laughs nervously, leans back in his chair and begins to shovel M&M's from a nearby bowl into his mouth. "Honestly, if I elaborate beyond 'no comment,' it will only lead to—nothing good will come of it," he says, clearly on edge. But Love is not the only source of his bad-boy reputation. For a decade Coogan has been something of a tabloid fixture, plagued by reports of drug use and sexual affairs. In 2004 a hotel rendezvous with two lap dancers was blamed for his divorce from socialite Caroline Hickman. And in 1996 the Fleet Street press detailed how his girlfriend of four years left him after he had an affair while she was pregnant with their daughter.
"I've had a checkered past," Coogan admits, though there's little sign of it as he sits here, looking healthy and sipping nothing stronger than an Arnold Palmer. It's apparent that this is uncomfortable conversational territory. "Really, I think it's just things that happened years ago get repeated over and over and over, ad nauseam. I'm in a stable relationship," he adds. (Last year he started dating China Chow; when photos of her frolicking in the ocean with Keanu Reeves surfaced after this interview, his rep maintained that Coogan and Chow are still a couple and says Chow and Reeves are "just friends.") "Though my experience has been that, for all the benefit of trying to set the record straight, I'd rather forgo that and have people have the record wrong. I'd rather keep something for myself than keep correcting them."
Coogan is currently talking to Winterbottom about making another movie together, and there's also been ongoing chatter that he'll make an Alan Partridge film. "Is that going to happen? Probably. Maybe. Let's say yeah. But," he stresses, "I have all these other things, and I'd rather try to make some progress that doesn't involve him." This fall Coogan is doing a 100-date stand-up circuit in England, his first major tour in a decade. So will Partridge still be part of his shtick? "He will," he admits, tucking his chin down into his neck and rolling his eyes like a guilty schoolboy. "The tour is called Steve Coogan Presents Alan Partridge and Other Less Successful Characters."