Steven Soderbergh Shot a Secret Movie With Claire Foy and Juno Temple on His iPhone
What a prodigious "retirement" he's had.
---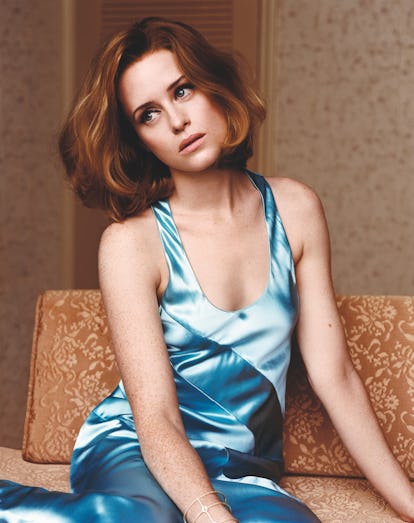 Photographs by Alasdair McLellan, Styled by Edward Enninful; Hair by Shay Ashual at Art Partner; makeup by Diane Kendal for Marc Jacobs Beauty at Julian Watson Agency; manicures by Casey Herman for Dior at the Wall Group. Set design by Stefan Beckman at Exposure NY.
The last that we heard from Steven Soderbergh, he'd given up on the idea of retiring from directing films to work with everyone from Daniel Craig to Adam Driver to Riley Keough to Katie Holmes to Hilary Swank on Logan Lucky, his first movie after a five-year hiatus, which is out in August. Now, we know just how un-retired Soderbergh has been: He also shot a film in secret on his iPhone, à la Sean Baker and his highly acclaimed 2015 movie Tangerine.
Like Soderbergh's camera, though, the cast looks to be scaled down in Unsane, as the film is currently titled, compared to his upcoming summer blockbuster; so far only Claire Foy and Juno Temple have been confirmed as stars, though both definitely have the chops to carry the drama even when resources are limited. (Foy has won both SAG and Golden Globe awards for her role as a coming-of-age Queen Elizabeth II in Netflix's The Crown, while Temple has recovered from Vinyl's cancellation with an upcoming Woody Allen movie also starring Kate Winslet, and the James Franco-directed film The Pretenders.)
Still, no information is out yet about what both are actually up to in Unsane, or even what the film is actually about. And while he's keeping things under the wraps, Soderbergh has made plans to release the film himself via his distribution company, Fingerprint Releasing, and is reportedly looking for an international distributor.
There's also no release date (or platform, for that matter) for the film, and given Soderbergh's agenda at the moment, it doesn't seem likely it'll be coming out too soon. Also on the director's plate are no less than three other projects, including Godless, a Netflix series starring Jeff Daniels as a gang leader who comes across a town populated entirely by women that he is producing; Mosaic, another mysterious project in the form of an HBO movie starring Sharon Stone which he directed; and the second season of The Girlfriend Experience, a Starz series based on Soderbergh's film starring Keough as an escort, which he is also executive producing.
Knowing the famously prodigious and speedy Soderbergh, though, he probably shot Unsane for fun during his week off.
Related: Everyone From Katie Holmes to Adam Driver Shows Up In the Bonkers Logan Lucky Trailer
Claire Foy Was Very, Very Pregnant When She Auditioned for The Crown: