Stockard Channing: Comeback Kid
Occasionally famous and perpetually admired, Stockard Channing is back on Broadway, this time playing a cougar (grrr!) in Pal Joey.
---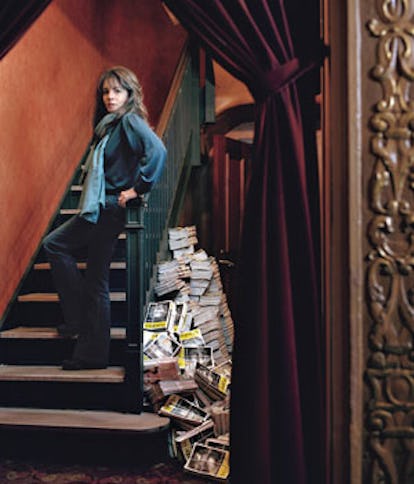 Over the course of her 30-odd-year career on stage, screen and TV, Stockard Channing has made more comebacks than the New York Yankees in a pennant race. In 1978 she gained mainstream fame as mantrap Betty Rizzo in the megahit film Grease. Then in 1993, after flying below Hollywood's radar for years, she received an Oscar nod for her portrayal of society hostess Ouisa Kittridge in Six Degrees of Separation. More recently, in 2002, she became a small-screen star, winning an Emmy for her role as feisty first lady Abigail Bartlett on The West Wing. What her best-known characters share are a biting wit, an offbeat glamour and enough savvy to stay one step ahead of everybody else—not unlike Channing herself.
Her latest "alpha female," as Channing dubs her, is Vera Simpson, the cougar who bankrolls the nightclub dreams of a gigolo in the 1940 Rodgers and Hart warhorse, Pal Joey. Opening on Broadway in December and set in Thirties Chicago, the revival is directed by Joe Mantello, costars Christian Hoff (Jersey Boys) and Martha Plimpton (The Coast of Utopia), and marks Channing's first marquee turn in a musical since Grease. Not wanting to leave anything to chance, she began working with a vocal coach for the first time and got in shape by climbing hills and frequenting spas. "I would say, 'I'm getting into character!'" she says, drawing out her vowels, as she sits in the American Airlines Theatre on a break from rehearsals. "I think I need a massaaahge!"
Shapely and petite in fitted jeans and black boots, her long brown hair falling into wide hazel eyes accented by dark brows, Channing has one of those malleable faces that can look at one moment like an undergrad and the next, a grande dame. Still, the qualities you recall days after a conversation with her are her patrician voice and droll, deadpan delivery. What drew her to Vera, she says, was the play's unclichéd take on a woman of a certain age. "It's not dragon-lady time," Channing explains. "She's extremely self-possessed, a cool customer, tough and elegant. She is at a time in her life when this could be her last fling, and she thinks she can handle it. And then he gets to her. I think that's very interesting."
"Vera is wildly sophisticated, highly sexual and smart as a whip—well, that's Stockard," says Channing's friend Jack O'Brien, who directed her in revivals of Tom Stoppard's Hapgood (1994) and Lillian Hellman's The Little Foxes (1997) at Lincoln Center. "She'll show us a new facet of a character that we all think we've seen before."
Her model, she cautions, is not Rita Hayworth in the 1957 screen version, which also starred Frank Sinatra. To cater to the mores of the time, Hayworth's Vera was a widow, not a married woman, and she and Sinatra were both young and close in age. Channing, 64, and Hoff, 40, will be playing it differently. "In any case," she jokes, "if someone compares me to Hayworth, I'll be so pissed off. Because, who looks like that? I've already told [Pal Joey costumer] William Ivey Long, 'Don't give me any bias-cut satin dresses, because my body can't take it.'"
Reflecting on her "speckled career," as she calls it, one that's moved in fits and starts with plenty of last-minute offers, Channing admits that not playing the ingenue eventually brings its own rewards. "I feel grateful that I've never been a Great Beauty—capital G, capital B—because I would think it would be very hard to see that go away," she says.
Perhaps it's only fitting then that her breakout role came in a revenge fantasy that parodied the easy ride that pretty girls enjoy. In The Girl Most Likely To…, a 1973 TV movie cowritten by Joan Rivers, Channing starred as an ugly duckling who, following a car accident and some terrific plastic surgery, hatches into a raving beauty and murders her former tormentors. "All these actresses they'd offered it to thought it was in such bad taste," she says. "I, of course, did not! I threw myself into it." She had two makeup teams—one to do ugly and another for beautiful—and spent half the movie in a fat suit and unibrow, with a washer stuck up her nose. As ABC's highest-rated movie of the week that year, it helped Channing nab the role of a madcap heiress in The Fortune, the 1975 film directed by Mike Nichols that costarred Jack Nicholson and Warren Beatty. Though Channing earned glowing reviews, The Fortune fizzled at the box office, as did her next few movies. Suddenly she couldn't catch a break.
It was at a low point, she remembers, that she got a last-minute call to take on the role of wisecracking teenager Betty Rizzo in Grease. "It was literally, 'Show up Monday,'" Channing says. She was then 33, and "though I looked a little younger than I was, this was kind of pushing it. I had to really act!"
There are those who insist that Channing pretty much stole the movie from John Travolta and Olivia Newton-John, and she still gets stopped on the street by fans of her Rizzo. Yet despite its popular success, Grease was derided by critics, and Channing found herself in free fall. "People were associating me with this movie that was looked down upon," she says. "I felt helpless." Her manager at the time, Grease producer Allan Carr, advised her "that I shouldn't leave the house without looking like an 8-by-10 glossy. He thought I should live the life. I tried, but I didn't do it very well."
A couple of failed sitcoms followed, and Channing says she "hit bottom. I was devastated." But then she returned to the stage, where she had started out, eventually winning a Tony in 1985 for her wrenching turn as the mother of a brain-damaged child in Peter Nichols's A Day in the Death of Joe Egg. She landed the role of Ouisa Kittridge—whose privileged world is unraveled by a young con artist—in the original stage production of John Guare's Six Degrees of Separation only after another actress quit midrehearsal. The performance earned her a Tony nomination in 1990 and then an Oscar nod for best actress when the play was made into a film. "Ouisa is what Stockard's parents raised her to become," says Guare. "This was their dream and her nightmare—that's what she was acting out."
Born Susan Stockard, she grew up on Park Avenue, attended Chapin, Madeira and Radcliffe, and spent many summers touring Europe with her father, a shipping executive. At 20, she married Harvard Business School student Walter Channing, the first of four husbands, and soon after discovered her calling, acting alongside Tommy Lee Jones, John Lithgow and James Woods in local productions. "I was living a double life: acting and trying to be the world's youngest housewife," she says. The marriage broke up not long after her graduation.
In tackling Ouisa, Channing drew on her mother, "who was a very charming and social being," she says, adding that as the play progressed, "it became about dismantling that person. It was as if she stepped out of a shell and was born." Guare points to her "enormous depths" as an actress. "She never makes the obvious choice," says the playwright, who met Channing in 1971, when she made her Broadway debut in the chorus of Two Gentlemen of Verona, for which he penned the lyrics. "You always find yourself looking at a part through Stockard's eyes."
Channing was on a hiking trip in British Columbia in 1999 when she got word that Aaron Sorkin wanted her for his new show, The West Wing. Arriving on the Los Angeles set still in hiking gear, she promptly slipped into an evening gown and was directed to the top of a staircase, where she introduced herself to Martin Sheen just as the two were about to make their entrance at a state dinner. "I said to him, 'Hello, we've never met, but I think we've been married for 35 years. Tell me a little bit about us,'" Channing recalls. Although Sorkin hadn't planned much for her beyond that first episode, her intelligence and humor, he says, not to mention the obvious heat she generated with Sheen, convinced him to expand her role. "Everyone wanted to play scenes with her because they knew they'd be hitting some major-league pitching," Sorkin says.
After four divorces—"No one gets married thinking they're going to get divorced" is all she'll say on the subject—Channing resides in Florida, Maine, L.A. and Manhattan with her partner of 22 years, cinematographer Dan Gillham. The pair like to entertain at home. She's an avid cook and has even taken to bringing her own food to rehearsals. "I remember hearing that Carol Channing [no relation] used to make food and bring it with her, and I thought, How silly!" she says. "Now I'm doing it. I eat vegetables out of the Tupperware." She catches herself, and then adds self-mockingly, "Allan Carr would be rolling in his grave!"
Credits: hair by Jutta Weiss; makeup by Lori Hamlin Grease: Paramount/Neal Peters Collection; The West Wing: Michael Ansell/Warner Bros./Getty Images