This Summer-Long House Party Will Be a New Instagram Favorite at Storm King Art Center
The artist Heather Hart's Oracle of Lacuna, a rooftop installation sunk into the park's grounds, has brought along months of performances and programming to the Hudson River Valley.
---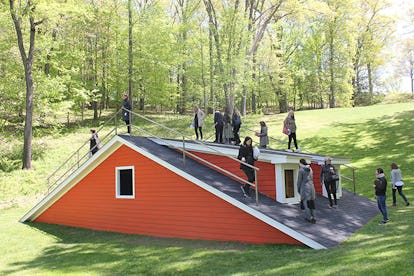 Courtesy of Storm King Art Center
The return of summery weather means that New York crowds are again riding the Metro-North line up to the Storm King Art Center, the sprawling 500-acre outdoor sculpture park in New York's Hudson River Valley. This season, the lack of painterly autumn leaves is offset by new works that will supplement the permanent collection's roster of artists like Richard Serra, Louise Bourgeois, and Roy Lichtenstein. These new pieces, which are up through November, are studded through the park, thanks to its Outlooks series, which asks an emerging contemporary artist—in this case, the Seattle-born, Brooklyn-based Heather Hart—to create a new installation each year.
Having grown up with a carpenter father, the 42-year-old Hart has made roofs a motif in her work—and in The Oracle of Lacuna, a sculpture of a bright red house that appears to be largely sunk underground, the roof is practically eye-level. It is, however, still accessible to visitors, who can enter the clapboard home through a dormer window. And of course they are freeabout the rooftop, which has become a favorite gathering place and an Instagram favorite.
It's inside, though where audio recounting the history of the surrounding Hudson River Valley can be heard, making Hart's work more of an examination of how migration and slavery shaped the surrounding area, rather than simply a fun riff on Dorothy's house that landed with a splat in The Wizard of Oz.
The house has already started to build its own community, too, through a series of performances and workshops, including collaborations with local elementary and high schools, as well as an edition of the Black Lunch Table, Hart's ongoing project devoted to the work of living African American artists. Get a look at the start of a summer of happenings through Instagram, here.
Meet the Chameleons of the Art World, aka the Humans of Frieze New York: