Stranger Things Season 3 Is Officially Happening
Will Hawkins, Indiana, never see peace?
---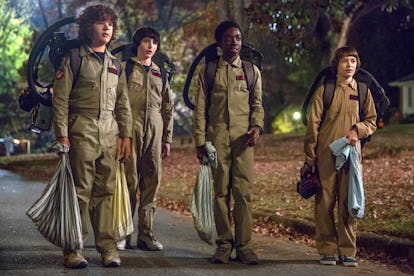 Jackson Davis/Netflix
Stranger Things, the coolest show of the moment (currently nominated for 18 Emmys, including one for…Barb?), will return when season two drops on Netflix on October 27, just in time for a Hallo-weekend binge, and season three may not be too far off.
In an interview with Vulture, Stranger Things creators Matt and Ross Duffer (they're identical twins, which makes a kind of spooky sense) confirmed that there will be a season three, and hinted strongly at a season four. "We're thinking it will be a four-season thing and then out," said Ross, with Matt adding that it's hard to "justify something bad happening to [the central characters] once a year" for very long. "They're going to have to get the fuck out of this town!" quipped Ross.
While there's been no official statement from Netflix on a fourth season, the show is undoubtedly a breakout hit, winning Golden Globes, critical praise, and creating a Ripley-level iconic character in Eleven. That it was made by and stars a group of relative unknowns (except for the excellent Winona Ryder, suddenly in the spotlight again, along with Eggo Waffles) is a testament to its originality and staying power in the audience's imagination. We'd say prospects look good for that fourth season renewal.
In the same interview, the brothers Duffer teased that season two would be "bigger" than season one, framing it like a movie sequel where the stakes and the scope both go way up. Their biggest challenge so far? Getting the rights to "Thriller" for the comic-con trailer. Their hard work paid off, though, in what is arguably the most exciting TV show trailer in years:
We also know that Paul Reiser and Sean Astin are joining the cast as the new head of the secret lab and Joyce's (Winona Ryder) love interest, respectively, and that much of the action takes place on Halloween night, hence the Ghostbusters costumes on our favorite Dungeons & Dragons-playing gang.
Related: Emmy Nominee Shannon Purser, aka Barb From Stranger Things, Has No Idea How Fans at Comic Con Found Her Baby Pictures
Millie Bobby Brown Does Her Best Karaoke Version of Bruno Mars' "Just the Way You Are"