Stranger Things Season 3 Predictions: Everything We Know, and Want to Know
All of the theories, predictions, and Easter eggs to look out for.
---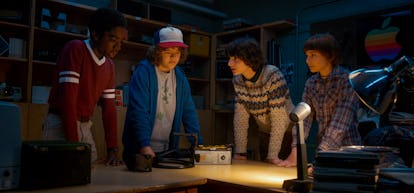 Courtesy Netflix
It took 15 months for Stranger Things season two, or Stranger Things 2 as creators the Duffer brothers are calling it, to arrive and in the blink of nine hours it was over. While this season brought some closure—bookmark this page for later if you haven't watched yet because spoilers are ahead—like poor Will's recovery after two years of torture from the Mind Flayer, Eleven's reunion with Mike, and justice for Barb, it by no means brought peace to Hawkins. At the end of the season finale, just as Eleven and Mike share their first kiss as the same time as Lucas and Maxine at the Snow Ball, we see that the Mind Flayer, a hive consciousness that controls an army of "Demodog" soldiers in the Upside Down, is still alive and determined to overtake Hawkins. "Not only is it still there in the Upside Down, it's very much aware of the kids, and particularly Eleven," Ross Duffer explained to The Hollywood Reporter. "It had not encountered her and her powers until that final episode. Now, it knows that she's out there. We wanted to end on a little bit of an ominous note."
It's not quite the same class of cliffhanger that season one ended on, where Eleven's fate was unanswered after she destroyed a Demogorgon, but it still raises all kinds of questions. Thankfully, some of those will be answered in season three as the Duffers have confirmed they are already at work on it—and maybe mapping out a fourth or fifth season as well. "I think, you know, four to five seasons is likely where we'll end up, but who knows?," Ross Duffer told E!. "I mean, none of this official, and we know where we want to go. We're trying to figure out still how long it'll take to get there, so we'll see." In the meantime, these are our predictions—some speculative, some rock solid—for season 3.
There will be a time jump.
One thing we do know for sure is that when the third season of Stranger Things picks back up, the cast will be older. "Our kids are aging," Matt Duffer told The Hollywood Reporter. "We can only write and produce the show so fast. They're going to be almost a year older by the time we start shooting season three. It provides certain challenges. You can't start right after season two ended. It forces you to do a time jump."
While the Duffer brothers haven't confirmed anything else about how the younger cast's aging will affect the show, it seems likely that they will at least be in high school. What will be more challenging is how the Duffer brothers handle the older kids like Nancy Wheeler, Steve Harrington, and Jonathan Byers. We left off with Nancy as a junior in high school so, at least, one year later she could be in her senior year alongside Jonathan. Steve, however, will be out of high school, which is likely why the show set up his character to stick around in Hawkins working for his dad rather than going off to college. As everyone will be getting older off and on screen, expect some future makeovers as well. Millie Bobby Brown, who plays Eleven, has already grown out her hair since season two wrapped and Dustin ended season two with a whole new look.
The references will change accordingly.
Just as season two opened with the kids heading to an arcade, season three could very well open with them playing Nintendo, which was released in 1985. (Super Mario Bros. came out a year later.) Instead of Ghostbusters, they'll likely be into Back to the Future, which came out the same year. There could be more Star Wars folklore, like Eleven trying to defeat her "Papa," Doctor Brenner, a force of evil. Ditto Mad Max, as Mad Max Beyond Thunderdome came out in '85. If the show skips to '86, Dustin's mother may very well be watching The Oprah Winfrey Show.
Dr. Brenner's character will be more explored.
Whether or not he's still alive (Eleven's sibling Eight certainly believes so), Matthew Modine's portrayal of Dr. Brenner will likely get more play. Throughout the second half of season two, Eleven went on a personal journey into her heritage, whether through flirting with Eight's revenge-driven lifestyle or connecting with her aunt and attempting to communicate with her mother Terry Ives, who we find out was put in a catatonic state by Dr. Brenner and his associate, the same one who tells Eleven and Eight that "Papa" is still out there. In that moment, we saw Eleven reject violent retribution in favor of mercy, but will she go after him in season three? Will she reunite with Eight to do so? Will Terry Ives ever wake back up?
We will meet Eleven's other siblings.
In a show as efficient and dense as Stranger Things, there are few tangents. There was a reason the Duffer brothers devoted a whole episode to Eleven's sibling Eight and her band of merry pranksters, which they later referred to as "a whole little other pilot episode in the middle of your season." "That Eleven story line overall is sort of the biggest risk we took," Ross Duffer told Entertainment Weekly. "We're going to continue to do risks moving forward to keep us on our toes. I didn't want her to just magically save the day. Just like Luke Skywalker, she needed to go off on her own and learn something about herself." Not to mention, executive producer Shawn Levy told E!, "I think we've clearly implied there are other numbers, and I can't imagine that the world will only ever know Eleven and Eight." Will Eleven and Eight team up with One-Seven, Nine, and Ten a la X-Men—it should be noted, a popular comic throughout the '80s—to overtake Dr. Brenner and the Mind Flayer? Nothing is impossible in Stranger Things.
Sheriff Jim Hopper and Dustin Henderson have been infected by the Mind Flayer.
For once in Stranger Things, Will Byers seems to be in a safe place. We saw the virus of the Mind Flayer exorcised out of him in a makeshift sweat lodge with Nancy burning him in a move straight out of 1984's Indiana Jones and the Temple of Doom. But Hopper and Dustin might not be as lucky. After all, both of them were at one point tangled up by the Mind Flayer's vines and sprayed in the face with a mysterious substance. Could this substance belong to the hive mind? Will the two become the Mind Flayer's next spies? Will they be experiencing "now memories" in season three?
Dustin and Steve's "Demodog" will come back to haunt them.
Has Dustin learned nothing from his snafu with Dart? What good can come out of storing a "Demodog," dead or otherwise? Okay, it would be pretty hilarious to watch a comedic spinoff of Dustin and Steve raising one but, as Stranger Things has shown, "Demodogs" are more controlled by the Mind Flayer than their love of nougat, specifically 3 Musketeers candy bars. It seems ominous that Dustin and Steve have decided to store their "Demodog," dead or otherwise, in a place as cool as a refrigerator when they know how much the alien creatures love the cold. Regardless of the outcome, hopefully season three will bring plenty more of moments between Dustin and Steve, Hawkins' unlikely power hair duo.
The origin of the Mind Flayer will be explored.
We still know relatively little about the Mind Flayer, other than the fact that it believes it comes from a superior race and wants to kill all of humanity. But it seems likely that we will find out more of its backstory in season three. The Duffer brothers confirmed as much, as Matt told Buzzfeed, "The idea was to create a villain that could last over multiple season arcs, so it wasn't intended to be defeated in just this season. It was something we were hoping could help tie a few seasons, at least, together… The idea is that Eleven has closed the gate to the Upside Down, but the Upside Down is still very much there." He added they saw it as "a way to end the season in a way that still leaves a lot of mystery and leaves us a place to go moving forward."
Related: Unraveling the Mystery of Sadie Sink, Stranger Things' Infatuating Skater Girl Max In Season 2
The Best Fall Sweaters: Shop the Coziest and Most Colorful Pieces of the Season
Stranger Things star Sadie Sink explains the 80's: